NuScale Power says its small modular reactor (SMR) could be used to support the hard-to-decarbonise industrial sector using superheated steam. The company said new research demonstrates the advanced capabilities of its SMRs for reducing emissions in industrial sectors, which is critical to meeting global climate goals.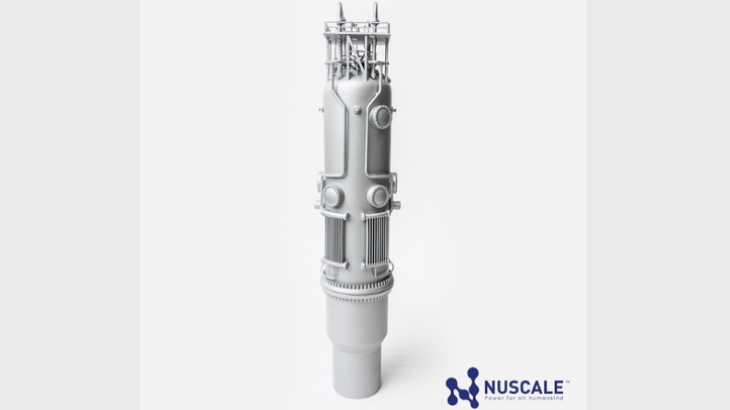 A NuScale Power Module (Image: NuScale)
Led by NuScale co-founder and Chief Technology Officer José Reyes, the benchmarked research found that NuScale SMRs have the potential for use in a wide variety of high-temperature industrial processes not previously envisioned using light water reactor (LWR) technology. These include heavy to light oil conversion, bulk plastic waste recycling, dissolving heavy oil to produce gasoline additives, and light plastics for the regeneration of products like synthesis gas.
"This capability will provide oil refiners and chemical companies with new options to decarbonise their operations and products using carbon-free nuclear energy," NuScale said.
The company's research shows that the steam generated by a single NuScale Power Module can be compressed and heated to produce process steam at commercial scale, temperatures and pressures. The lower steam temperatures and pressures from a LWR typically requires conditioning prior to injection into a high temperature/high pressure process.
Reyes and his team have found that a single Power Module, generating 250 MWt, can produce more than 500,000 lb/hr of steam at 1500 psia and 500ºC, with the potential to extend production to 2400 psia and over 650ºC.
The NuScale Power Module on which its VOYGR nuclear power plants are based is a pressurised water reactor with all the components for steam generation and heat exchange incorporated into a single 77 MWe unit. It is the first SMR design to receive approval from the US Nuclear Regulatory Commission. The company offers a 12-module VOYGR-12 power plant capable of generating 924 MWe as well as the four-module VOYGR-4 (308 MWe) and six-module VOYGR-6 (462 MWe) plants and other configurations based on customer needs.
"In a 12-module, VOYGR-12 plant, 3 GW of thermal power is produced, offering both electrical power and large volumes of superheated steam from a plant that can be safely located near major industrial processes," it said.
"The compression heating systems we have proposed through this new research are an ideal application for NuScale's VOYGR plants and could also broaden the role of LWRs in global decarbonisation efforts," Reyes said. "These new findings strengthen the use case for NuScale's advanced SMR technology."
NuScale said it will "continue to explore the enhanced flexibility, reliability, and economics of multi-module steam generation that is augmented by cost-effective and high-efficiency steam compression and heating". It is collaborating with end-users of steam, electric power and hydrogen to "assess and optimise integrated energy systems, with plans to support industry clean energy goals at a commercial scale".