Less than a week after American automotive powerhouses Tesla and Ford announced a partnership to integrate the former's North American Charging Standard (NACS) plug on the latter's EVs, unique charging network Freewire has come out in support of the expansion and has vowed to add the connectors to its own chargers.
Despite being an arguably better design than the current CCS charging standard, the Tesla plug or NACS hasn't exactly taken off just yet. While it started as the exclusive charging standard for Tesla EVs, the American automaker has opened up its Supercharger network to non-Tesla EVs, but that still requires a charging adapter.
Just last week, however, we were pleasantly shocked to hear that Tesla had found a partner in Ford Motor Company to integrate NACS charging plugs into future Ford EVs to allow more seamless access to the ultra-dependable Supercharger network.
Other EV innovators, like Aptera, have seen the potential in NACS as the future of charging, working alongside Tesla to integrate its plug on its upcoming solar EVs. Now, another potentially game-changing charging company is publicly showing its support for the latest NACS collaboration and intends to add the connector to Freewire chargers to support the influx of vehicles sure to arrive.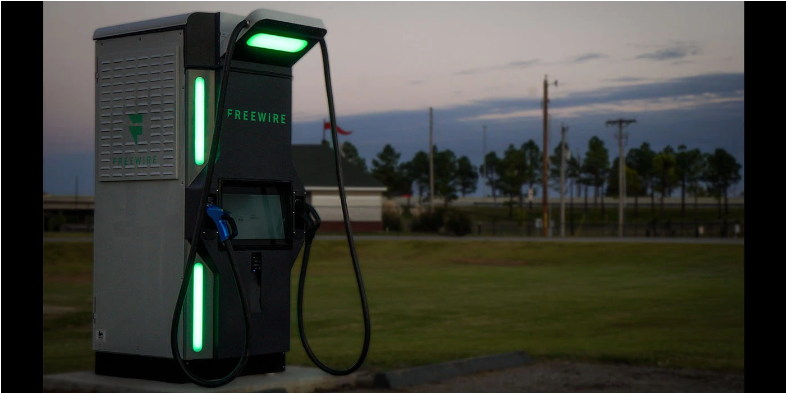 The Freewire Boost 150 EV charger, soon to be NACS compatible / Credit: Freewire Technologies
Freewire to add NACS connectors to chargers by 2024
If you're not already aware of Freewire Technologies, you probably should be. It is an EV fast charging and energy management solutions company founded in 2014 that is expediting the world's transition to electric vehicles by providing turnkey solutions to grids around the US.
Freewire has created a lineup of battery-integrated piles it calls Boost Chargers that utilize integrated battery storage and proprietary management software to operate using existing low-voltage and low-power grid connections while still delivering DC charging capabilities.
This circumvents the tedious approach hindering many charging networks that require a high-voltage connection to the local grid, extensive installation labor, and plenty of red tape from municipal governments. Instead, Freewire's technology enables more cost-effective deployments anywhere that can be completed in a matter of a couple of days, if not hours.
As a company that is clearly thinking outside of the box (and the grid), Freewire recognizes the potential of NACS as a viable charging standard and believes its seamless access will be sure to benefit more drivers going forward, especially given the plans recently shared by CEO Arcady Sosinov in a conversation with Electrek:
FreeWire commends the recent announcement by Tesla and Ford to make NACS charging accessible to more vehicles. For a sustainable transition to electric transportation, it is crucial to quickly increase investments and make reliable, publicly accessible fast-charging infrastructure widely available. It will require all charging providers to work together to meet public charging demand, and we support Tesla in making steps towards opening their technology and network. FreeWire has long been a proponent of standardization across the industry as it will make charging more convenient for drivers and allow infrastructure to keep pace with EV adoption nationwide. FreeWire plans to make NACS connectors available on Boost Chargers by mid 2024.
As you can see in the featured image above, Tesla owners are currently able to use Freewire chargers but still require a CCS to NACS adapter, similar to many other charging networks. Per Sosinov's recent words, however, Freewire Boost Chargers will soon come equipped with their own NACS connector, alleviating the need for any adapter.
Freewire currently offers two DC Boost Charger variants delivering rates between 150-200 kW (CCS plug). It will be exciting to see what sort of rates NACS users will be able to garner.
Electrek's Take
This is another savvy move by Freewire, in my opinion. In my previous conversations with the team, and its CEO especially, they just get it. I've already pointed out its potential in delivering DC charge rates with way less dependency on the local grid – offering modular, practically portable, turnkey solutions for cities and businesses looking to add charging with less hassle.
Now you add access to EVs with NACS charging ports, and Freewire is making effective, seamless charging even more widespread, which is crucial to ensure we keep up with the growing number of EV drivers. This is a company to keep an eye on as it is now expanding its tech to Europe as well.