The reactor pressure vessel (RPV) for unit 3 at the Xudabao nuclear power plant in China's Liaoning province has successfully completed hydrostatic testing in Russia. The two VVER-1200 reactors that form phase two of the plant - units 3 and 4 - are scheduled to be commissioned in 2027-2028.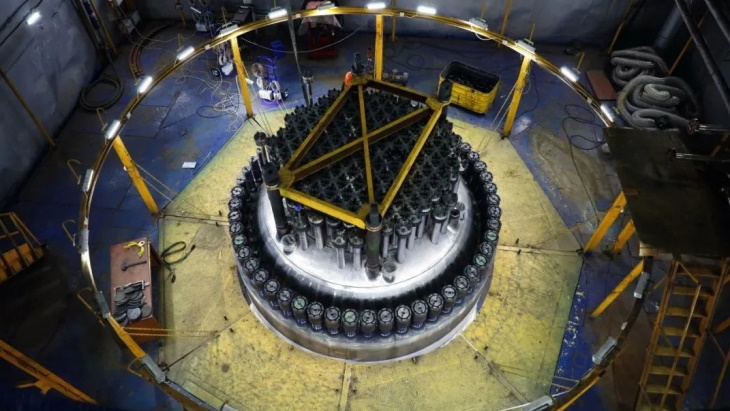 The RPV under going hydrostatic tests (Image: CNNC)
The hydrostatic test is a comprehensive inspection of the design, manufacture and assembly quality of the vessel. During the process of raising, maintaining and releasing pressure, the quality of the pressure-bearing welds of the equipment and the overall sealing and safety of the equipment are verified by testing parameters such as temperature and pressure, combined with the results of non-destructive testing in the later period.
China National Nuclear Corporation (CNNC) announced the RPV for Xudabao 3 completed the tests on 4 May, under the supervision of CNNC representatives in Russia.
It noted that since the first forging for the vessel was created in 2020, it has taken 40 months "to complete the main processes such as forging manufacturing, cylinder inner wall surfacing, shell assembly welding, and internal parts assembly and welding. During this period, the overseas manufacturing supervisors and equipment manufacturers overcame unfavorable factors such as the impact of the coronavirus epidemic through scientific arrangements and close cooperation, and finally successfully completed the key acceptance node of the manufacturing stage".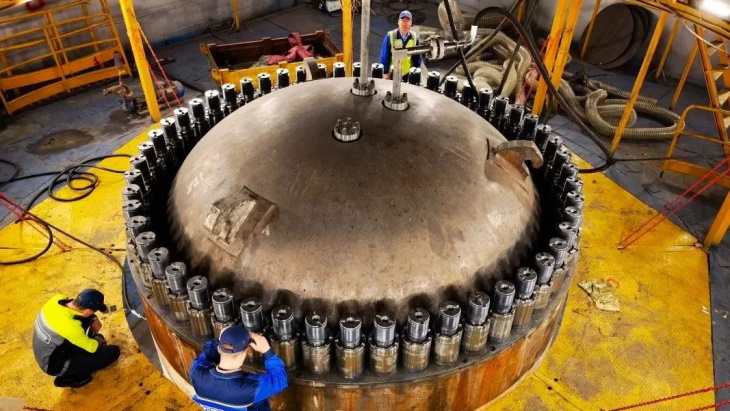 The RPV, complete with vessel head (Image: CNNC)
CNNC said the completion of hydrostatic tests of the vessel "marks the countdown to the delivery of the main equipment of the nuclear island of unit 3".
In June 2018, Russia and China signed four agreements, including for the construction of two VVER-1200 reactors at the new Xudabao (also known as Xudapu) site. Agreements signed in June 2019 included a general contract for the construction of Xudabao units 3 and 4, as well as a contract for the supply of nuclear fuel. Rosatom is designing the nuclear island and will supply key equipment, as well as providing field supervision, installation supervision, and commissioning services for the supplied equipment. Turbine generators and balance of plant will be supplied by China.
Construction of Xudapu unit 3 began in July 2021, with that of unit 4 starting in May 2022.