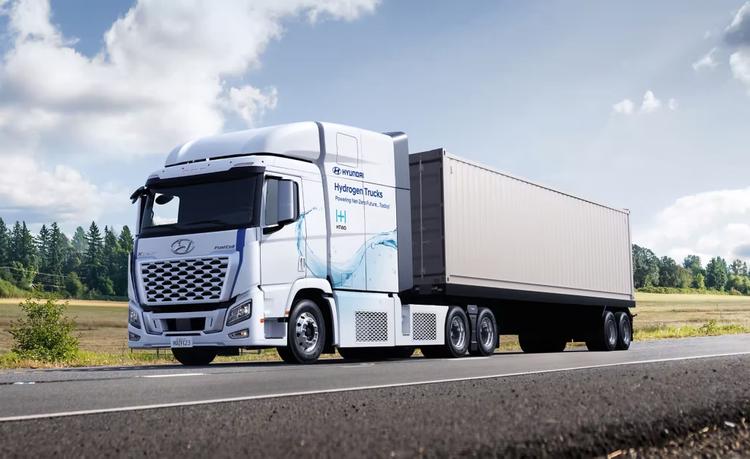 The company premiered the vehicle at the Advanced Clean Transportation Expo.
Yesterday (May 2, 2023), Hyundai Motor Company debuted its new XCIENT Fuel Cell tractor, a commercialized class 8 6×4 fuel cell electric vehicle model in Anaheim, California, for the North American commercial vehicle market at the Advanced Clean Transportation (ACT) Expo.
The XCIENT was first launched in 2020.
Although this is the first time the fuel cell tractor has premiered in North America and the US, the hydrogen truck has already been successfully deployed in global markets. Currently, five countries use the XCIENT fuel cell truck, including Switzerland, Germany, New Zealand, Israel and South Korea. In total, there has been over 4 million miles of cumulative driving in commercial operations.
According to Hyundai Motor's new release announcing the US debut, The XCIENT is the only heavy-duty fuel cell electric model to have a proven record of real-world application and technological reliability.
"For years, we have been initiating hydrogen value chains in various regions," said Mark Freymueller, Senior Vice President and Head of Commercial Vehicle Business Innovations at Hyundai Motor. "We go beyond the truck itself to include areas such as hydrogen refueling and truck maintenance."
Freymueller added that in the US, Hyundai Motor plans to do the same, as each case requires a tailor-made service approach, particularly when transitioning from traditional to hydrogen. "We plan to provide the best hydrogen value chain scenario for each and every customer."
Beyond deploying a fuel cell tractor, Hyundai aims to expand the H2 value chain in the US.
The goal of Hyundai Motor is to foster partnerships and future businesses to deliver fleet operation solutions for hydrogen truck customers and expand the US' hydrogen value chain, by using the company's initial business entry as a bridgehead.
The company shared its outlook for an eco-friendly commercial vehicle business incubation project, which is focused on the development of a hydrogen mobility value chain. The project is located at the Hyundai Motor Group Metaplant America (HMGMA), the dedicated electric vehicle factory that is currently being constructed in Georgia. Via the project, the Metaplant will incorporate an eco-friendly logistics system integrating hydrogen fuel cell trucks and a complete H2 value chain.
The XCIENT implements HTWO's innovative HFC system
As for the XCIENT Fuel Cell tractor, it implements the world-leading hydrogen fuel cell system by HTWO, Hyundai Motor Group's hydrogen energy dedicated business brand.
The 6×4 XCIENT model that is on display at the ACT Expo in Anaheim, is equipped with two 90 kW hydrogen fuel cell systems (for a total of 180 kw power) and a 350 kW e-motor. The hydrogen truck's gross combination weight is a maximum 82,000 pounds, with a driving range of over 450 miles per charge, even when the vehicle is fully loaded.
Hyundai Motor is exhibiting its XCIENT Fuel Cell tractor and hydrogen fuel cell system at the ACT Expo – North America's biggest advanced transportation technology and clean fleet event – until May 4th.