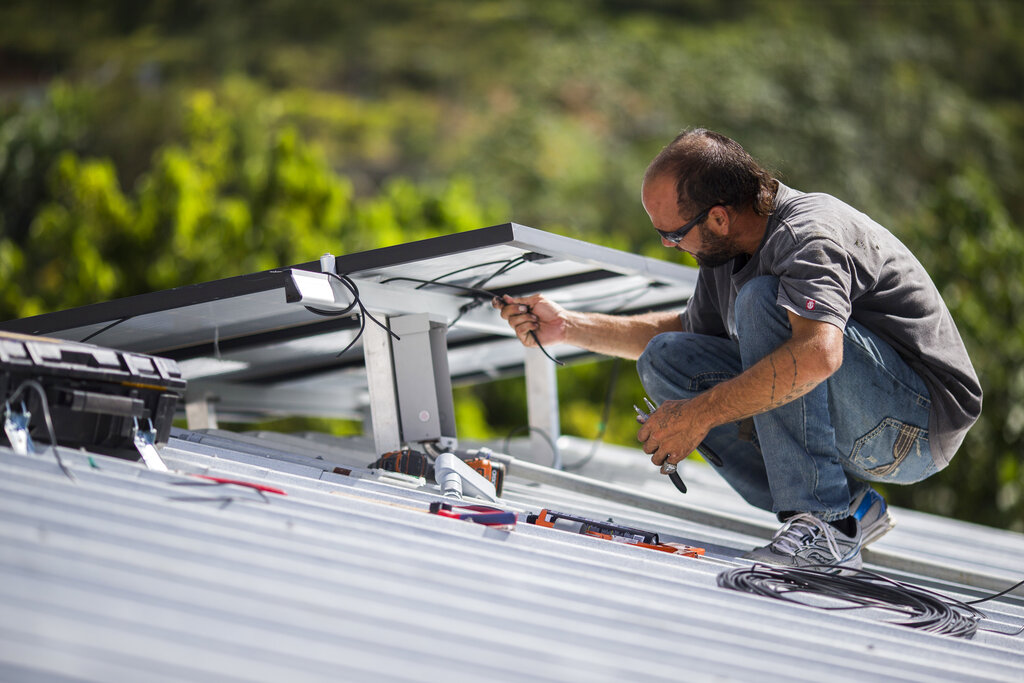 FILE - A technician installs a solar energy system at a home July 24, 2018, in Adjuntas, Puerto Rico. A U.S. government ongoing study that released preliminary results Monday, Jan. 23, 2023, has determined that with little room on the island for large-scale solar farms or wind generators, Puerto Rico should aim to reach its clean-energy goals by installing solar panels on all suitable rooftops, along with airports, brownfields and industrial areas. (AP Photo/Dennis M. Rivera Pichardo, File)
High energy prices triggered by the war in Ukraine are putting a damper on the sustainability goals for many business leaders, according to a new study. On the flip side, the war has also highlighted the importance of renewable energy. All told, the study reports that about 41% of American business leaders and policymakers believe that the war will cause a three-year delay in achieving net-zero goals.
The Decade That Matters 2.0 study produced by global energy developer BayWa r.e. surveyed more than 500 decision-makers from business and policy sectors across the U.S.— and 3,000 decision-makers worldwide. The company said it hopes the study will help shine a light on sentiment around climate change and drive conversation and action on a global scale.
Specifically, the study found 56% of business leaders think rising energy prices have positively affected sustainability ambitions while 98% of U.S. businesses either use, or plan to use, renewable energy.
"The war in Ukraine has simultaneously been a catalyst to speeding up the renewable transition, while also increasing short-term reliance on fossil fuels. While the transition has now sped up, fast is not yet fast enough," said Matthias Taft, CEO, BayWa r.e. AG
The study finds that more than a third (38%) of U.S. business leaders expect the conflict and resulting energy disruption to cost their businesses up to 10% in associated costs. One in five leaders estimate an increase of between 11% and 20%.
A greenhouse divided
The study finds that business leaders blame a lack of U.S. leadership for hurting net zero goals. More than a third (36%) of U.S. business leaders cite 'a lack of commitment from U.S. leadership' as a considerable obstacle to a faster renewable transition, and 34% of respondents point the finger at 'a lack of support from the government'.
Policymakers in the U.S. disagree. Nearly half (a global high of 48%) of respondents say that 'the public and businesses do not appreciate the impact climate change will have on them' and that this is the main barrier to reaching net zero goals. The speed of adaptation of the public and businesses is the biggest issue, according to 44% of respondents.
Both groups agree on supply chain and trade policy issues. In fact, 35% of business leaders and 42% of policymakers identify the two areas as being key barriers to a faster energy transition.
"This report shows a growing urgency and impatience with the current pace of normalizing the renewable sector and creating new jobs in this field," said Gordon MacDougall, CEO of BayWa r.e. Wind Projects LLC.
Changing sentiment
The study also reveals a change in sentiment around climate change. Following the first 'The Decade That Matters' report in 2021, monthly mentions of 'net zero' more than quintupled to over 20,000. During the same period, sentiment has shifted, with overtly negative mentions of the term doubling from 10% to 20%, while clearly positive mentions have declined from 4% to 3%. This could indicate growing skepticism around current targets and action.
The term 'climate crisis' eclipsed 'global warming' as a talking point in late 2021, peaking at over 2.5 million online mentions—demonstrating a move from awareness to urgency. Notably, carbon-related mentions have increased by 130% from 2020 to 2022 as the debate intensifies. In 2022, coal became an increasingly important topic of conversation, with over a million mentions per month, following the war in Ukraine and the resulting energy crisis.
Other key findings
Decision makers in the U.S. are split on when the country is expected to fully transition to renewables. Specifically, 43% of policymakers said by 2030, while 42% of business leaders said after 2050.
According to U.S. policymakers, the most impactful step businesses can take to tackle the climate crisis is to respect and protect green spaces (39%), followed by sourcing energy from renewable sources (34%).
BayWa r.e.'s 'The Decade That Matters 2.0' report is the result of research conducted on behalf of BayWa r.e. by Censuswide at the end of 2022, surveying over 3,000 business leaders and policymakers across the US, UK, France, Germany, Italy and Spain.
Alongside the research are insights into the conversations around climate change, compiled using Brandwatch social listening tools which helped analyze the state of play on a macro level, then drawing insights from over a billion mentions of key phrases online.