Group aims to develop new mines and supply chains for critical minerals in 'responsible' manner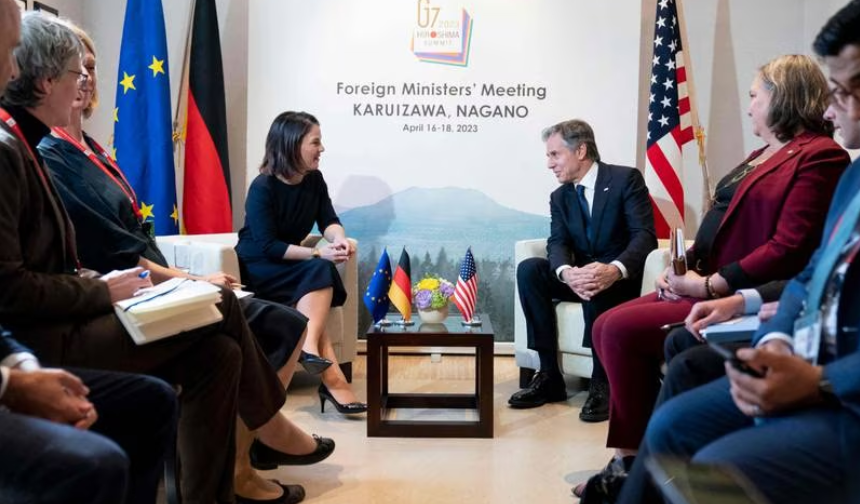 German Foreign Minister Annalena Baerbock (centre left) and US Secretary of State Antony Blinken (centre right) at the G7 foreign ministers' meeting in Karuizawa, Japan. AFP
Energy transition is not about oil and gas only. Critical minerals are another key area where international co-operation is needed to ensure secure clean transition, as has been discussed by the Group of Seven foreign ministers in Japan.
The ministers of the G7 advanced economies have agreed to a joint plan for critical mineral security, that the International Energy Agency will support, by producing medium and long-term outlooks for demand and supply to help inform decision-making, the Paris-based agency said.
The G7 stressed the importance of critical minerals for clean energy transition and the need to prevent economic and security risks caused by vulnerable supply chains, monopolisation and lack of diversification of existing suppliers.
"We are committed to supporting open, transparent, rules and market-based trade in critical minerals with traceability, opposing market-distorting measures and monopolistic policies on critical minerals, and promoting dialogues between extraction, producer and consumer countries," the G7 said in its communique on Sunday.
Demand for critical minerals — key elements in electric vehicles batteries, electronics and solar panels — is expected to rise sharply as the world shifts to cleaner technology to reduce carbon emissions.
However, global miners are facing significant headwinds from high energy prices, rising infrastructure costs and supply chain disruption.
Industry participants are also concerned about the growing reliance on a few countries for strategic raw materials.
The Democratic Republic of the Congo and China were responsible for about 70 per cent and 60 per cent of global production of cobalt and rare earth elements, respectively, in 2019, according to the IEA.
Latin America accounts for 40 per cent of global copper production, led by Chile, Peru and Mexico, the Paris-based agency said in a report last week.
The region, which supplies 35 per cent of the world's lithium, also holds more than half of global lithium reserves, mainly located in Argentina and Chile.
In its communique, the G7 said it planned to develop new mines and supply chains for critical minerals in a "responsible" manner that promotes transparency and traceability to meet the rising demand.
"We explore ways to co-operatively support acquisition of critical minerals as competition for these scarce resources become more intense, and support pioneering efforts or initiatives," it said.
Last year, the US and the G7 officially launched the Partnership for Global Infrastructure and Investment (PGII). G7 leaders pledged to raise $600 billion through a combination of private and public funds within a span of five years, with the aim of financing the necessary infrastructure in developing nations.
The US, Canada and other partner countries have also announced the Minerals Security Partnership (MSP), which aims to bolster critical mineral supply chains.
The MSP, which mainly focuses on critical minerals that are inputs for EVs and advanced batteries, supports investment in mining, processing and recycling development that meets high environmental and social governing standards.
"We explore ways in which each country's fiscal support measures can be used for international co-investments such as MSP and promote private sector investment on the premise of high ESG standards," the G7 said in Monday's document.
"Currently, $13 billion fiscal support that can be used for domestic and foreign projects is prepared across the G7 countries."
The group also said it may explore the creation of new programmes aimed at promoting eco-friendly management of electronic waste and recycling in developing nations.
"We also reaffirm that the importance of establishing domestic recycle chains with the best available technologies and fostering recycling capacities for recyclable materials," the G7 said.