GE Hitachi Nuclear Energy (GEH) has announced an agreement to collaborate on the potential application of its BWRX-300 small modular reactor technology in Poland. The North Carolina, USA-headquartered company said yesterday it had signed a Memorandum of Understanding with Synthos SA, a Polish manufacturer of synthetic rubber and one of the country's biggest producers of chemical raw materials.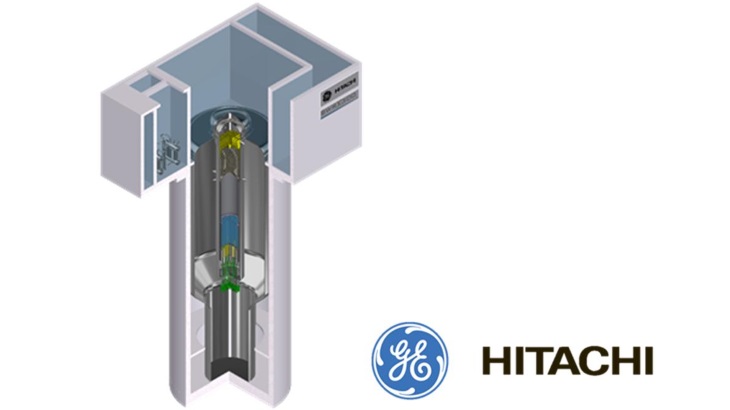 The BWRX-300 design (Image: GEH)
Jon Ball, executive vice president of nuclear plant projects for GEH, said: "Through our design-to-cost approach, we are designing the BWRX-300 to be cost-competitive with gas, renewables and other forms of power generation. We applaud Synthos for its interest in small modular reactor technology and advocacy of clean-energy options for Poland."
Michal Solowow, owner of Synthos, said: "Utilising small modular reactors to generate clean energy will improve our chances to move away from coal and have a positive impact on our industry and nation."
The BWRX-300 is a 300 MWe SMR derived from GEH's 1520 MWe Economic Simplified Boiling Water Reactor (ESBWR) design. According to GEH, the BWRX-300 leverages the design and licensing basis of the ESBWR, which received design certification from the US Nuclear Regulatory Commission (NRC) in 2014. In May this year, GEH has initiated a vendor design review by the Canadian Nuclear Safety Commission for its BWRX-300 design.
GEH expects that the BWRX-300 will require up to 60% less capital cost per megawatt when compared to other water-cooled SMR designs or existing large nuclear reactor designs. It is the tenth evolution of GE's first boiling water reactor design, since it began commercialising nuclear reactors in 1955.
Poland has plans to build its first large-scale nuclear power plant. According to a draft energy policy document released for public consultation last November by Poland's Ministry of Energy, this will be in operation by 2033. The document envisages 6-9 GWe of nuclear capacity in operation by 2043, accounting for about 10% of Poland's electricity generation. The selection of location for the first plant would be made in 2020, while the selection of the technology and general contractor would take place the following year. The first plant - with a capacity of 1.0 to 1.5 GWe - would be completed by 2033. Up to six reactors, with a combined capacity of 6-9 GWe, would be put into operation by 2043.