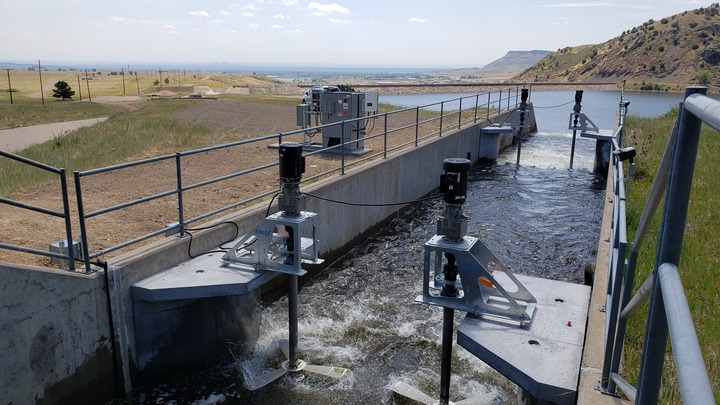 Emrgy, a woman-led renewable energy technology and project developer, has raised $18.4 million in a Series A funding round to deploy distributed hydropower projects, open a turbine assembly facility in Colorado, and expand its development, operations and engineering teams.
The funding round was led by Oval Park Capital, and key investors in the round include Fifth Wall, Blitzscaling Ventures, Overlay Capital, and Veriten.
Emrgy's waterpower technology leverages existing underutilized waterways and infrastructure to deliver low-cost renewable power. The company's proprietary modular turbine technology minimizes disruptive construction and harvests power continuously as water flows.
Emrgy's solution has already been deployed with commercial customers including Denver Water, Davis and Weber Counties Canal Company, and Oakdale Irrigation District, among others. Emrgy has projects in New Zealand and a pilot system in South Africa. Its new projects will be developed in the western U.S., Europe and Australasia and provide power to agricultural, municipal and utility offtakers.
"We're thrilled to support the Emrgy team as they accelerate deployment of their novel distributed hydropower technology in irrigation canals and other existing water infrastructure," said Justin Wright-Eakes, managing partner at Oval Park Capital. "We believe Emrgy's modular, cost-effective, and quick-to-deploy systems have the potential to reintroduce hydropower to the global renewable energy conversation that has been dominated by solar and wind in recent years."
This spring, Emrgy will open its inaugural regional manufacturing facility in Aurora, Colo., with an estimated capacity of 5 MW per month. The company expects to employ up to 30 engineers and operations specialists at the facility in 2023.
"As a company dedicated to decarbonizing the critical and vast real estate segment of water infrastructure, I'm thrilled to partner with investors who are equally as committed to our mission," stated Emily Morris, founder and chief executive officer at Emrgy. "It is an honor to lead Emrgy into our next pivotal phase of growth, as we continue to deepen our efforts to meet record demand for renewable energy via rapidly deployable, cost-efficient technology."
Emrgy also welcomed industry veterans Jennifer McFarlane and Bob Kelly to its Board of Directors. McFarlane is founder of Asterra Partners, with a long career as a C-level executive in both public and venture-backed companies, including NEXTracker, where she supported the company's international expansion. Kelly previously served as chief financial officer of SolarCity Corporation, as well as CFO and executive vice president of Calpine Corporation.
Oval Park Capital is an early-stage venture capital firm that invests primarily in deep technology startups in the southeastern U.S. and other robust but undercapitalized startup markets.