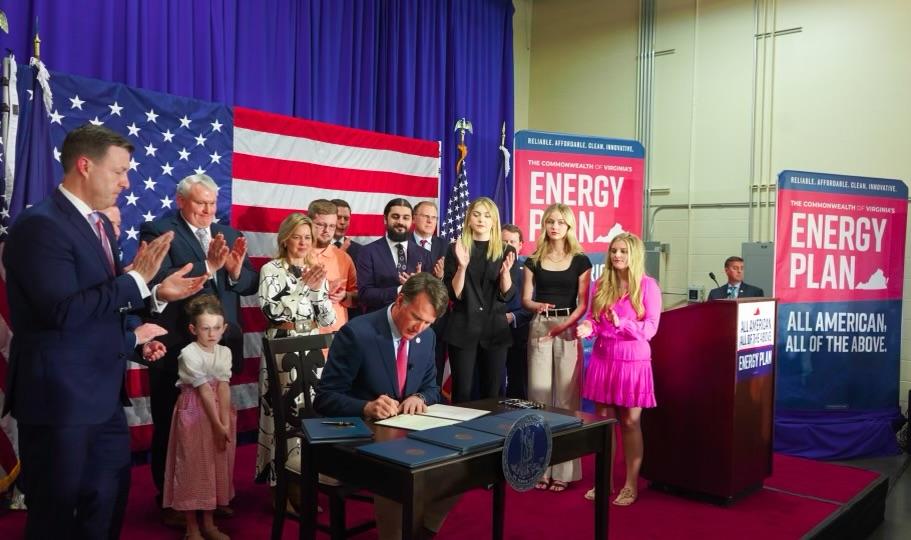 Virginia Gov. Glenn Youngkin participates in a bill-signing ceremony at Energy DELTA Lab in southwest Virginia. (Photo: Christian Martinez/Office of Gov. Glenn Youngkin)
Declaring it a "great day for Virginia energy and American energy," Gov. Glenn Youngkin on March 23 signed a number of bills to further his state's all-of-the-above energy plan, including some measures sure to please nuclear energy advocates. Launched in October of last year, the Virginia plan touts nuclear among other energy sources and calls for deploying a commercial small modular reactor in southwest Virginia within the next 10 years.
"We can, in fact, make Virginia energy more reliable, affordable, and clean while creating jobs and spurring innovation, and today is a testament to that," Youngkin said. "We're not just making southwest Virginia the energy capital of the commonwealth, we're unleashing our rich, limitless potential to deliver for all. This is just the beginning."
The following are the bills signed by Youngkin:
H.B. 2386, sponsored by Del. Israel O'Quinn (R., 5th district), creates the Virginia Power Innovation Fund to jump-start the development of innovative energy technologies in Virginia and begins the process of creating a Virginia nuclear innovation hub.
H.B. 1779, sponsored by O'Quinn, creates the Nuclear Education Grant Fund to award competitive grants to Virginia colleges and schools for the creation of employment and training pathways in the nuclear power industry, including nuclear engineering and welding.
H.B. 1781, sponsored by O'Quinn, empowers the Southwest Virginia Energy Research and Development Authority to promote energy projects on former coal sites, develop southwest Virginia's energy workforce and supply chains, and advance that region's energy industry.
H.B. 1643, sponsored by Del. Terry Kilgore (R., 1st Dist.), declares that the policy of Virginia is to encourage the capture and use of coal mine methane in the state's energy supply and directs the Virginia Department of Energy to research beneficial uses of that methane.
H.B. 2401, sponsored by Del. James W. (Will) Morefield (R., 3rd Dist.), provides that funds included in the Coal and Gas Road Improvement Fund may go toward flood-mitigation efforts in southwest Virginia.
H.B. 2178, sponsored by Morefield, adds coal mine methane extraction to the jobs eligible to receive green and alternative energy job creation tax credits.
Words from the sponsor: "As American ingenuity and innovation discover new ways to power our economy, the energy revolution offers southwest Virginia an opportunity to lead," said O'Quinn. "My bills to create the Virginia Energy Innovation Fund, establish the Nuclear Education Grant Fund and Program, and empower the Southwest Virginia Energy Research and Development Authority to promote novel energy projects and train our energy workforce in cutting-edge energy technologies, especially advanced nuclear applications, will help position southwest Virginia to be the center of future energy supply chains."