The International Atomic Energy Agency (IAEA) director general says that the plan for a safety and security zone around the Zaporizhzhia nuclear power plant "is evolving" to focus on the plant itself and the principle that a nuclear power plant should not be attacked or be used to attack from.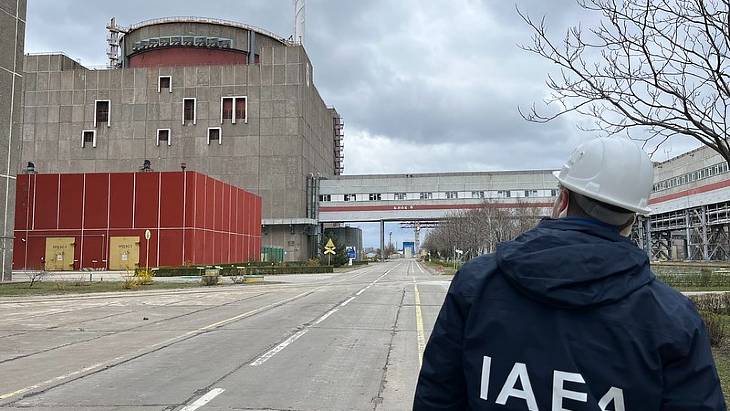 The IAEA team toured the site during Wednesday's visit (Image: IAEA)
Speaking to media during, and after, his visit to the six-unit Zaporizhzhia nuclear power plant which is on the frontline of Russian and Ukrainian forces, Rafael Mariano Grossi said his first visit since September had been "very useful" to assess the safety and security situation.
He said that he could see that the shelling of the plant in November had "wittingly or unwittingly" hit the outsides of two of the reactor buildings and showed the urgency of bringing in new safety measures.
He said: "I think that, in general, the situation is not improving. It is obvious that military activity is increasing in this whole region ... and there is open talk about offensives, counter-offensives and so on."

It was Grossi's second visit to the plant since the war began (Image: IAEA)
Grossi said that over his months of negotiations with Kiev and Moscow to agree measures aimed at protecting the plant "there have been different concepts that we have been working on - initially we were focusing on the possibility of the establishment of a well-determined zone around the plant. Now, the concept is evolving, it's refocusing more on the protection itself and the things that should be avoided, for example, in order to protect the plant, rather than on territorial aspects, which pose certain problems. But it is work in progress, I would say."
He said "it is very very important that we agree on the fundamental principle that a nuclear power plant should not be attacked under any circumstances and it shouldn't be used to attack others" and "this is at the basis" of the attempt to agree "certain measures or principles, which should be agreed by all".
"A nuclear power plant should never be a military target and there should not be heavy military weapons or equipment at the nuclear power plant. I think what is important is to make sure that there are no attacks at this plant and I am trying to put on the table realistic, viable proposals that can be accepted by all. A nuclear accident's radiological consequences would spare no-one - Russia, Ukraine or the rest of Europe - so we need to avoid that. I am optimistic that it is possible."
The Zaporizhzhia nuclear power plant is Ukraine and Europe's largest, with six units. It has been under the control of the Russian military since early March 2022. It has been hit by shelling a number of times - with both sides blaming the other - and it has also had to rely on emergency diesel generators for power for essential safety systems on the occasions when its external power supply has been lost.