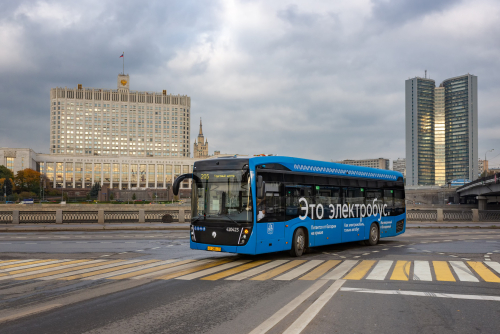 The city of Moscow has signed a contract for 1,000 electric buses from KAMAZ. There are also plans to purchase another 200 electric buses from GAZ Group, said Maksim Liksutov, the Deputy Mayor of Moscow for Transport.
The vehicles will come to the capital over the next 2 years. Moscow currently runs 1,055 electric buses on 79 routes. (Earlier post.) The new purchases will double that number.
This year, Moscow plans to install nearly 200 ultra-fast charging stations for the electric buses; open a second electric bus park in the Mitino district in the northwest of Moscow; and launch 29 more electric bus routes.
Since 2022, the innovative Russian-made electric buses have been delivered to Moscow. The upgraded e-buses have modernized batteries that deliver 80-90 km without charging. The front route indicator has become larger and the floor covering is stronger. The new electric buses are equipped with four validators instead of three, making it more convenient for the passengers to pay. The e-bus cabin is also provided with the adaptive light: it depends on the time of the day and changes from cold light to warm one.
This is the largest purchase of this type of transport in Europe. Such contracts support Russian engineering, provide the industry with orders and jobs. New innovative electric buses will increase the comfort of passengers and improve the environment.
—Maksim Liksutov
Electric buses were launched in Moscow in 2018; the growing electric bus fleet has run more than 115 million kilometers since then.