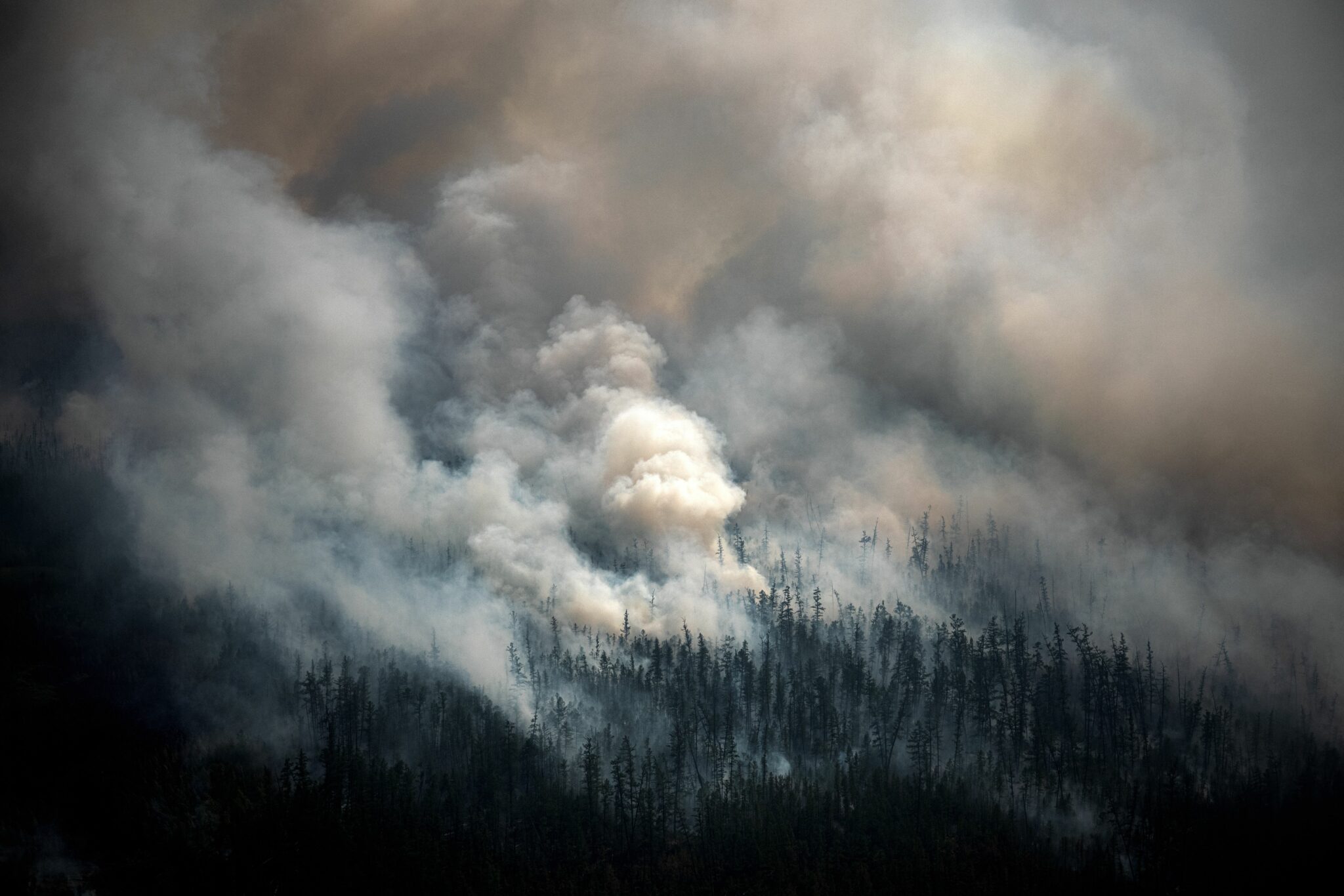 This aerial picture taken from an airplane on July 27, 2021, shows the smoke rising from a forest fire outside the village of Berdigestyakh, in the republic of Sakha, Siberia. Credit: Dimitar Dilkoff/AFP via Getty Images
Carbon emissions from wildfires in boreal forests, the earth's largest land biome and a significant carbon sink, spiked higher in 2021 than in any of the last 20 years, according to new research.
Boreal forests, which cover northern latitudes in parts of North America, Europe and Asia usually account for about 10 percent of carbon dioxide released annually by wildfires, but in 2021 were the source of nearly a quarter of those emissions.
Overall, wildfire emissions are increasing. In 2021, however, fires in boreal forests spewed an "abnormally vast amount of carbon," releasing 150 percent of their annual average from the preceding two decades, the study published earlier this month in the journal Science said. That's twice what global aviation emitted that year, said author Steven Davis, a professor of earth system science at the University of California, Irvine, in a press release.
Wildfire emissions feed into a detrimental climate feedback loop, according to the study's authors, with the greenhouse gases they add to the atmosphere contributing to climate change, which fosters conditions for more frequent and extreme wildfires.
"The boreal region is so important because it contains such a huge amount of carbon," said Yang Chen, an assistant researcher at UC Irvine and one of the study's authors. "The fire impact on this carbon releasing could be very significant."
In recent decades, boreal forests have warmed at a quickening pace, leading permafrost to thaw, drying vegetation to tinder and creating conditions ripe for wildfires. The advocacy group Environment America said disturbances like logging, along with the warming climate in the boreal forest, could turn the region "into a carbon bomb."
Overall, boreal forests have "profound importance for the global climate," said Jennifer Skene, a natural climate solutions policy manager with the Natural Resources Defense Council's international program. "The boreal forest actually stores twice as much carbon per acre as tropical forests, locked up in its soils and in its vegetation. The Canadian boreal alone stores twice as much carbon as the world's oil reserves. So this is an incredibly vital forest for ensuring a climate-safe future."
Most of the carbon that boreal forests sequester is in the soil, as plants slowly decompose in cold temperatures, said Skene. As wildfires burn, they release carbon stored in the soil, peat and vegetation. In 2019, research funded in part by NASA suggested that as fires increase, boreal forests could lose their carbon sink status as they release "legacy carbon" that the forest kept stored through past fires.
In 2021, drought, severely high temperatures and water deficits contributed to the abnormally high fire emissions from boreal forests, according to the new study. Though wildfire is a natural part of the boreal ecosystem, there are usually more than 50 years, and often a century or more, between blazes in a given forest. But as the climate warms, fires are happening more often in those landscapes.
"What we're seeing in the boreal is a fire regime that is certainly becoming much, much more frequent and intense than it was before, primarily due to climate change," said Skene, who was not involved in the study. Skene said it's also important to protect the boreal because "industrial disturbance" makes forests more vulnerable to wildfires.
Boreal forests have experienced lower amounts of logging and deforestation than other woody biomes, like tropical forests. But the study's authors noted that increased disturbance in boreal forests would impact their carbon-storing potential and that climate-fueled fires could push forests into a "frequently disturbed state." In 2016, a wildfire near Alberta spread into boreal forest and in total burned nearly 1.5 million acres, becoming one of Canada's costliest disasters. To preserve the biome, more than 100 Indigenous Nations and communities have created programs to help manage and protect parts of the boreal region.
"From a climate mitigation standpoint and from a climate resilience standpoint, ensuring forest protection is more important than ever," said Skene. "It's much more difficult in the changing climate for forests to recover the way that they have been in the past. Once they've been disturbed, they are much less resilient to these kinds of impacts."