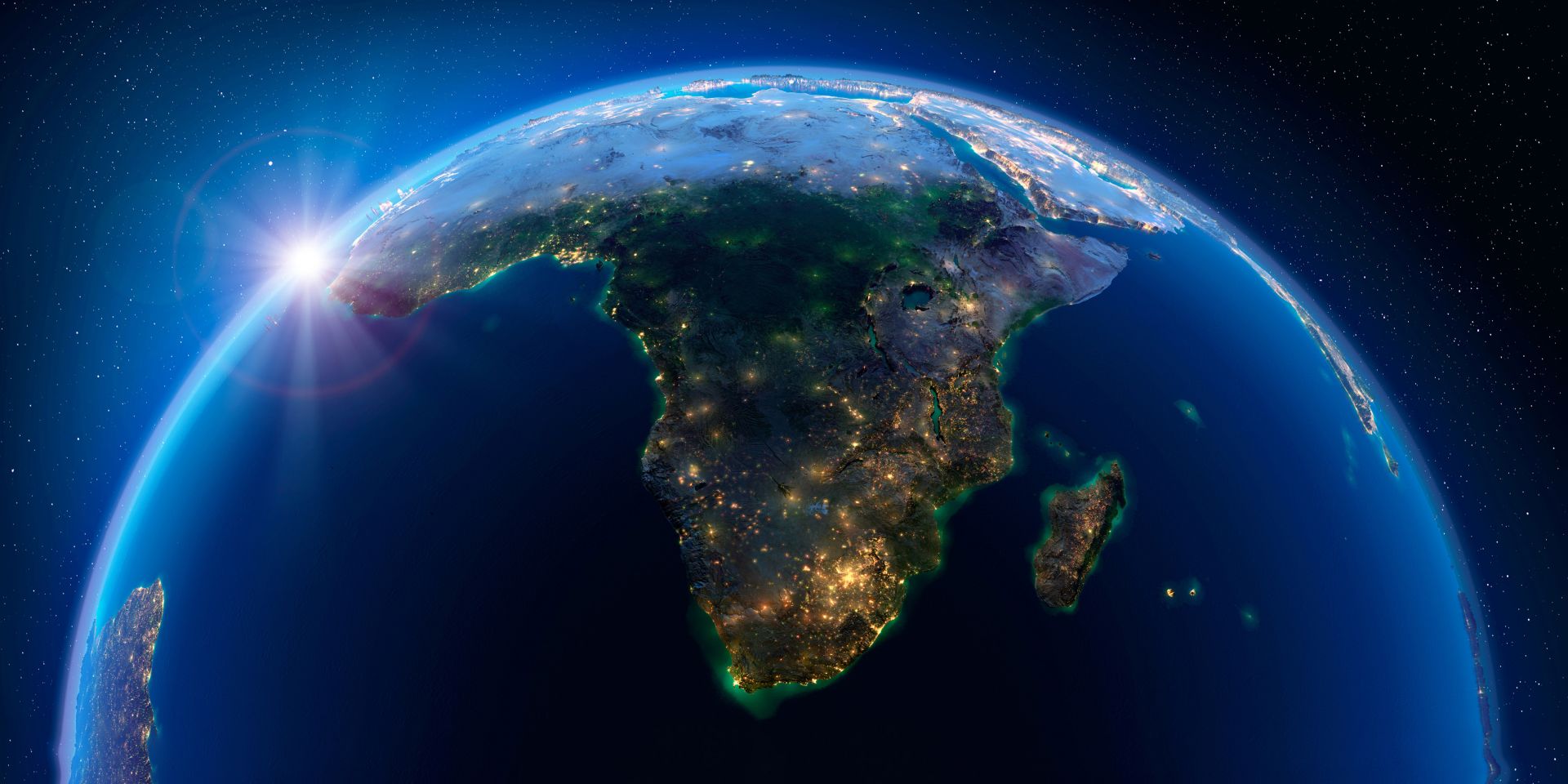 The African continent is made up of 54 countries and can be broadly divided into North Africa and Sub-Saharan Africa. For global power, Africa is an emerging frontier that holds much promise and could potentially be a new sphere of influence. It has a larger land mass than India, China, the contiguous United States, and Eastern Europe combined, but it can be easy for those unfamiliar with the continent to underestimate its size, influence, and diversity. In the coming years, Africa will play a growing role in global economics and demographics.
Energy outlook for Africa
The successive crises of COVID-19 and Russia's invasion of Ukraine have impacted Africa's energy systems, including reversing positive trends in improving access to modern energy, with an additional 4 percent of Africans living without electricity in 2021 compared to in 2019.
Today, while Africa represents nearly one-fifth of the world's population, it has accounted for barely 3 percent of the world's energy-related carbon dioxide emissions to date and has the lowest emissions per capita of any region. Yet Africa is unfairly facing more severe effects of climate change than other parts of the world. These effects include water stress, reduced food production, increased frequency of extreme weather events, and lower economic growth. As it stands, 43 percent of the continent's population, around 600 million people, lack access to electricity, most of them in sub-Saharan Africa.
To overcome these varied challenges, Africa is actively pursuing its Agenda 2063, which is a development blueprint spanning a period of 50 years to achieve inclusive and sustainable socioeconomic development. The African Union has taken concrete steps toward achieving this ambition by launching on July 15, 2021, the continental Green Recovery Action Plan, which focuses on multiple priority areas such as climate finance, impact of funding, supporting renewable energy, energy efficiency, and national Just Transition programs.
In addition, the African Energy Commission (AFREC) successfully revamped in 2021 the African Energy Information System and Database (AEIS)—the first-ever continental information management system, which aims at collecting energy statistics and facilitating rapid dissemination and exchange of information among African Union member states, regional and international organizations, the public, and other stakeholders.
Furthermore, AFREC is actively engaging with the African energy efficiency program developed with the aim of significantly reducing the final energy demand and pollution emissions across the continent. The agency also strives to provide increased electricity access, competitiveness, energy security, and economic development by supporting the unlocking of at least $175 billion in available savings by 2030.
Overview of the African nuclear market
An increasing number of countries on the continent are looking at nuclear as a reliable baseload energy source. Furthermore, nuclear power would bring economic transformation to African countries through the provision of electricity in a safe and environmentally friendly manner. Nuclear power would also enable the African continent to achieve targets under United Nations Sustainable Development Goals 7 and 13. Goal 7 aims at ensuring access to affordable, reliable, sustainable, and modern energy for all, and goal 13 focuses on combatting climate change and its impacts.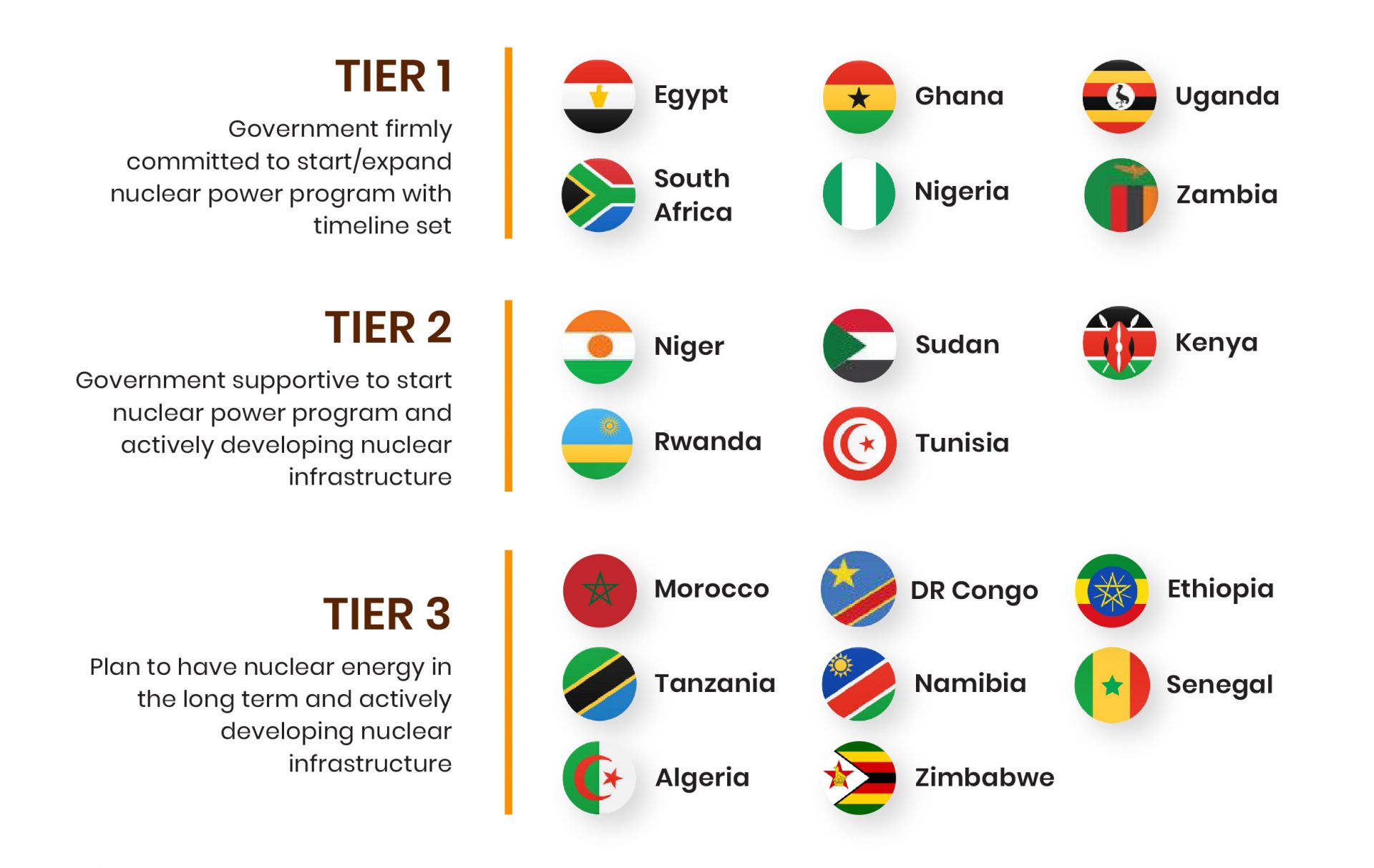 Eleven African countries in particular are currently considering adding nuclear power to their energy mix: Algeria, Egypt, Ghana, Kenya, Morocco, Namibia, Nigeria, Senegal, Sudan, Tunisia, and Uganda—in addition to South Africa, which is the only country on the continent to have an operating nuclear power plant.
Over the past year, there has been significant progress regarding nuclear energy implementation in various countries of the continent, such as identifying sites for upcoming future nuclear power plants, drafting nuclear laws and regulations, establishing dedicated nuclear organizations, putting out requests for information, conducting International Atomic Energy Agency Integrated Nuclear Infrastructure Review (INIR) missions, and working on the IAEA's recommendations.
According to Uganda's state minister of energy Opolot Okasai, speaking during the Africa Nuclear Business Platform (NBP) Lite 2022 conference, Uganda started its nuclear power journey by developing a strategy because they recognized the need to move for nuclear power generation. Having considered all the various resources that the country had, Ugandan officials concurred that the fastest way to get to where they wanted for electricity generation was via the nuclear energy route.
Who are the key African countries pursuing nuclear energy? The NBP has divided the countries into three tiers based on government support for nuclear energy, timelines, and infrastructure activities (see graphic above).
Ghana next in line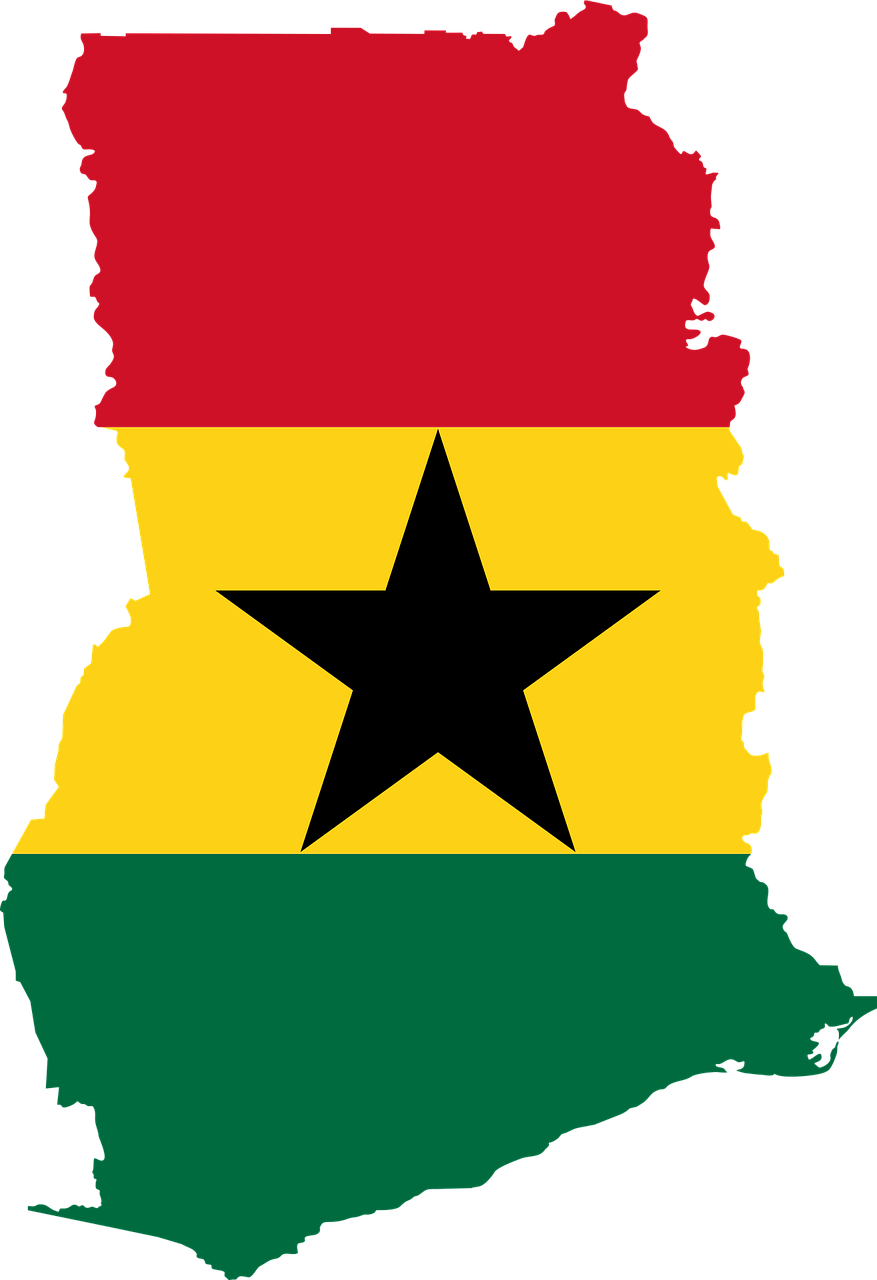 Nuclear projects are complex megaprojects that usually take more than a decade to be implemented. Therefore, successfully introducing nuclear power largely depends on a network of infrastructural developments, which include, among others, human resource development, grid infrastructure, security and physical protection, management of radioactive waste, funding and financing, as well as legislative and regulatory framework.
Ghana is one of the frontrunners in sub-Saharan Africa, after South Africa, to have nuclear power; therefore, it is important to have a closer look at its activities and developments. In 2008, the government took a cabinet decision to introduce nuclear energy into the country's energy mix. Ghana's nuclear power program is based on a roadmap that was formally approved in December 2015. The key elements in the implementation of the roadmap include the following:
National commitment—strong government support exemplified through the appointment of key institutions for functional roads, provision of adequate logistics, and funding.
Competency development programs for identified institutions; active involvement and participation of all key stakeholders.
Coordination and implementation of a body with legislative authority to effectively manage the program development.
Strategic intergovernmental agreements.
Continued monitoring and evaluation of the roadmap and effective reporting of progress across government levels.
According to William Aidoo, Ghana's deputy minister of energy, speaking during Africa NBP Lite 2022, Ghana's unique structured approach has been admired by many nuclear power experts and enthusiasts. They have made very phenomenal progress in their nuclear power program.
Uganda's plans

Rapid urbanization and development of infrastructure have resulted in a significant increase in energy demand in Uganda. The government of Uganda identifies electricity access as a key to shifting the country from a developing economy to an industrialized and largely urban society.
To help fulfill this need, Uganda is considering having 2000 MW of nuclear capacity by 2032. The country will start with a center for nuclear science before aiming to build the first nuclear power plant in East Africa. Nuclear is considered a critical component in satisfying Uganda's energy demand for the future and plays an integral role in the country's development plan, Uganda Vision 2040. Pre-feasibility studies for launching the country's first nuclear power plant have been completed. Uganda aims to be a nuclear hub in the region, which will allow neighboring countries to benefit from such a project. Many advances in nuclear infrastructure have taken place in Uganda since the cabinet approved the Nuclear Power Roadmap Development Strategy 2014–2016, which outlines the issues for consideration before embarking on a nuclear power program, as well as a plan for assessing these issues.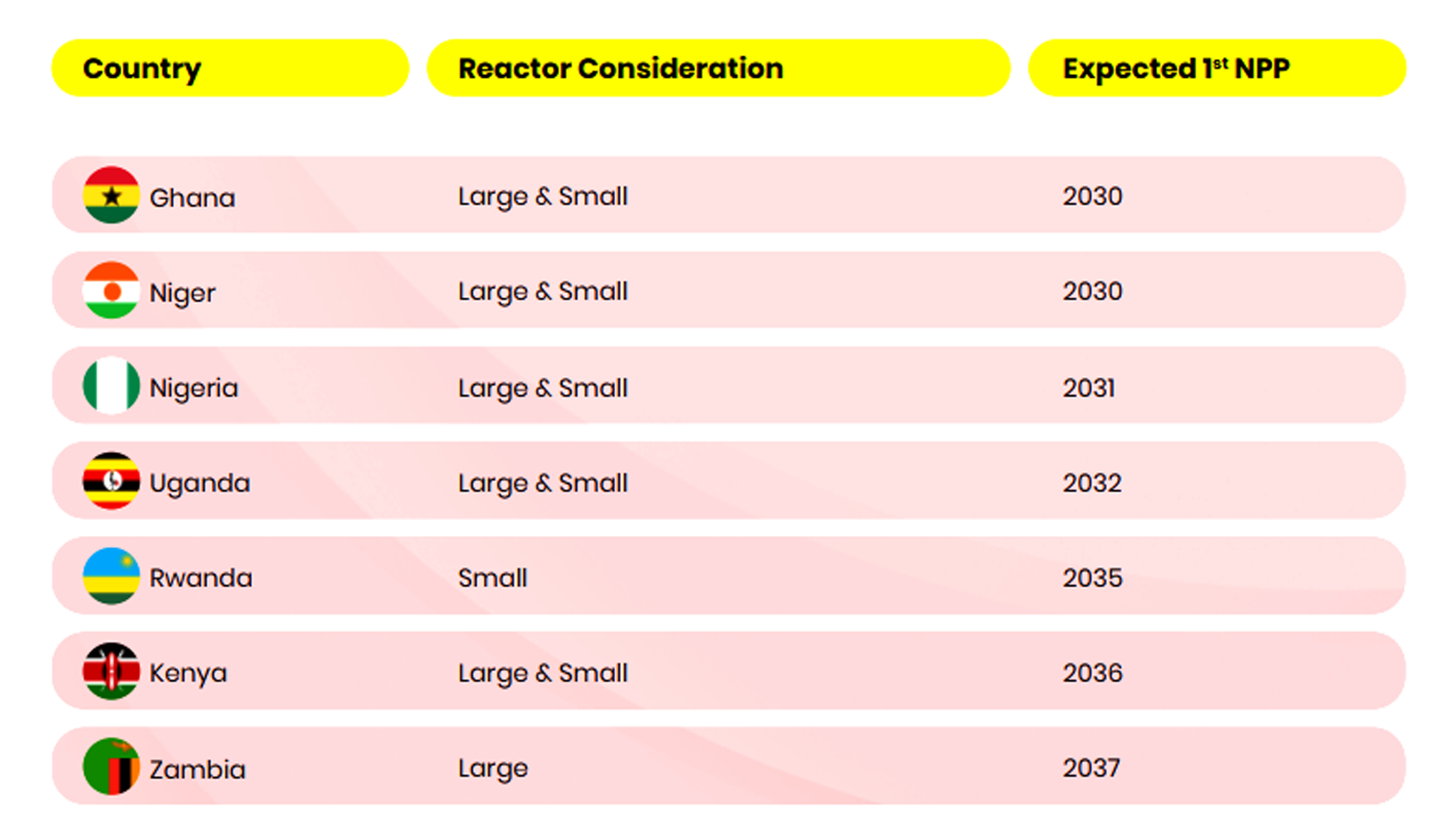 Bridging the gap between SMR developers and African end users
Small modular reactors are expected to be a viable nuclear solution to meet energy supply security, both in newcomer and expanding countries. Currently, more than 70 SMR designs are under development around the globe.
An emerging development, the majority of African countries are accepting the idea of considering adoption of SMRs. Some African countries have switched their reticence or outright refusal to assess SMR technology. In fact, some countries, like Rwanda, are only considering the deployment of SMRs for their future nuclear energy program.
However, a common feeling among most African countries is their dissatisfaction with the current level of engagement of global SMR developers. African countries feel that these vendors should engage with them more proactively and take into account their considerations and specificities while designing their reactor technologies. Many African officials also note that there is currently a lack of direct information from SMR developers on the technology and other surrounding matters, such as localization plans, regulatory approaches, and commercialization timelines.
Against this backdrop, the NBP conducted the second edition of its annual Africa SMR Survey, which was launched in 2021 to gain insights and perspectives of prospective adopters of SMR technology in emerging countries in Africa and elsewhere. The survey findings will provide valuable feedback to SMR developers to refine and streamline their offerings to cater to the African market. It is hoped that the results of this survey will play a pivotal role in bridging the gap between SMR developers and end users with the goal of accelerating the deployment of SMR technology especially in emerging countries.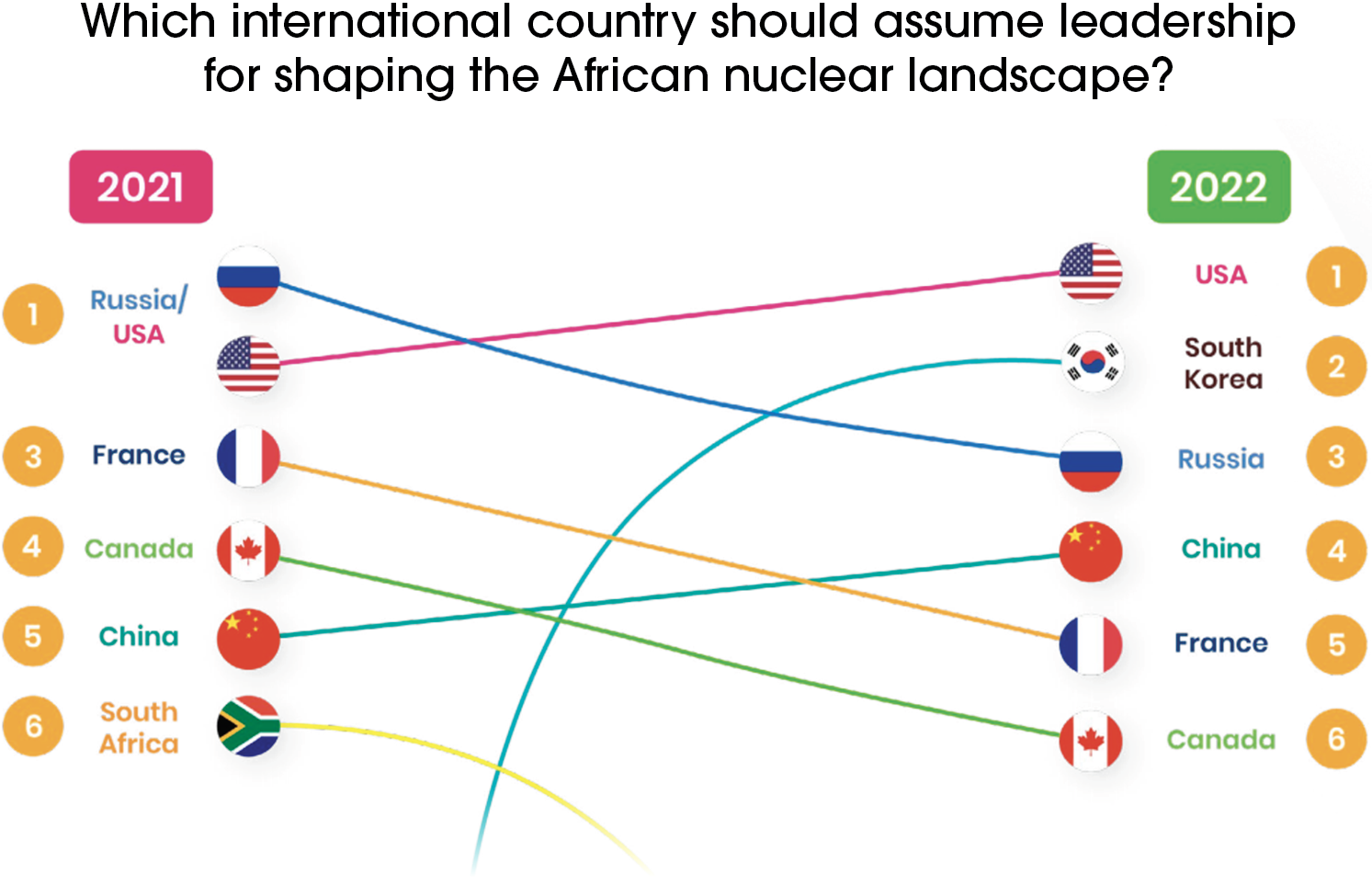 Key takeaways
Altogether, 221 senior officials from 43 government organizations across 23 African countries participated in the 2022 NBP survey. Eighty-eight percent of respondents indicated that they are considering the adoption of SMR technology for their country. This is mainly driven by the fact that SMR technology promises to be cheaper and quicker to construct than large nuclear power plants, while being scalable and flexible.
While there are over 70 SMR designs globally, over 60 percent of African countries have only engaged with one SMR developer, which suggests a lack of engagement on the part of SMR developers. Sixty-three percent of respondents agreed that there has been a lack of engagement from SMR developers with their countries.
Interestingly, only 16 percent of respondents are against being the first adopter of an SMR technology. In addition to being keen to connect with SMR vendors, the stakeholders would like to be updated on developments and localization plans from the SMR vendors. They are keen to gain insights about the economic impact SMR adoption can have in their countries.
The most popular international country that African countries are keen to work with is South Korea, followed by Russia, China, the United States, and Canada. Twenty-eight percent of respondents indicated that they would like the United States to assume leadership for shaping the African nuclear landscape, followed by South Korea, Russia, and China. The graphic above shows how these attitudes have changed between the 2021 NBP survey and the 2022 survey.
While most plans for nuclear energy in Africa are still in their very early stages, there are unmistakable signs of active growth. Egypt has begun construction on its El-Dabaa plant, and so that country will soon join South Africa as the second nuclear power nation on the continent. Almost a dozen other countries have supportive or firmly committed governments working toward nuclear power programs. The nations of Africa see nuclear power as an important tool for developing economically and responsibly in terms of climate change. Many of these plans will surely come to fruition in the decades to come.