US company GSE Systems Inc has been awarded a contract by Finnish power company Teollisuuden Voima Oyj (TVO) to upgrade the training simulators for units 1 and 2 of the Olkiluoto nuclear power plant.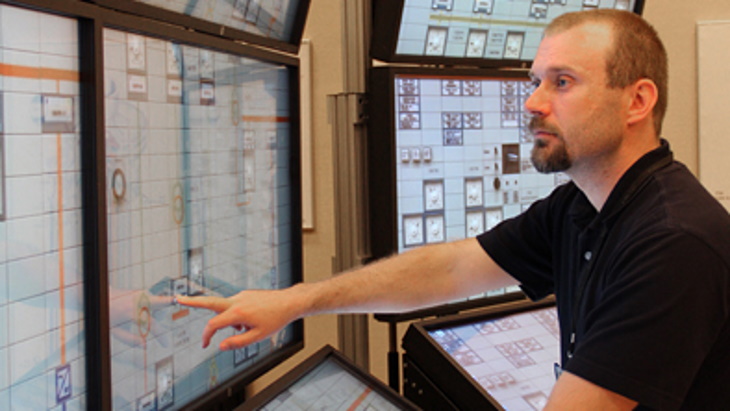 An engineer in the training simulator for Olkiluoto 1 and 2 (Image: TVO)
Simulators are a vital piece of equipment for training plant operators, both at the start of their careers and for their continuing training. They replicate control room panels and help train students in reactor operations under normal conditions and in emergency situations.
GSE built the original OL1 and OL2 simulators in the 1980s. Since then, the company has continued to service and upgrade the simulators at various delivery points.
The latest contract - the value of which was not disclosed - will be fulfilled in two stages between now and August 2025. It will include an upgrade to the plant containment building model with a new JTopmeret-based model for the OL1 and OL2 training simulators, as well as a replacement of the existing Theatre-based reactor thermohydraulic model with GSE's latest RELAP 5-HD solution.
GSE said these upgrades "will enhance the operator's experience, taking advantage of the latest advances in simulation technology to provide even more realism to the training sessions and see phenomena not previously available with the legacy systems".
"GSE simulators are used in power generation plants worldwide to create training scenarios around real events and unique operating conditions," said GSE Solutions President and CEO Kyle Loudermilk. "It's a privilege to continue to work with customers year-after-year to help improve training development. These latest updates will continue to help TVO achieve their goal of safe, reliable, and optimal operations well into the future."
Olkiluoto units 1 and 2 - both 890 MWe boiling water reactors which began operating in 1979 and 1982, respectively - currently meet one-sixth of Finland's electricity demand. Once the Olkiluoto unit 3 EPR pressurised water reactor begins regular electricity production, expected next month, the plant will account for about 30%.
TVO began training operators for unit 3 on a separate simulator in February 2017. The training takes around one year and concludes with a test, where the trainee presents their knowledge and working skills. Site personnel were required to acquire an operating licence as a prerequisite for fuel loading at the OL3 EPR, which began in March 2021.