Lexus has introduced the all-new, all-electric Lexus RZ 450e—the brand's first globally available, purpose-built battery-electric vehicle. (Earlier post.) The RZ is the latest electrified vehicle in the Lexus lineup, which includes seven hybrid and plug-in hybrid vehicles, and will start in the US at $59,650 MSRP.
With its new lightweight e-TNGA steel platform (a first for Lexus), the RZ possesses an optimal placement of mass and high body rigidity. RZ's body employs high-tensile steel panels and an aluminum hood to reduce weight and increase rigidity. A range of innovative technologies marry body and platform, including Laser Screw Welding and Laser Peening, short pitch spot welds, and high rigidity expansion joints.
The lightweight platform also offers enhanced stability and ride comfort by mounting the 96-cell, 71.4 kWh lithium-ion battery pack, developed by Prime Planet Energy & Solutions (PPES), under the vehicle floor, creating a low center of gravity and inertia movement. A urethane sealant helps to keep dust and water out of the stack's reinforced structure, while efficient water-cooling and water-heating systems work to maintain an ideal battery temperature.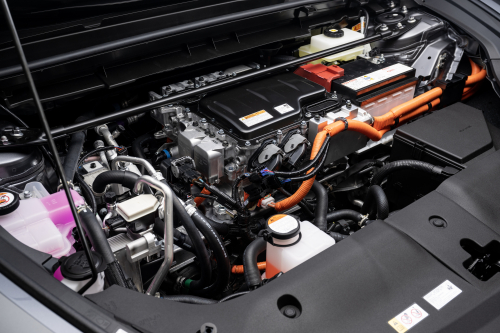 The RZ 450e has a 308 hp total system rating and a manufacturer-estimated 0-60 acceleration time of 5.0 seconds. It has an EPA-estimated range rating of up to 220 miles when equipped with 18" wheels and an EPA-estimated MPGe rating of 115/98/107 (city/highway/combined). When utilizing 20" wheels, the RZ has an EPA-estimated MPGe of 102/87/95 with an EPA-estimated range of up to 196 miles.
RZ 450e utilizes DIRECT4, an all-wheel drive system first introduced with the 2023 Lexus RX, which features a rear eAxle coupled with the engine and front motor. RZ's DIRECT4 system utilizes two high-output, high-torque eAxle units that each drive a wheel set—one in the front (150-kW) and the other at the rear (80-kW). Three-point eAxle motor mounts, each using a lightweight aluminum bracket, are placed symmetrically on each side to counterbalance the eAxle's torque.
The DIRECT4 system works to optimize RZ's drive force, traction, and posture control (e.g., pitch and dive) in accordance with driving conditions and the load carried by each wheel. DIRECT4's front-to-rear torque distribution has a maximum range of 100:0 to 0:100, depending on the driving situation.
Also lending to the RZ's drive performance is the front MacPherson strut type suspension and rear trailing arm multi-link configuration with both specifically tuned and located to enhance handling balance, roll posture, and ride comfort.
At the rear, Frequency Reactive Dampers (FRD) are outfitted to the RZ's suspension, altering the dampening force on the extension stroke in response to road surface frequency input. The FRD works to provide a high level of handling stability and helps to achieve a comfortable ride. With FRD and e-TNGA, key Lexus Driving Signature traits such as the precise control of sprung weight, along with natural posture changes, a tactile steering feel and the linear responses of steering, braking and acceleration operations are enabled.
Braking and Steering. Lexus Driving Signature is also reflected in the new Active Hydraulic Booster-G (AHB-G) braking system that works with the DIRECT4 system and RZ's regenerative motor capability to reduce vehicle speed while helping to improve vehicle posture.
With a new Vehicle Stability Control actuator and on-demand pressurizing system using a high-performance pump motor, this braking system provides a natural and responsive brake pedal feel. The front-to-rear brake force distribution is controlled by independent pressure regulation, contributing to a comfortable drive and stable vehicle composure while braking. Furthermore, ergonomic brake pedal pads are used for easy pedal changes and pedal depression.
In addition, an all-new Vehicle Braking Posture Control program adjusts front-to-rear brake force distribution according to a driver's braking input as well as the suspension's vertical inputs. This aims to improve handling and body posture while braking and turning.
A standard rack assist-type Electric Power Steering (EPS) system reduces the amount of steering input needed by utilizing a new motor and reduction gear setup that is installed parallel to the steering box. Moreover, a Motor Control Unit (MCU) with an integrated motor and motor current control ECU, reduces the EPS' size footprint and minimizes operational noise.
Available in the US at a future date, the all-new Steer by Wire system enables the electronic exchange of steering and road surface information between the advanced steering control and tires via electrical signals, not mechanical linkage.
As such, drivers feel quick, controlled, communicative steering reactions. The system's steering ratio constantly works to adjust to the RZ's speed, thereby allowing for superb agility in slow-speed situations and impressive stability while at higher speeds.
After their genius move, they are now a couple of million down, important if you want to be a mass manufacturer.
Aguably Toyota may have got their timing just right, and can introduce more battery models with far better batteries than was possible before.
As many years ago, Ford being first did not help, when GM got their timing right.