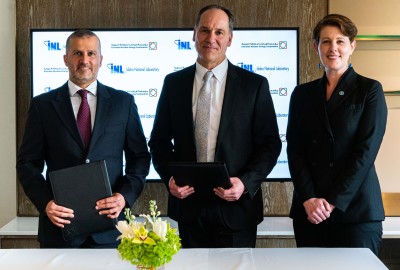 - Nuclear energy offers an excellent source of energy and steam for generating clean hydrogen
- Announcement made at CERAWeek following signing between ENEC and INL officials
- ENEC and INL also announced partnership on delivering a net-zero nuclear platform at COP28
The Emirates Nuclear Energy Corporation (ENEC), responsible for delivering the UAE Peaceful Nuclear Energy Program and its flagship Barakah Plant in Abu Dhabi, United Arab Emirates (UAE), has signed a letter of intent (LoI) with Idaho National Laboratory (INL), USA, one of the world's largest and most advanced scientific research institutions. The letter was signed during CERAWeek by S&P Global, the world's premier energy conference taking place in Houston, U.S. from 6-10th March 2023.
The LoI comes after a senior delegation, led by His Excellency Mohamed Ibrahim Al Hammadi, Managing Director and Chief Executive Officer of ENEC, visited Idaho National Laboratory in February 2023 and met with experts from the laboratory, to evaluate the latest in clean energy technologies, as part of ENEC's aim to lead the rapid decarbonization of the UAE's electricity grid.
The LoI sets a foundation for discussions regarding INL working with ENEC on clean molecule generation systems that could be deployed at the Barakah Nuclear Energy Plant, located in the Al Dhafra region of the Emirate of Abu Dhabi. The letter will enable exploring systems to generate commercial-scale clean molecule production, including hydrogen, ammonia, oxygen, water and steam, with the long-term view to export clean hydrogen and ammonia to meet growing global demand.
The LoI between ENEC and INL will enable workshops, knowledge sharing and concept discussions, along with site visits for the INL team to the Barakah Plant, to develop the partnership between the two parties at a later stage.
INL also plans to partner with ENEC on its Net-Zero Nuclear platform at COP28, which is scheduled for Expo City, Dubai, in November 2023.
The Net-Zero Nuclear platform will bring together organizations, experts and groups to showcase the essential role nuclear can play in tackling climate change while ensuring power demands are met to drive the net-zero economy. The partnership involves bringing key INL nuclear experts to COP28 to showcase the lab's key projects to advance nuclear energy and grid management systems and contribute to net-zero.
His Excellency (H.E.) Mohamed Ibrahim Al Hammadi, Managing Director and Chief Executive Officer (CEO) of ENEC commented: "We are focused on realizing the full value of the UAE Peaceful Nuclear Energy Program to continue our contributions to achieving the UAE Net Zero by 2050 strategy and driving the global clean energy transition. This LoI with INL will support efforts to explore technologies to generate clean energy molecules to accelerate decarbonization, and build on our realistic, data-led approach. This approach has been a major reason for the success of the Barakah Plant, which today is a catalyst for innovation and R&D in the UAE's nuclear energy sector, enabling us to deliver even greater energy security and sustainability."
INL Director John Wagner said: "Like ENEC, INL is committed to a secure, clean energy future. This letter of intent with ENEC is an important step forward to make this future a reality. INL and our world-class researchers have shown over our long history that we have the expertise and capabilities to meet the challenge."
The UAE will highlight the vital role that nuclear energy plays in tackling climate change at COP28. The UAE's Barakah Plant is recognized as a global nuclear energy success story and an international benchmark for project management and cost-effectiveness. With three commercially operating units, the plant is the first multiunit operational nuclear plant in the Arab world and the largest source of clean electricity in the region, sustainably powering the UAE. Barakah is just the beginning of the UAE Peaceful Nuclear Energy Program, with ENEC focused on exploring and incubating strategic investments in nuclear energy locally and internationally that support the UAE's growth and development goals. The Barakah Plant is one of the largest nuclear energy plants in the world, with four APR-1400 units, and once fully operational will power homes and businesses, as well as decarbonize industry as the largest source of clean electricity for the nation's Clean Energy Certificates, in addition to supporting the UAE's strategy to become a net-exporter of LNG by 2030.
INL is home to state-of the-art hydrogen laboratory testing capabilities led by the field's most prominent researchers. This includes preliminary materials research for fuel cell development, a high temperature electrolysis test facility available to commercial partners, and a joint effort that will combine high efficiency hydrogen production with nuclear power plant operations. INL is also developing a number of test beds to support U.S. companies currently developing their small modular reactor technology.
Idaho National Laboratory was founded in 1949 and sits on over 2,305 square kilometers, the size of Luxembourg, and is home to more than 5,700 researchers and support staff members focused on innovation in nuclear energy research, renewable energy systems and security solutions. Most notably, INL operates the world's premier materials test reactor and numerous R&D facilities that support its mission.