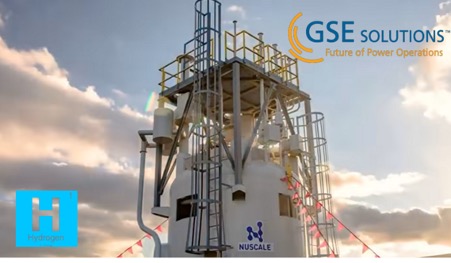 US-based GSE Solutions has been contracted to work with NuScale Power on the development of a hydrogen plant model for NuScale's VOYGR small modular reactor (SMR) simulator. Under the agreement the existing NuScale control room simulator will be modified to evaluate the Integrated Energy System (IES) dynamics and will include GSE's models for hydrogen production. GSE will provide the models, integration, and testing support based on its JProTM Dynamic Simulation Software.
The project will determine the technical and economic feasibility of connecting a hydrogen production facility to a NuScale SMR and will evaluate operating parameters. The scaled-up model is estimated to be complete by the middle of March 2024. GSE will join NuScale Power's research collaboration for clean hydrogen production that seeks to assess new concepts for use in SMR power plants.
"Hydrogen has been identified as a pathway for global decarbonization, and NuScale's SMR technology complements this goal through low carbon hydrogen production," said John Hopkins, NuScale Power President & CEO. GSE Solutions, President & CEO Kyle Loudermilk said: "Clean hydrogen production using our modelling of SMR technology and nuclear power systems demonstrates the potential to enable decarbonisation and stabilise power grids using hydrogen."
NuScale Power's small modular reactor (SMR) design in January became the first SMR design certified by the Nuclear Regulatory Commission. It is an advanced light-water SMR with each module capable of generating 50 MWe. The VOYGR SMR can house up to 12 factory-built power modules.