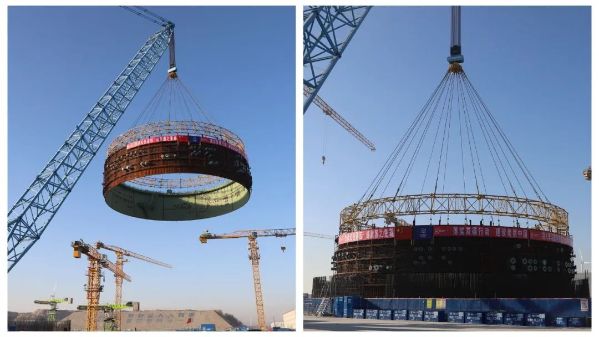 The steel lining module of the inner containment has been installed at unit 4 of China's Xudabao NPP in Liaoning province. China National Nuclear Corporation (CNNC) said the module has an inner diameter of 44 metres and an overall height of more than 10 metres. It features 128 pre-installed through-piece sleeves and 46 tonnes of pre-installed circumferential steel bars. The combined hoisting weight of the module and steel bars totalled almost 457 tons. "The entire hoisting process was safe and quality controlled," CNNC said.
Russia and China in 2018 signed agreements for the construction of two VVER-1200 reactors as units 7&8 of the Tianwan NPP in Jiangsu province and two VVER-1200 units for Xudabao. The following year a general contract for the construction of Xudabao 3&4 was signed along with a contract for the supply of nuclear fuel. Rosatom would design the nuclear island and supply key equipment, as well as providing field supervision. China would provide turbine generators and balance of plant. Construction of unit 3 began in July 2021and unit 4 in May 2022. The units are expected to be commissioned in 2027-2028.
The CNY110bn ($17bn) Xudabao project was originally expected to comprise six Chinese-designed CAP1000 reactors (based on Westinghouse AP-1000s). The National Development & Reform Commission approved the project in 2011 and the National Nuclear Safety Administration approved the site selection in 2014 for units 1&2. However, construction has yet to begin.
The Xudabao plant is owned by Liaoning Nuclear Power Company Limited, a joint venture between CNNC (70%), Datang International Power Generation Company (20%) and State Development & Investment Corporation (10%).