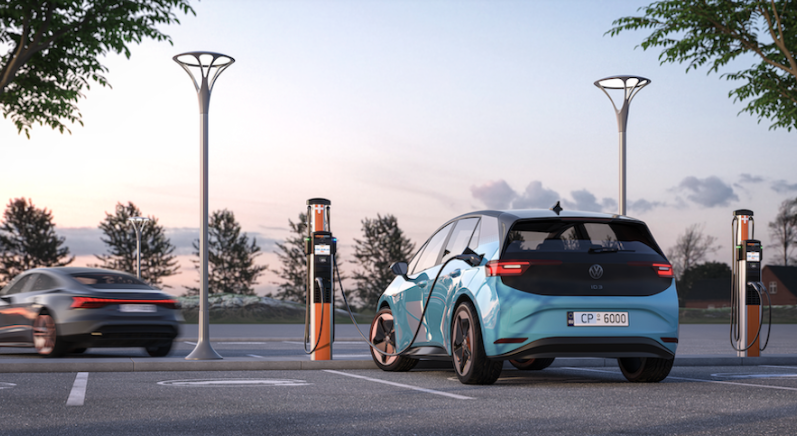 Photo courtesy: ChargePoint
Electric vehicle charging network ChargePoint is teaming up with energy storage solutions provider Stem to pair EV charging with battery storage along highway corridors.
The companies said they hope to lower operating costs, improve resiliency, and help achieve sustainability goals by leveraging EV charging and energy storage with AI-drive energy management software.
ChargePoint will analyze the EV charging demand at EV site locations looking to install DC chargers, assess their eligibility for incentive programs—including the National Electric Vehicle Infrastructure—and work with Stem to determine if a battery energy storage system may reduce the EV site's operating costs.
Join us in San Diego, California on Feb. 6, 2023 for the GridTECH Connect Forum, which will focus on topics like system planning for fleet electrification. Hear from leading experts from Southern California Edison, DSD Renewables, ABB, Mobility House, and PowerFlex. Register to attend today!
By combining their efforts, ChargePoint and Stem said they see the potential to help businesses achieve sustainability goals, especially when paired with on-site solar, and lower an EV site host's utility bills by reducing demand charges.
The companies said that EV site hosts that are in areas with high utility demand charges can reduce or avoid these costs by using battery storage to mitigate demand peaks. Through energy storage-managed EV charging, customers may also be able to protect against the risk of potential utility rate changes.
The agreement comes as the federal government is investing billions of dollars in EV charging through the Bipartisan Infrastructure Law, including $7.5 billion for highway and community charging. Funding programs like NEVI are designed to help accelerate the buildout of the infrastructure required to support the widespread adoption of EVs.