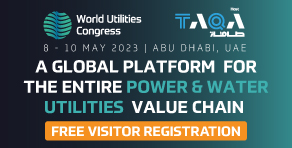 "Taking place in Abu Dhabi from the 8th-10th May, the second edition of the World Utilities Congress, hosted by TAQA will be uniquely situated in the energy calendar. Sitting between COP27 in Egypt and COP28 in the UAE, the World Utilities Congress will further critical conversations around the Middle East's contribution to global decarbonisation efforts and promote the vital role of the utilities sector in meeting global net zero targets.
World Utilities Congress 2023 will bring together policymakers, business leaders, investors and innovators to shape the future of the utilities industry, enabling the sector to drive the global transition to clean energy and meet major climate targets.
Alongside the exhibition, the conference program will enable the industry to convene and engage for 3 days in valuable strategic and technical discussions that are shaping the future of the utilities sector covering the challenges and opportunities of the energy transition, customer-centric business models, digital transformation, supply and demand dynamics, raising capital and project finance, and more...
Over 3 days, the event will convene over 10,000 trade professionals, 250+ industry expert speakers, 1,000+ conference delegates, and host more than 60 strategic and technical conference sessions, including a dedicated Nuclear Energy Leadership Forum.
For more information, please visit www.worldutilitiescongress.com