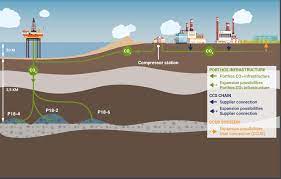 Two projects seeking to store CO2 beneath the seafloor in the US Gulf of Mexico will get a portion of $93mn in federal funding meant to kick-start the development of commercial-scale carbon storage.
President Joe Biden's administration has set a goal for the US to store at least 50mn metric tonnes (t) of CO2 over the next 30 years. The latest round of funding — announced today — will go to 11 projects that are looking at the technical and economic feasibility of commercial-scale storage sites in support of that goal.
"The projects announced today will get us closer to achieving our climate goals while helping to revitalize local economies and deliver environmental benefits to communities too often left behind," US energy secretary Jennifer Granholm said.
The two offshore projects remain in the early stages of development. The Port of Corpus Christi was awarded $7.4mn for a 24-month feasibility study of a geologic CO2 storage site in Texas' coastal bend region. The Southern States Energy Board, a 16-state economic development group, was awarded $8.4mn to support an offshore CO2 storage complex in the Gulf of Mexico's South Timbalier leasing area off Louisiana.
The US Energy Department awarded funds to carbon storage projects across the US, as part of the second phase of its CarbonSAFE initiative.
The awards include $9mn to the proposed "Roughrider" carbon storage hub in northwest North Dakota that would receive CO2 from multiple gas processing plants owned by US midstream operator Oneok. Another $8.8mn will support a study into the feasibility of a carbon storage complex that would receive CO2 from Calgren Renewable Fuels' ethanol and dairy digester plant in Pixley, California. The Port of Corpus Christi was receive an additional $9mn to study the feasibility of an onshore CO2 storage site under Port-owned property.
Carbon storage projects can receive federal tax credits of up to $85/t for CO2 stored in geologic formations under part of last year's Inflation Reduction Act. That law also provides a tax credit of up to $180/t for direct air capture of CO2 that is permanently sequestered.