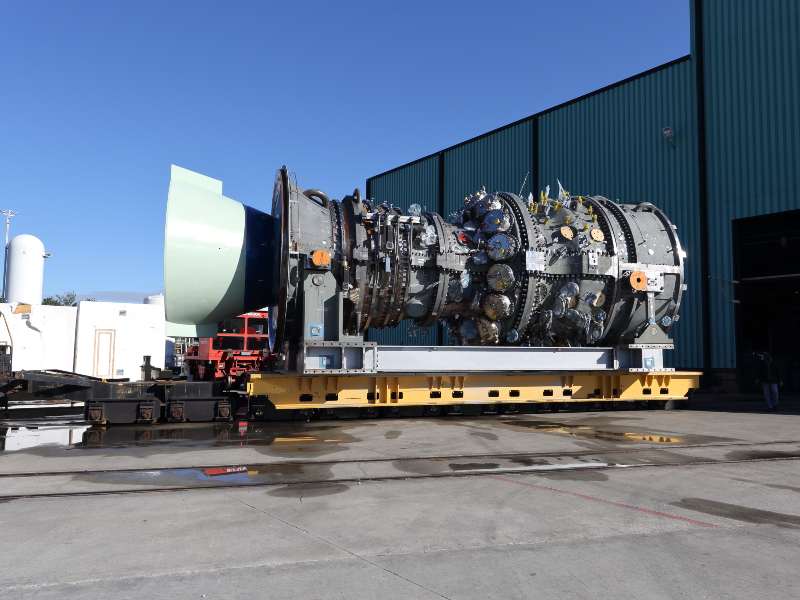 H-class gas turbine. Image credit: GE
GE and Chinese state-owned power utility Guangdong Energy Group have signed a long-term service agreement for Dongguan Ningzhou power plant, which is powered by three GE 9HA.02 gas turbines.
Also, GE has announced it will provide support services to a further 10 GE aeroderivative gas turbines which currently power China Huadian Corporation LTD. (CHD)'s Tianjin Beichen, Guangdong Foshan, Jiangsu Jinhu, Shanghai Minhang and Fujian Xiamen power plants with the aim of supporting development of surrounding industries.
Guangdong Energy Group
The agreement with Guangdong Energy Group includes spare parts supply, unit maintenance, technical support and on-site services for up to 18 years to boost the reliability and availability of these power generation assets.
The plant will add 2.4GW of power to the Guangdong province in alignment with national goals to transition from coal to natural gas to reduce carbon intensity.
In 2018, commercial operations started at the Xinhui Power Plant, powered by two GE 9F.05 gas turbines. In 2020, Guangdong Energy Group ordered three GE 9HA.02 gas turbines for Dongguan Ningzhou combined cycle power plant in the Greater Bay Area. The three units arrived in Dongguan City last year and, once completed, Dongguan Ningzhou Power Plant will supply power to more than 4 million households in China.
China Huadian Corporation LTD.
GE Gas Power and Huadian GE Aero Gas Turbine Equipment Co., Ltd. (HDGE), a joint venture between China Huadian Corporation (CHD) and General Electric, have collaborated since 2014.
HDGE has introduced technologies for four types of aeroderivative gas turbine units in the LM2500 and LM6000 series, becoming one of GE's three manufacturing sites for aeroderivative gas turbine production around the world.
In 2016, GE Gas Power signed a Phase I long-term service agreement with HDGE for continued maintenance services of aeroderivative gas turbine units for three CHD projects in Shanghai Xinzhuang, Guangxi Nanning and Jiangxi Jiujiang.
GE will continue to work together with Guangdong Energy Group and CHD to support the reliability, and availability of these assets, while also supporting their path toward decarbonisation.