Emerging technologies in electrification may mean that, in the near future, all mining can store or generate required electricity but often more, creating extra income.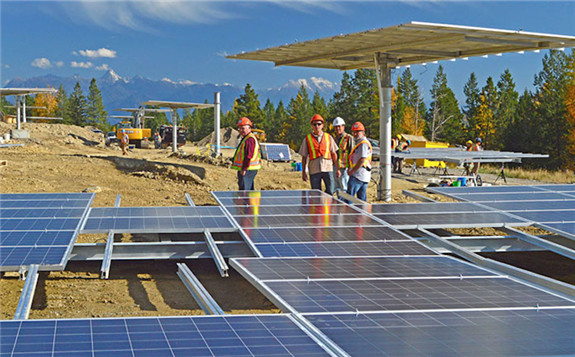 This, according to a new report by IDTechEx that states that solar and wind power with energy independence is the mining trend but that means increased energy storage from hours to seasonal. SIGN UP FOR THE ENERGY DIGEST
"Imagine mines with so much electricity production and storage that they do far more downstream processing. As reserves deplete, many will even transition to being zero-emission power stations and electricity storage for local communities and industry or even national grids. The cost of making goods becomes income from reinvention. That is the untold story of mining electrification, beyond the vital safety, greening, and cost reduction of electrics," the report reads.
Some of the new technologies identified as promoters of the on-demand electrification trend are gravity storage, floating solar, and caverns for compressed air storage.
But IDTechEx's review shows that the financial benefits of electrification are often underestimated and such underestimation may lead to wrong decisions.
At present, some miners seem to be focused on how expensive it is to customize their fleet. However, the market researcher says that what they are missing is the fact that standardization will likely become the norm sooner rather than later, as some companies are already ordering Tesla Cybertruks and construction vehicles where appropriate.
"Many pivotal advances will occur after 10 years but they need to influence planning and viability calculations now. What timing for unmanned mines, increased processing on-site, the final death of diesel, fuel-cell shakeout, tripling the endurance of battery vehicles before recharge?" Raghu Das, CEO of analysts at IDTechEx, wrote in the report. "Later change of course to incorporate some of these dramatic opportunities will be expensive and sometimes even impossible. An open-pit mine can provide massive solar power and massive gravity storage from summer to winter when solar is feeble. Sea-floor mining may produce its own wave and tidal power for local processing and ice for local fish farming as well. At least consider the emerging options."
In Das' view, electrification is inevitable, driven by cost, regulations, health, reputation, and ever-tougher location, morphology, and toxicity of remaining reserves. "The unmanned mine has arrived and, to be optimal, it can only be electric," he said.