Giles Crosse reviews the world's tidal power projects, to ask what the future could hold for this as-yet-undeveloped energy source.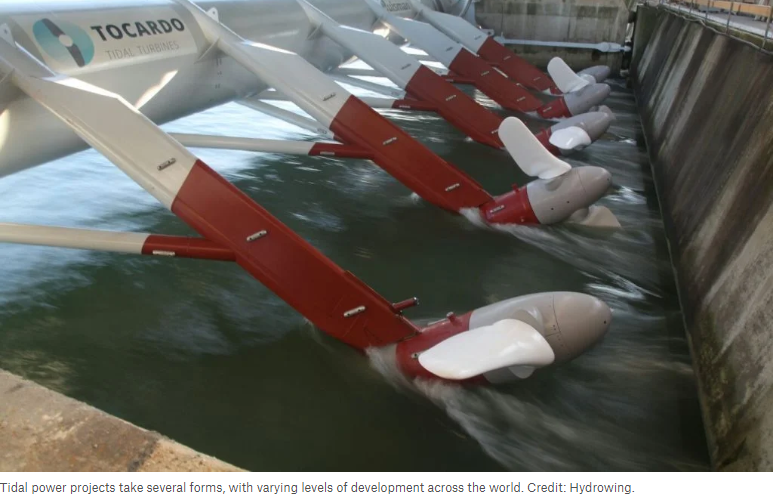 Earlier this year, the US state of New Jersey passed legislation promising financial incentives for regional tidal power projects, to the approval of local companies. The move could be significant to help usher in a new generation of tidal power projects, which have long held significant potential, much of which has yet to be realised. Last year, the world's "largest" tidal power facility began producing power for the UK, adding just 2GW of power to the grid, enough to power 2,000 homes.
Projects such as these are important milestones, but more must be done to expand the role of tidal power in the world's energy mix. With the total value of the global tidal power industry estimated at around $41bn, and the European sector alone able to provide one-tenth of the continent's power demand by 2050, there is optimism for tidal power both as a cornerstone of the energy mix, and a reliable investment for those interested in turning a profit.
But is cash support what the world's tidal resource truly needs to become the next renewable winner, or do other challenges exist outside the dollar's reach? Capacity is growing and finance is flowing too, but tidal and marine power in general have to make big advances to hit emissions targets set by the world's net-zero agencies.
As ever, time is short to get the tech operational, reliable and generating. All of this raises the question, how have the world's nascent tidal power projects overcome these uncertainties to begin work on decarbonising the world's energy mix?
Tidal in the US: Improving tidal legislation
On September 15, 2022, New Jersey legislature said ocean energy represents the third largest source of renewable energy and the largest source of underutilised renewable energy.
Based on this, the state has established an ambitious goal of providing 100% clean energy by 2050, with at least 50% of the state's electricity to be derived from renewables by 2030. The new law says it is critical the New Jersey promotes and facilitates investments in new wave and tidal energy technologies, infrastructure, and facilities.
The oceans have a lot to offer from a green energy perspective. But as The International Energy Agency's (IEA) Ocean Tracking Report says, marine technology needs to be deployed much more rapidly to reach the target of net-zero emissions by 2050..
This models 27TWh of electricity generation in 2030, foreseeing that ocean power generation grows at an average 33% between 2020 and 2030.
But demonstration and small commercial marine projects, says the IEA, remain expensive because the economies of scale necessary for significant cost reductions have not yet been realised. This could be why states like New Jersey are finally coming to the rescue; money is needed and the curve to grow tidal power to hit the necessary targets is steep.
The IEA says marine power's status remains "not on track" because it is far from being aligned with the sustained annual growth of 33% through 2030. This is not expected to be achieved in the immediate years ahead either.
Such generation growth would require an average 1GW of capacity additions annually until 2030, creating an opportunity for tidal power to expand to reach such a demand.
Tidal development in the UK: A new round of projects
ORE Catapult is a UK technology innovation and research centre for offshore renewable energy. ORE says in 2020, the European industry hit a milestone of 60GWh of production.
Despite this, ORE calls political support for the sector inconsistent. This has slowed down investment and technology development, compared to alternatives like solar and offshore wind that have benefited from significant public development funding and energy generation subsidy.
Yet the industry has still shown significant cost reduction ability. In 2018, ORE Catapult estimated the levelised cost of energy (LCOE) at $359/MWh. In the UK in 2022, four projects, generating a total of 4.08MW,were awarded contracts for difference at $213/MWh, to start operation between 2025-27. This indicates an LCOE reduction exceeding 40% with little to no revenue support since 2016.
So, change is coming. A new UK project called Centre Port involves some $2.4bn for a tidal barrage in the Wash, a bay in East Anglia, UK. The promise is that turbines beneath the bay will harness enough energy to power 600,000 homes.
In Scotland, reports say QED Naval has netted more than $1.8m in new tidal funding, as it looks to develop its portfolio including a site off the west coast of Scotland. QED's cash has come from over a thousand investors via crowdfunding platforms.
Tidal power in the EU: 17 projects in progress
Big news has come recently from the EU; in September Wedusea launched a four-year $20.3m project aiming to be the stepping stone towards large scale wave and tidal energy commercialisation.
It is a collaboration between 14 partners, spanning industry and academia from across the UK, Ireland, France, Germany and Spain. It is co-ordinated by the Irish company OceanEnergy and co-funded by the EU Horizon Europe Programme and by Innovate UK, the UK's innovation agency.
OceanEnergy has developed the OE35, which is the world's largest capacity floating oscillating water column wave energy device (WED). The floating WED incorporates a trapped air volume with the lower part open to the sea. Wave pressures at the submerged opening cause the water to oscillate and drive the trapped air through a turbine to generate electricity.
The WEDUSEA project's first aim will demonstrate a grid connected 1MW OE35 floating WED at the European Marine Energy Centre Test Site in Orkney, Scotland.
Again, the battle between capacity, pace and cash seems key. Trade association Ocean Energy Europe says that there are more than enough ocean energy projects in the works to meet the European Offshore Renewable Energy Strategy's target of 100MW by 2025.
At least 17 major projects are already in progress, representing over 160MW of clean energy and $1.2bn of investment. But the clock is ticking to get these projects over the finish line.
Tidal power development in Asia: Part of offshore development
Keppel Infrastructure, National University of Singapore and Nanyang Technological University are developing a floating hybrid renewable energy system for operations in Singapore.
Launched in October, the project uses modular offshore floating solar platforms with the flexibility to integrate other renewable energy technologies, such as ocean wave energy conversion systems, tidal energy turbines and paddles, as well as wind turbines.
The logic is an offshore hybrid can provide continuous 24/7 power output, higher capacity factor and a lower cost of energy compared to single-source energy platforms. Developers hope for 100MW of capacity as a minimum.
Further, UK-based HydroWing has signed a memorandum of understanding with state-owned company Indonesia Power to support and develop tidal energy projects in the country.
The company has said that teams will study selected sites over coming weeks, anticipating tidal energy will provide the base load of a reliant and clean energy system. The teams visited the site late last month, and the deployment should become the first tidal energy power plant in Indonesia.