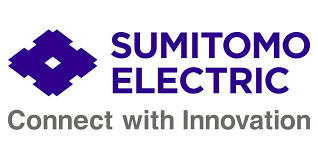 Osaka, Japan- Sumitomo Electric Industries, Ltd. has received its first overseas commercial order for power line communication (PLC)*¹ string*² monitoring units from a German photovoltaic (PV) power generation and Engineering, Procurement and Construction (EPC) company, bes new Energy GmbH. The products have been installed at an existing solar power plant (in operation for about 12 years with an output of 5 MW) and have been operating since October this year.
In Europe, a great number of PV power plants have been installed over the last two decades. Accordingly, many solar power plants and string monitoring units have been in operation for more than 10 years, and an increasing number of facilities are experiencing operational problems due to breakdowns and deterioration after a long period of operation. For this reason, there is a growing need to replace string monitoring units. Looking at this trend at existing power plants, Sumitomo Electric conducted a project to demonstrate the advantages of its PLC string monitoring units in Germany in cooperation with Fraunhofer-Institut für Solare Energiesysteme ISE. As a result, the products were highly evaluated for their significant improvement in power generation efficiency, which became a key reason for winning this order.
Amid growing expectations for the further spread and efficient use of renewable energy toward the realization of a decarbonized society, it is believed that the need for replacing string monitoring units at solar power plants will continue to grow. In order to contribute to the improvement of power generation efficiency, Sumitomo Electric will strive to develop more useful PLC string monitoring units and provide better ancillary services, aiming to realize Safe and comfortable life on our green planet
■ Features of Sumitomo Electric PLC string monitoring units for solar power plants
1. PLC technology used for transmission of string data
・Reducing the construction period and costs of solar power plants by eliminating the need for the construction of communication lines
・No potential difference in the unit in the event of lightning damage due to the elimination of communication lines, achieving lightning protection characteristics higher than those of the RS-485 communication protocol
・Achieving data communication more stable than other communication protocols (RS-485, radio) thanks to Sumitomo Electric's unique noise resistance performance
2. Structure that facilitates retrofitting work (clamping the current sensor)
3. AI-based analysis of the data, which is obtained by the string monitoring unit, on the cloud to send a daily email in the event of a fault and offer a diagnosis service (optional)
4. Track record of shipping more than 10,000 units to solar power plants in Japan
*1 Power line communication : A technology designed to use a power line as a communication channel. Sumitomo Electric products superimpose string current data signals on DC power lines.
*2 String: A minimum configuration unit of series-connected solar panels