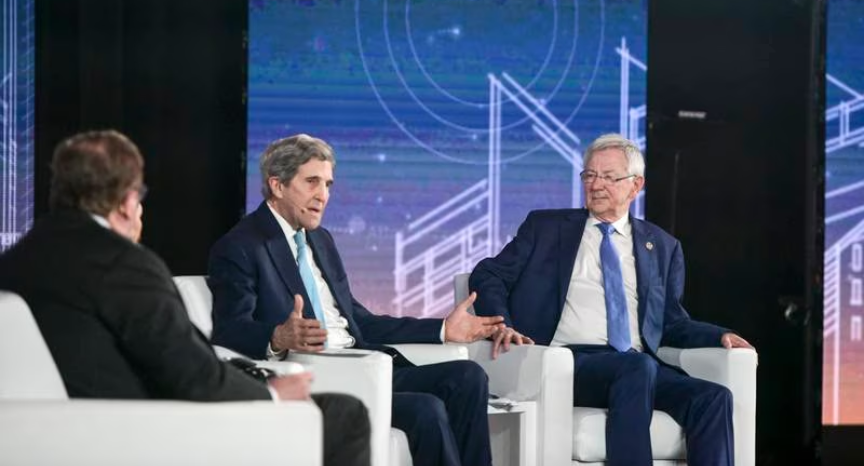 John Kerry, special US climate envoy, and Andrew Steer, president and chief executive of the Bezos Earth Fund, during a panel discussion at the Atlantic Council Global Energy Forum. Khushnum Bhandari / The National
US climate envoy John Kerry has criticised the lack of investment in global energy transition efforts, saying not enough money was being "put on the table" to achieve net-zero targets.
Mr Kerry, a former US senator, was speaking at the Atlantic Council Global Energy Forum in Abu Dhabi on Sunday.
"We're either not trying to do it or we're trying to do it on the cheap, and the result is that we're not doing it," said Mr Kerry
"The system is broken in terms of how we're trying to fix this and we need to respond more effectively."
Investment in renewable energy needs to double to more than $4 trillion by the end of the decade to meet net-zero emissions targets by 2050, the International Energy Agency said in its World Energy Outlook last year.
The IEA's stated policies scenario (Steps), which is based on the latest policy settings worldwide, projects clean energy investment to rise to slightly more than $2 trillion by 2030.
In 2009, developed countries committed to jointly mobilise $100 billion annually in climate finance by 2020 to support developing countries in cutting emissions and adapting to climate change.
"We've never had the full measure of the $100 billion that was promised … and I am sorry that our political process is such that that hasn't been possible," said Mr Kerry.
"But, we put a lot of money on the table."
Watch: John Kerry says he has 'high expectations' for the UAE ahead of Cop28
Last year, several countries pledged to commit $94 billion for clean energy demonstration projects at the Global Clean Energy Action Forum, which was held in Pittsburgh, in the US.
"Energy is the single summary of how you cure this problem," said Mr Kerry.
"The problem is emissions … and for some reason, we've kind of turned our backs on the responsibility that we fought for in the 1970s and 1960s to hold people accountable for pollution."
In 1970, the US enacted the landmark Clean Air Act, which resulted in a major shift in the US federal government's role in air pollution control.


Last year, the US passed the Inflation Reduction Act, which offers a series of tax incentives on wind, solar, hydropower and other renewables as well as a push towards electric vehicle ownership.

The legislation, which includes hundreds of billions in federal subsidies for green technologies, has met with some opposition in the EU amid concerns that it would put European companies at an unfair disadvantage.

"Everybody should join and do the same thing. That's how we accelerate to the $4 trillion [target]," said Mr Kerry.

"We shouldn't be sitting there saying, oh my God, let's go backwards."

Financial institutions are willing to invest in new renewable energy projects, but they face "political hurdles, currency hurdles and various natural disaster hurdles and risks", Mr Kerry said.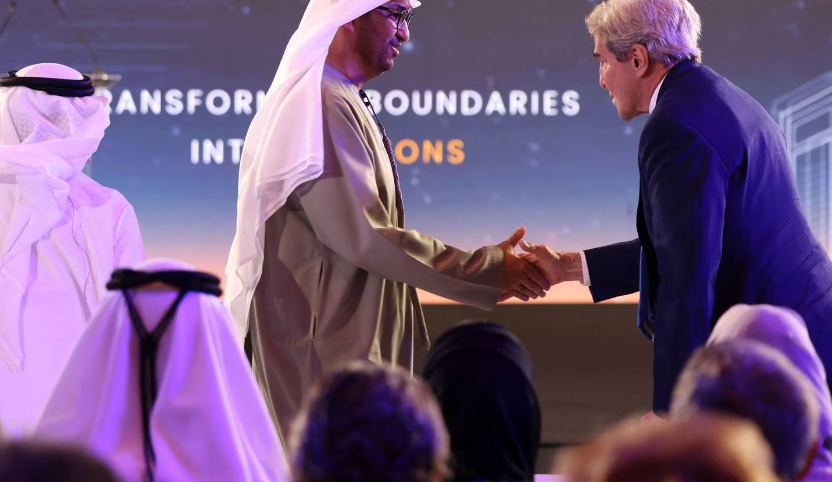 Dr Sultan Al Jaber, President-designate of Cop28 and Minister of Industry and Advanced Technology, welcomes US climate envoy John Kerry at the Atlantic Council Global Energy Forum in Abu Dhabi. AFP
"How are we going to get the cash to be able to grease the skids to make the bankable deal come together, so we can get a PPA [power purchase agreement] … and you can actually go to the market and finance what you're trying to do?"
The US is working with several countries on energy transition.
In 2022, the US, Indonesia and other allies signed a $20 billion deal at the Group of 20 summit to help South-East Asia's largest economy reduce its reliance on coal production.
In November, the UAE and US signed a strategic partnership to invest $100 billion to produce 100 gigawatts of clean energy globally by 2035.
As part of the partnership, the two countries will set up an expert group to identify priority projects.
They will also seek to "bridge the gap between developed and developing countries in the investment in and deployment of clean energy to ensure global efforts to reduce emissions do not falter", the White House said at the time.
The two countries will also work together to prioritise commercial projects in developing and poor countries, as well as to support them with technical and financial assistance.
Meanwhile, Amos Hochstein, US special presidential co-ordinator for global infrastructure and energy security, said during another panel that the supply chain for critical minerals such as cobalt and lithium needs to be more diversified.
"I don't know a single business that ever wants to rely on one supplier for all its products, so this is not about who's ahead, the US or China," said Mr Hochstein.
China's share of refining is about 35 per cent for nickel, 50 per cent to 70 per cent for lithium and cobalt, and nearly 90 per cent for rare earth elements, according to the IEA.
Chinese companies have also made substantial investment in Australia, Chile, the Democratic Republic of Congo and Indonesia.
"We will be in a healthier place, if there are multiple locations around the world that build batteries, or they do the refining and the processing," said Mr Hochstein.