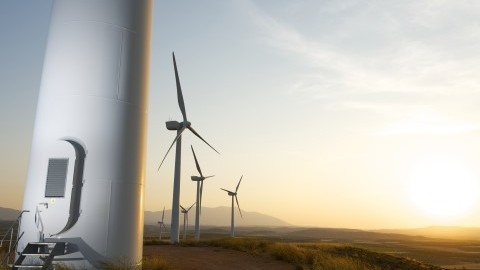 Onshore wind and biomass are seen to reach 90.3GW and 17.5GW in 2032, respectively.
India will see its other renewable energy sectors such as wind and biomass increase capacity but not as rapidly as the expansion of the solar sector, according to a report by Fitch Solutions.
Fitch said India's onshore wind power capacity is seen to grow at around 7.7% on average to reach 90.3GW in 2032 from 43GW in end-2022, supported by the launch of large-scale tenders launched by the Ministry of New and Renewable Energy (MNRE) and the Solar Energy Corporation of India.
"However, land issues, mainly in the form of slow grid expansion and high grid network losses, are hindering a more rapid expansion of the sector," it said.
The ministry has also laid out a draft offshore wind tender for projects with 4GW capacity but Fitch does not expect them to make "significant progress in the sector to warrant the emergence of offshore wind in India thus far" due to the delays in the tender which has yet to be launched.
It also cited the slow progress of offshore wind expertise and attracting international companies which can be seen in the progress of the 100MW offshore wind demonstration project in Gujarat is still in the planning phase since 2014.
Meanwhile, the biomass and waste sector is expected to grow by around 6.5GW to 17.5GW in 2030 from 10.9GW in end-2022.
"This growth of about 6.5GW is a stark contrast to wind and solar's capacity expansion as we believe that India is focusing more on solar and wind, which are renewable types that produce electricity without any air pollution concerns from local communities," it added.