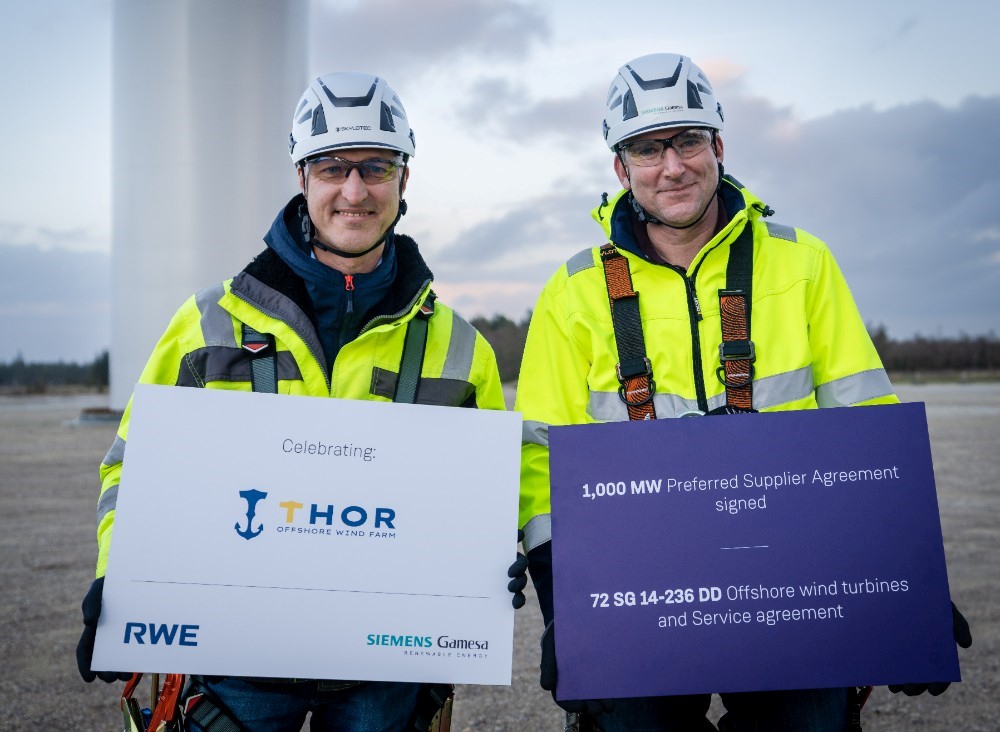 Sven Utermöhlen of RWE Offshore Wind (left) and Marc Becker of Siemens Gamesa at the Danish National Test Center for Large Wind Turbines.
RWE has signed a wind turbine deal with Siemens Gamesa for Denmark's largest offshore windfarm.
The 1000MW Thor project will feature 72 of Siemens Gamesa's SG 14-236 DD offshore wind turbines.
Bosses from RWE and Siemens Gamesa met at the Danish National Test Center for Large Wind Turbines in Østerild, Denmark, to mark the signing of the deal.
Sven Utermöhlen, chief executive of RWE Offshore Wind, said: "With Thor, we will massively contribute towards Denmark's ambitious climate targets.
"As RWE, we want to be one of the key drivers of offshore wind energy in Denmark."
Marc Becker, chief executive of Siemens Gamesa's offshore business, said he was "thrilled to collaborate with RWE" and stressed that "governmental support in all aspects of the wind industry – from projects to support schemes to research and development centers like this one – is critical for our future success".
The Thor windfarm will be built in the Danish North Sea around 22 kilometers from Thorsminde on the west coast of Jutland.
Installation of the turbines at sea is expected to begin in 2026 with the work due to be carried out from Denmark's Port of Esbjerg.
The SG 14-236 DD is Siemens Gamesa's flagship offshore wind turbine. It features a capacity of almost 15MW and a 236-meter diameter rotor with a swept area of 43,500 square meters.
For the operation and maintenance of Thor, RWE will set up a service base at the port of Thorsminde.