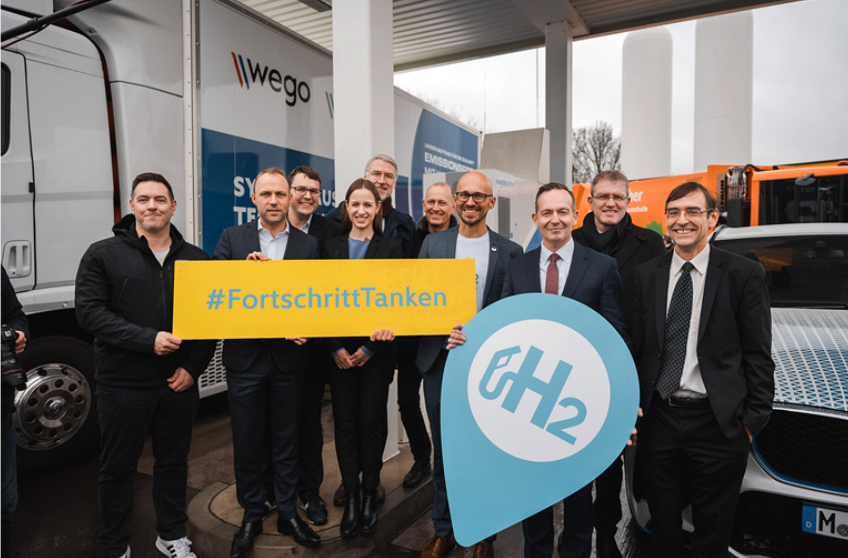 The new hydrogen station at the Shell filing station on Tempelhofer Weg 102 in Berlin was officially opened on January 11, 2023, inthe presence of Federa transport Minister Dr Voker Wissing, -ue ce trucks. waste co ectors. cars. and ignt commercia vehices carnow refuel with hydrogen (H2) at this location. The Tempelhofer Weg hydrogen flling station is one of the most efficient in Germany,and is key to further accelerating hydrogen mobility in the German capital, as the number of H2 vehicles is rapidly growing in Berlin
Federal Minister Ur olker Wissing stated that hydrogen and fue ce technologies are a critica component of c imate-friendvmobility. The Federal Ministrv for Transport is investing in the deplovment of a basic network of publiclv accessible hvorogen fllingstations to support the shift towards cimate-neutral road transport, To encourage the use of alternative drivetrains, robust and widelyavailable infrastructure is needed.
The Tempelhofer Weg station wll not only be used by the BSR waste collectors, but also the growing fleet of"H2 move Berlin," which isset to expand to over 200 Toyota Mirai in the driving service by the summer of 2023. In addition, the first hydrogen trucks will bedelivered to customers nearby, including in the Hylane rental service, in Berlin in the spring of 2023
The hydrogen filling station is now regularly available for refuelling hydrogen trucks at 350 bar (H2 buses and trucks) and at 700 bar(H2 passenger cars, light commercial vehicles, and waste collectors). (onveniently located near the city motorway 100 and the A 113near the BSR service vard in the south of Berlin, it is the cits ffth hydrogen station. H2 MOBILITY Deutschland. Europe's leadingoperator of hydrogen filing stations, is responsible for constructing and operating the station, and the flling station technology wasprovided by industrial gases and technology company Air Liquide
Nikolas wan, Managing Director of H2 MOBlLITY Germany, said that with hydrogen at 350 bar, heavy commercial vehicles with e-drives can already refuel at megawatt speeds today, and the goal is to add up to 120 more locations across Germany in the next foulyears.Hydrogen is a key component in powering a sustainable and climate-friendly future, and the opening of this new hydrogenstation is a step towards achieving that goal.