The approval of a new budgetary plan and an updated agreement on cost reimbursements for the USA's first power plant based on NuScale's small modular reactor (SMR) technology is a key milestone for the Carbon Free Power Project (CFPP), the company said.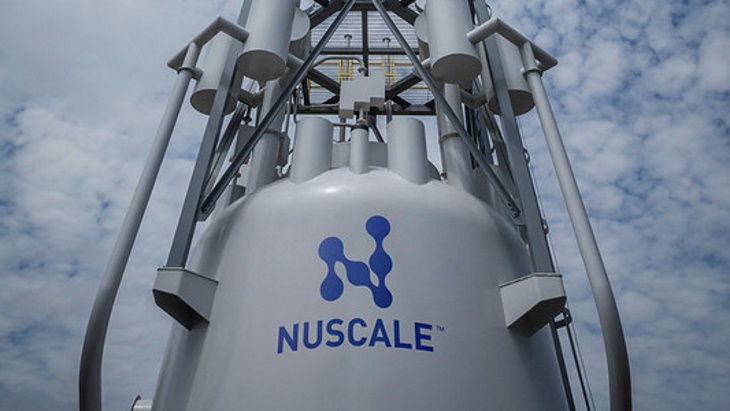 A mock-up of a NuScale Power Module (Image: Oregon State University/NuScale)
The CFPP's Project Management Committee's approval of a new Budget and Plan of Finance and an update to the Development Cost Reimbursement Agreement (DCRA) was reached through the receipt and acceptance of the Class 3 Project Cost Estimate, which further refines the anticipated total cost of the project, NuScale said.
The CFPP, which is to be built at the US Department of Energy's Idaho National Laboratory site near Idaho Falls, will use six of NuScale's 77 MWe power modules to generate 462 MWe of electricity. CFPP LLC is owned by Utah Associated Municipal Power Systems (UAMPS), a political subdivision of the state of Utah which provides energy services to 48 members from California, Idaho, Nevada, New Mexico, and Wyoming as well as Utah. Members - which are mostly municipalities - choose which UAMPS projects they participate in, based on their unique needs.
The Budget and Plan of Finance aims to manage and reduce risk to project participants, giving UAMPS an option to withdraw from the project and be reimbursed for most out-of-pocket expenses if the price of energy per megawatt-hour exceeds a certain threshold. The new DCRA establishes an updated target price of USD89 per megawatt-hour, which NuScale said "reflects the changing financial landscape for the development of energy projects nationwide". The amendment to the DCRA adopting the new price target has yet to be formally executed.
The Class 3 Project Cost Estimate determined that the cost of the project "has been influenced by external factors such as inflationary pressures and increases in the price of steel, electrical equipment and other construction commodities not seen for more than 40 years", NuScale said: the producer price index for commodities such as carbon steel piping and fabricated steel plates has increased by over 50% since 2020. "These inflationary pressures are increasing the costs for all power generation and infrastructure projects," it added.
NuScale's power module is the only SMR design to date to receive approval from the US Nuclear Regulatory Commission, which issued a Final Safety Evaluation Report for the design in September 2020. Later that year, the company announced an increase in capacity of the design to 77 MWe from the previously envisaged 60 MWe. NuScale has now submitted an application for Standard Design Approval of the updated design, based on a six-module VOYGR-6 plant configuration.
According to CFPP's timeline, the first unit at the plant is due to begin commercial operation in December 2029. NuScale said the project remains on schedule.