UK National Grid and the University of Manchester are to collaborate on a four-year project to develop a full-scale demonstrator at the Deeside Centre for Innovation, designed to test at scale how the UK can retrofill sulphur hexafluoride (SF6) across its network of high-voltage equipment.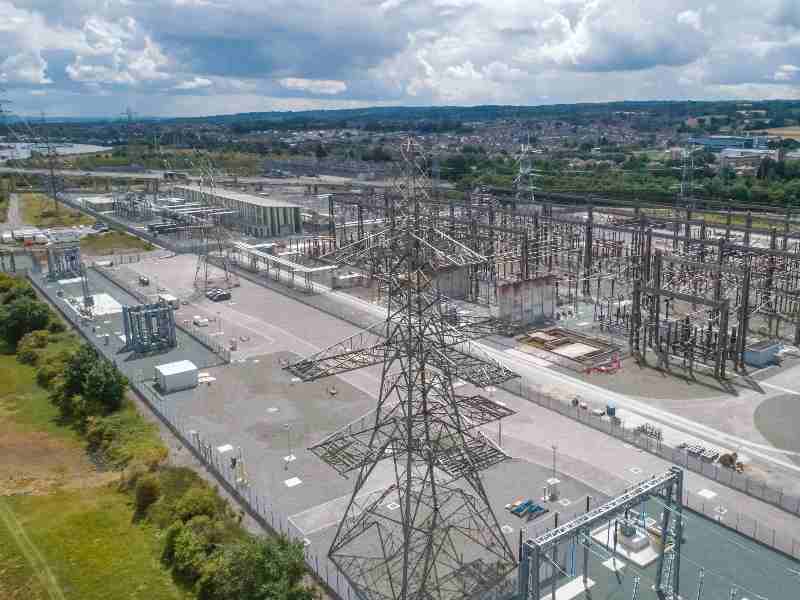 The retrofill solution will be used across National Grid's electricity network. Photo courtesy National Grid.
SF6 is a gas commonly used in the power industry to provide electrical insulation and arc interruption. However, SF6 is a potent greenhouse gas with a global warming potential that is 25,200 times greater than CO2.

The £1.9 million ($2.1 million) project will see experts at Manchester help determine how National Grid can develop a retrofill solution to replace SF6 with an environmentally friendlier alternative without having to replace or otherwise modify existing equipment.

This project will bring together the interdisciplinary expertise of Manchester's department of electrical and electronic engineering and the department of chemical engineering, led by Dr Tony Chen with professor Philip Martin.

SF6-free retrofill

Together the university and National Grid will create a physical demonstration, including an inbuilt condition-based monitoring system, that will focus on the applicability of SF6 retrofill techniques. It will be developed in Manchester's high voltage research laboratory, equipped with facilities that can test up to 600kV DC, 800kV AC, and 2MV impulse, and has been the testbed for developing solutions such as improved designs of high voltage overhead lines and developing safer, greener high voltage transformers using ester liquid.

The project builds on Dr Tony Chen's expertise in SF6, and it is anticipated its findings will give asset managers the information required for retrofilling significant quantities of SF6-filled equipment across the transmission network, bridging the current gap between established feasibility, and long-term, real-world implementation.

Dr Chen said on the project: "This project will provide the missing link – taking the success of the research in this area so far, and creating a way to apply retrofilling at scale. By bringing together the expertise of two Manchester departments, we can address every element of this challenge, catalysing the development of real-world solution, which protects the environment while providing significant economical saving."

Mark Waldron, technical lead at National Grid Electricity Transmission, added: "It's exciting to be following the world-first SF6 retrofill in Richborough substation with this initiative taking us a step closer to a solution to replace the gas in more of our assets. The potent combination of Manchester's expertise in this area and the innovation and demonstration capability at our state-of-the-art Deeside facility will deepen our understanding of retrofill solutions and could boost our progress in the decarbonisation of the grid while achieving a significant cost benefit for consumers."

Sign up to our newsletter and stay informed
National Grid's Deeside centre for innovation in North Wales is stated by the company as the first of its kind in Europe, where electricity network assets can continuously be tested under real life conditions.

The facility provides a controlled test and demonstration environment to collect data, including a high voltage substation and overhead line test area simulating real network conditions.