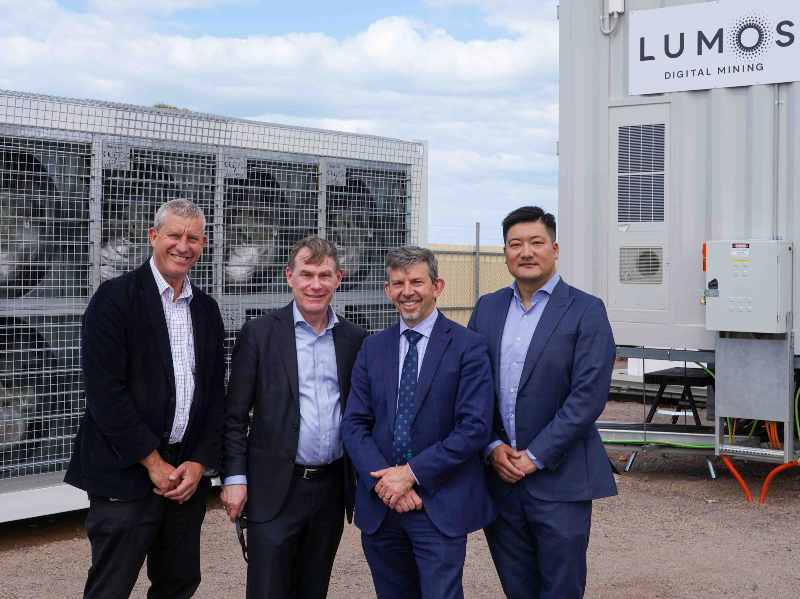 Business Development Manager, Department for Trade and Investment Kym Hume, Minister for Trade and Investment Nick Champion, Whyalla City Council CEO Justin Commons, Lumos Digital Mining CEO Dong Wang. Credit: Whyalla City Council

South Australia's first solar digital mining centre is officially up and running in the seaport city of Whyalla.
The 5MW mining centre, operated by Lumos Digital Mining, uses solar energy to provide computing power to the blockchain network.
The system works with the grid via an intelligent control capability that allows the computers to increase or decrease operations in relation to available power.
According to Lumos, Whyalla is an ideal location for this investment due to being rich in renewable energy resources. The existing grid infrastructure coupled with the support of local government also make it attractive.
Later this year, the company plans to launch a second 10MW mining facility in Whyalla, increasing efficiency by deploying the latest hydro cooling technologies.
Lumos Digital Mining CEO, Dong Wang stated: "There is a rapid growth in demand for digital mining in Europe and the USA. We came to South Australia because it has traditionally been a strong adopter of new technologies and digital innovation and the state is rich in renewable energy generation."
City of Whyalla mayor Clare McLaughlin said in a statement: "With our recently endorsed Economic Strategy locked in place, we are constantly seeking new opportunities to diversify our economy; in particular renewable-focused businesses that can make use of our abundant sunshine, wind, green energy production and growing national energy infrastructure, so Lumos is the perfect fit for Whyalla."
"This also builds on our city's mining focus, now adding data to our existing iron ore industry base, as well as providing yet another career opportunity for our local students to explore. All these facets demonstrate that this private sector investment is helping create and strengthen a sustainable and healthy local economy."
South Australia has a goal of achieving 100% net renewables by 2030. In just over 15 years South Australia's electricity mix has shifted from below 1% renewables to over 60% of energy generated by wind and solar, supported by battery storage and gas. By 2025-26 the Australian Energy Market Operator forecasts this could rise to approximately 85%.