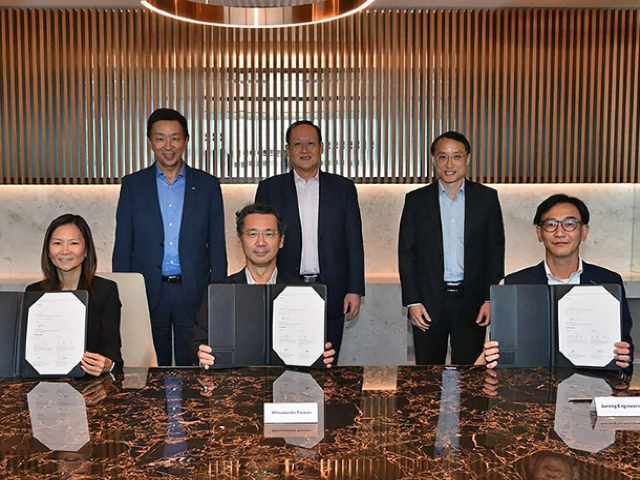 [Pictured from top left to bottom right] Loh Chin Hua (CEO/KCL), Minister Tan See Leng (Manpower/2 Min MTI), Ngiam Shih Chun (Chief Executive/EMA), Cindy Lim (CEO/Keppel Infrastructure), Osamu Ono (CEO/Mitsubishi Power Asia Pacific), Koichi Watanabe (CEO/JEL) at signing of EPC contract to develop Keppel Sakra Cogen Plant. Image credit: MHI

Keppel Energy has awarded an EPC contract to a consortium comprising Mitsubishi Power Asia Pacific and Jurong Engineering for the construction of a 600MW, advanced combined cycle gas turbine (CCGT) power plant.
To be built in the Sakra sector of Jurong Island, this cogen plant will be the first hydrogen-ready power plant in Singapore, according to Mitsubishi.
The plant will run initially on natural gas as the primary fuel, but is designed to operate on fuels with 30% hydrogen content and be tweaked to run entirely on hydrogen.
The steam produced from the combined-cycle power plant will be used to power industrial processes for the energy and chemicals customers on Jurong Island.
The plant will aim to boost energy efficiency, lower emissions and ensure operational flexibility. It is expected to be finished in the first half of 2026, and according to Keppel, will be able to save up to 220,000 tonnes of CO2 annually compared to Singapore's average operating efficiency for equivalent power generated.
To deliver on the contract, Mitsubishi Power Asia Pacific will provide long-term turbine maintenance and Mitsubishi Heavy Industries will conduct a feasibility study on the development of a 100% ammonia-fuelled power plant on at the selected site in Singapore.
"Singapore's electricity demand is projected to grow with increasing electrification and economic growth. As such, the Energy Market Authority welcomes investments by the private sector to bring in best-in-class technologies in power generation. Being hydrogen-ready, this power plant by Keppel will contribute towards greater efficiency and lower carbon emissions. This will support Singapore's transition to a more sustainable energy future while ensuring the security and reliability of electricity supply to consumers," said Ngiam Shih Chun, chief executive, EMA.
Osamu Ono, managing director and CEO of Mitsubishi Power Asia Pacific, stated: "As an innovative low- and zero-carbon fuel, there is immense potential for hydrogen to be used in power generation systems to enable emissions reduction."
According to Singapore's National Climate Change Secretariat, the energy sector accouns for almost 40% of the country's carbon emissions. For this reason, decarbonising electricity generation is one of the core features of Singapore's Green Plan.