The US Department of Energy (DOE) has selected Shell, Spirae LLC, Electrical Grid Monitoring Inc. (EGM), and Israel Electric Corporation (IEC) to partner with the National Renewable Energy Laboratory (NREL) on power distribution system management and controls projects.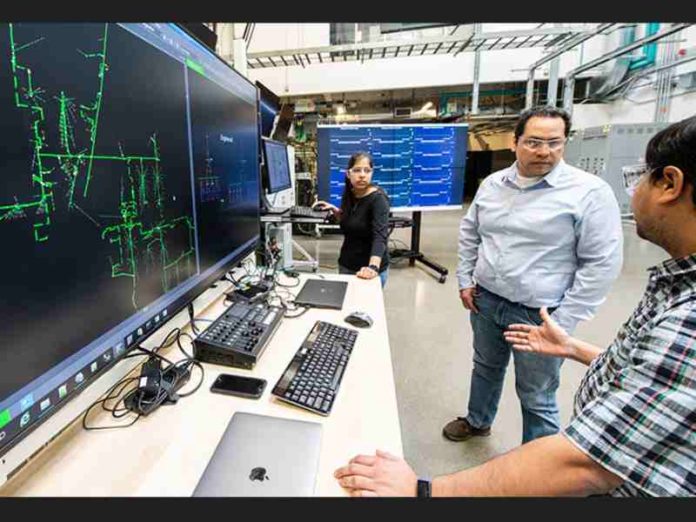 NREL Researchers work on the ADMS Test Bed in the Power Systems Integration Lab. Courtesy NREL.

The partners will participate in two projects, which will leverage NREL's ADMS Test Bed to evaluate leading-edge management solutions for the electrical grid.
In one project, Shell, Spirae and NREL will partner to demonstrate and evaluate a distributed control architecture to manage and optimise grid-edge resources to meet multiple operating objectives. In the other project, EGM, IEC and NREL will partner to evaluate the performance impact of enhanced monitoring on power system restoration.
The projects were competitively selected based on proposals in response to NREL's Advanced Research on Integrated Energy Systems (ARIES) User Call for Advanced Distribution Management System (ADMS) Test Bed Use Cases.
Shell and Spirae
The project with Shell and Spirae aims to show how utilities and grid-edge energy service providers can best support both end customers and grid operations.
According to NREL utility grid modeling and ADMS operations are typically conducted only up to end-use points like microgrids and aggregators, which limits the ability to model these end users with sufficient resolution to make sound investment decisions on behalf of energy users.
The joint project will leverage the ADMS Test Bed to address this situation by co-simulating the grid and certain ADMS functions along with end users and their distributed energy resources (DERs), energy management systems, and virtual power plants.
Annabelle Pratt, chief engineer at NREL, stated: "Results of this proof of concept will show how utilities can model end-user systems to evaluate the simultaneous benefits to grid and customer operations.
"The primary objective of this project is to demonstrate how utility operations and distributed energy resource-based energy service platforms can co-optimise benefits to end users and grid operators. This project also focuses on systems that can be deployed in the field to add value to energy consumers immediately," Pratt added.
EGM and IEC
The EGM and IEC project with NREL will demonstrate an advanced grid monitoring system and its impact on grid operations.
Currently, an ADMS acquires grid information from SCADA (Supervisory Control and Data Acquisition) systems that are installed in substations, but for grid distribution systems, the distance between substations is too far to get actionable real-time data.
This project will "simulate a distribution network on the ADMS Test Bed to evaluate the impact of an enhanced monitoring solution developed by EGM on fault location, isolation and service restoration. EGM's monitoring augmentation aims to assist utility operators in obtaining better situational awareness, improving fault location precision and reducing outage time," stated Ismael Mendoza, the project lead at NREL.
"Distribution systems require faster, modern methods for fault location, isolation and restoration. This project will demonstrate one vendor's solution, providing a case study to learn and build from…Our partnership with EGM and IEC will help inform the energy sector around the value of monitoring downstream power information to enhance the resiliency and reliability of power delivery and management."
According to NREL, the ADMS Test Bed is a key capability; a new research platform at NREL that uses multimegawatt hardware and virtual environments to address the full-scale challenges and opportunities of transitioning to a clean energy future.
The Test Bed consists of software and hardware elements that represent power distribution systems and allow utility and industry users to evaluate forward-looking solutions for managing their changing distribution systems.
The ADMS Test Bed was developed by NREL and the DOE Office of Electricity Advanced Grid Research and Development programme through DOE's Grid Modernisation Laboratory Consortium as a vendor-neutral evaluation platform for advanced grid controls.
It works to advance current administration decarbonisation goals by promoting integrated management of clean energy assets across the utility enterprise, regardless of vendor or technology.