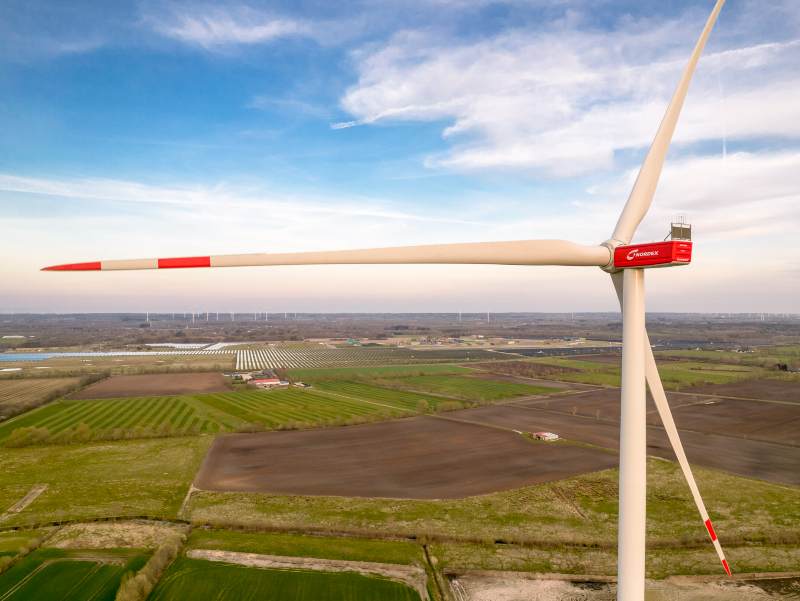 N163/5.X turbine, Location Germany. Credit: Nordex

Nordex Group has been commissioned by Finnish energy utility Helen Oy and Ålandsbanken Wind Power Fund to supply and install wind turbines for the 147.5MW Karahka wind farm in Finland.
The order includes a 35-year service agreement and will see Nordex install 25 N163/5.X turbines, as well as hybrid towers with hubs 168m high.
The Karahka wind farm will be built in the North Ostrobothnia region in Finland, about 40km from the Gulf of Bothnia, an area prone to harsh weather conditions in winter.
In order to optimise the operations of the turbines in these weather conditions, Nordex Group will be fitting the turbines with the Advanced Anti-Icing-System to prevent the formation of ice on the rotor blades and will be supplying the turbines in the cold-climate version.
Furthermore, in a company first, Nordex will use a hybrid tower with a hub height of 168 metres. This height, according to Nordex, enables the turbines to maximise energy yield at the site, which is characterised by average wind speeds.
Patxi Landa, CSO of the Nordex Group: "It is particularly noteworthy that for this project we will be working with a hub height of 168 metres, our highest hybrid tower, for the first time. Combined with the large rotor diameter of 163 metres, the turbines can be expected to produce large amounts of clean wind power at the site."
The Karahka wind farm was developed by SB Uusiutuva Energia Suomi Oy, the Finnish affiliate of German renewables developer VSB Group. Building permission was granted in January 2022, after which, VSB sold the wind farm to the consortium of Helen Oy and Ålandsbanken Wind Power Fund.
VSB continues to be responsible for infrastructure work, which is due to begin in 2023.
Optimising the N163/5.X turbine for colder climates
According to Nordex, the normal climate version of the turbine can be operated at temperatures as low as -20 degrees Celsius, with the Cold Climate Versions enabling operations in temperatures down to -30C.
The anti-icing technology reduces output losses by up to 80%, and sensor analysis and condition monitoring system ensure continuous assessment of all components.