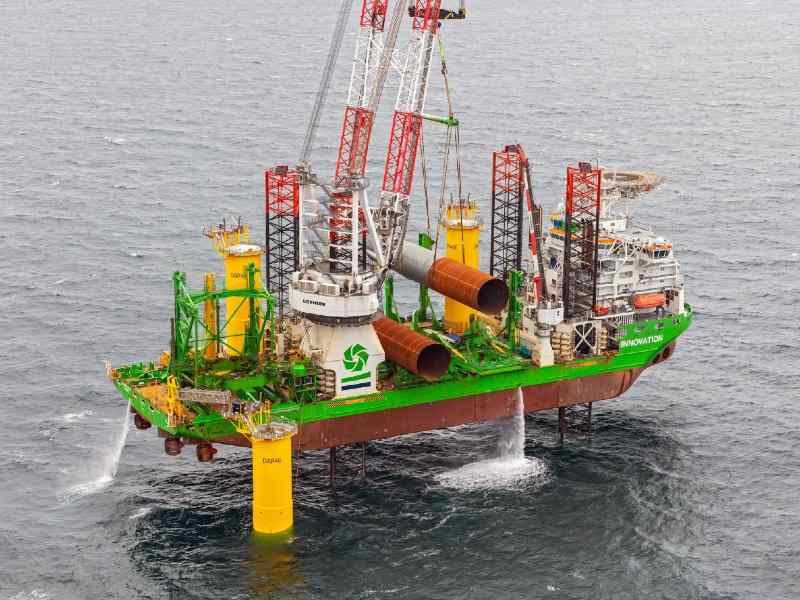 Work has started on the installation of 277 offshore wind turbine foundations in the North Sea. (image credit: DEME Group).

The Dogger Bank wind farm has reached a significant milestone, with work starting on the installation of 277 wind turbine foundations.
The work is being carried out in the North Sea, 80 miles off the Yorkshire coast, UK, and began with the installation of the first monopile and transition piece on Dogger Bank A.
The installation campaign will last for three years and is being led by Seaway 7 supported by DEME.
Once complete, GE Renewable Energy's Haliade-X turbines will be installed onto each of the foundations.
The foundations, designed by UK-based Wood Thilsted, are optimised to handle challenging wave loads with installation in water depths of up to 32m and at a distance of 130km from shore.
Dogger Bank Wind Farm project director, Steve Wilson, commented in a statement: "These foundations have been designed for what is arguably the most demanding wave environment to be encountered on an offshore wind farm and are a testament to the many companies involved in collaborating to reach this unprecedented milestone.
"As well as the sheer scale of the foundations, we've incorporated a unique split-level transition piece which allows safe access for technicians directly into the turbine tower from our service and operations vessels, eliminating thousands of manual handling activities and lifting operations over the lifetime of the assets."
The total of 277 monopiles and transition pieces will be loaded onto installation vessels in Rotterdam before heading to the wind farm site.
Using dynamic positioning technology the vessels will pinpoint the installation site in the seabed at which point a monopile measuring up to 72m, will be upended and transferred to a pile gripper, before being lowered into the seabed.
A hammer will be used to drive the monopile to the design depth in the seabed before a guidance system aligns the installation of the flanges which act as a connection for the transition piece which is then installed onto the monopile.
The foundations require 152 giant M80 bolts to secure them before a cover is inserted onto the top of the transition piece to leave it watertight.
The 3 phases of Dogger Bank
The first phase of Dogger Bank Wind Farm is Dogger Bank A, which is located around 131km from shore. Once complete, it will have an installed generation capacity of 1.2GW.
Dogger Bank B is the largest of the projects, with a development area of around 599km². It will also have a generation capacity of 1.2GW.
Dogger Bank C, also with an installed generation capacity of 1.2GW, has a development area of around 560km², and is 196km from shore. Connection will be at the existing Lackenby Substation at Teesside, whereas Doggerbank A and B will connect in to the existing Creyke Beck substation near Cottingham in the East Riding of Yorkshire.