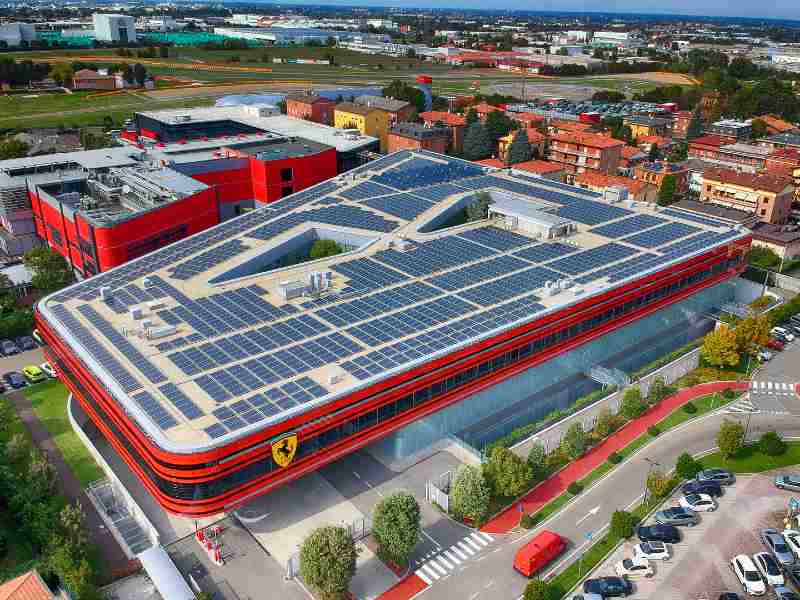 Image credit: Ferrari

Ferrari has announced that its new solar photovoltaic system to be built on the roofs of its Maranello factory buildings is officially underway.
Luxury auto manufacturer Ferrari is collaborating with Italian energy company Enel X to install a specially-designed solar PV system comprising four sections and 3,800 solar panels.
Francesco Venturini, head of Enel X, said in a statement: "We will deliver Ferrari a tailor-made system for the self-production of energy that will make a decisive contribution to the reduction of CO2 emissions, reducing the company's energy expenditure."
The system will deliver 1,535 kWp, will save 8,500 tonnes of CO2e over 25 years, and will allow Ferrari to produce 1,626,802 kWh per year annually.
For the project, Enel X has developed a unique off-grid energy production system, built specifically to charge Ferrari hybrid models used internally by the company.
This station produces energy through a 5.5 kWp PV system, with double-sided panels and 20 kWh battery storage. The performance is monitored in real-time, showing applicable data on an LCD screen built into the infrastructure.
"Together with Enel X and our other partners, we are developing new solutions that will contribute significantly to reducing CO2e emissions," said Ferrari chief executive Benedetto Vigna.
"The challenge of becoming a carbon-neutral company by 2030 is a further stimulus for Ferrari to innovate in every area, taking a scientific, holistic approach to the sources of emissions: from the cars in use, to our supply chain, and our production activities."