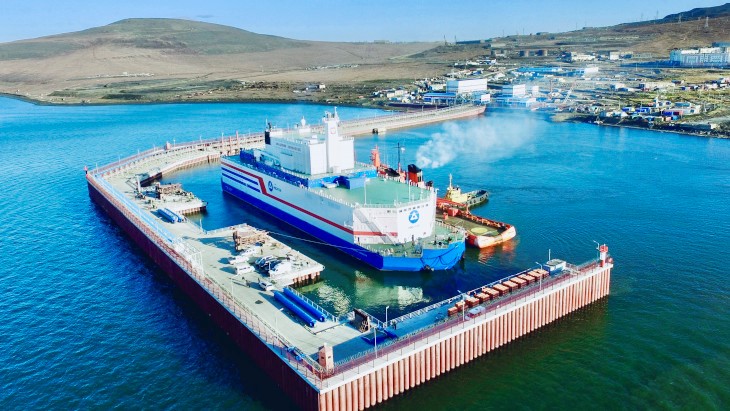 The Akademik Lomosov at Pevek (Image: Rosenergoatom)

Moored to a special jetty at the Arctic port, the Akademik Lomonosov is a barge with two small nuclear power units aboard. The KLT-40S pressurised water reactors produce steam for turbine generator sets that generate 35 MWe each for a total of 70 MWe for the region. At the same time, heat is taken from the steam circuits and transferred to a pre-existing district heating grid that takes it to people's homes.

Changing this heating grid to use low-carbon nuclear heat instead of burning fuel oil has been a gradual process since the new power plant was first connected in June 2020. Engineers have needed to replace the central water supply lines as well as 77 individual 'heating points' as part of work to modernise the system and enable heating and hot water services to operate independently.

Now, all 57 apartment blocks in Pevek are technically ready to benefit from the heat of the nuclear power plant, said Vyacheslav Galaktionov, head of Elkon, the company carrying out the upgrades.

The Academik Lomonosov has more than enough capacity to supply all of Pevek, said Vitaly Trutnev, head of Rosenergoatom's arm for floating power plants yesterday as the company announced its connection to another section of the network. The nuclear plant now serves about three-quarters of the town, Trutnev said, adding that the connection process should be complete by the end of this year.

Not counting its contribution in terms of heat, the Akademik Lomonosov generated 175 GWh of electricity in 2021, avoiding the emission of 80,000 tonnes of carbon dioxide.