The UK on Wednesday opened the first joint allocation round for electrolytic, or green, hydrogen projects, hoping to support at least 250 MW in line with its objective of having 1 GW of electrolytic hydrogen in operation or construction by end 2025.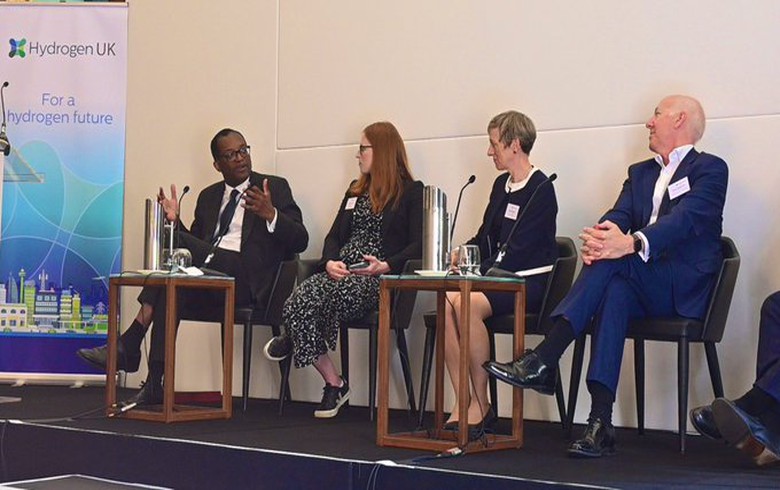 Image by Kwasi Kwarteng (@KwasiKwarteng) on Twitter.

Projects will be able to apply both for grant funding through the GBP 240 million (USD 287m/EUR 282m) Net Zero Hydrogen Fund (NZHF) and revenue support through the Hydrogen Business Model (HBM).
The government said that budget details for this first allocation round will be confirmed with the publication of the project shortlist in early 2023.
The opening of the funding round came as Business and Energy Secretary Kwasi Kwarteng met with industry at the Hydrogen Investment Summit to help unlock investment in the sector.
The government's recently increased ambition calls for 10 GW of low carbon hydrogen production capacity by 2030, with at least half coming from electrolytic hydrogen. It aims to run annual electrolytic allocation rounds and move to price-competitive tenders by 2025 as soon as conditions permit.
Kwarteng also announced the appointment of Jane Toogood as the UK's first Hydrogen Champion, who will help industry and government work together towards the country's hydrogen targets. Toogood is chief executive of Catalyst Technologies at Johnson Matthey (LON:JMAT).
(GBP 1 = USD 1.197/EUR 1.174)