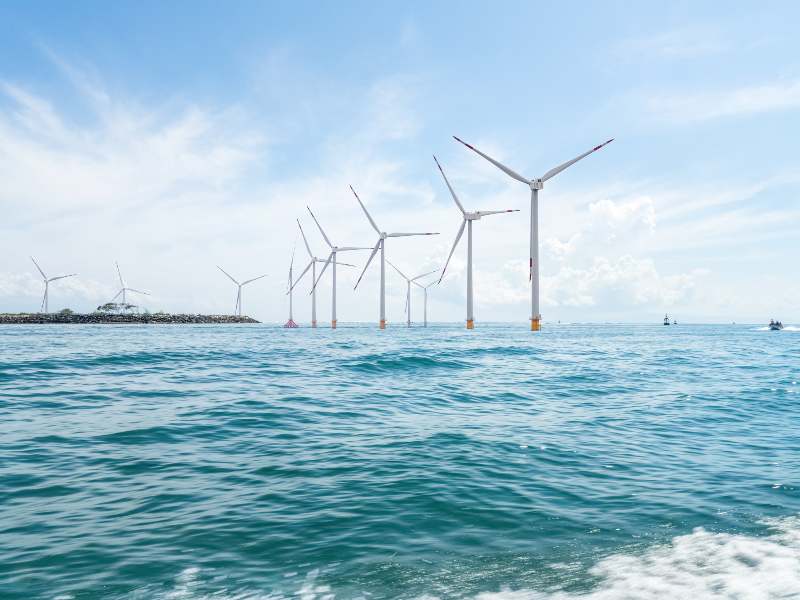 Hitachi Energy's OceaniQ solutions enable offshore wind power in China. Credit: Hitachi Energy
Swiss-headquartered technology firm Hitachi Energy will supply transformers and high-voltage hybrid switchgear to China's Tuci offshore wind power project.
The 280MW offshore wind power project is being developed by China General Nuclear Power Corporation (CGN) and is located off the northeast coast of Xiangshan, Zhejiang province.
The wind farm will have 35 wind turbines operating at 8MW and will transmit power to shore with a 66kV submarine cable connected to the onshore booster station.
Hitachi Energy will install its 66kV WindSTAR power transformers and 72.5kV high-voltage hybrid switchgears, PASS M00-Wind, to help achieve longer transmission distances, reduce losses and enable more cost-effective operation.
Both OceaniQ solutions are designed to fit inside the narrow space of a wind turbine, according to Hitachi Energy. The compact equipment is able to withstand strong vibrations, sudden movements, corrosion and salt mists.
WindSTAR transformers are eco-efficient and fire safe by using biodegradable ester fluids as an insulation liquid.
The hybrid switchgear is unique in that it enables the collection grid between the wind towers to operate at 66kV, which typically operates at 35kV. PASS M00-Wind can be further integrated with a digital motor drive and local control cabinet with built-in intelligence for monitoring and diagnostics.
"Hitachi Energy provides a comprehensive portfolio of transformers and high-voltage products to overcome the complexities of the offshore wind power system, help withstand the harsh offshore environment and integrate large-scale renewable energy," said Gustavo Luengo, global product group manager power transformers at Hitachi Energy.
"We are pleased to work on this project with customers to deploy advanced solutions at the 66kV level for the Tuci offshore wind project, jointly accelerating the development of clean energy in China."
The Tuci offshore wind power project is set to be completed and operational by the end of 2022 with an estimated annual power generation of around 840 million kWh.
The wind farm will reduce emissions by about 570,000 tonnes and will help optimise the region's low-carbon energy mix.