The 2015 Paris Climate Agreement is an international legally binding treaty aimed at limiting global warming to below 2 °C, preferably 1.5 °C, compared to pre-industrial levels. To achieve the aims of the Climate Agreement, the transition to a decarbonized economy is necessary by switching to renewable energies. This article will look at solar energy, including its advantages and disadvantages.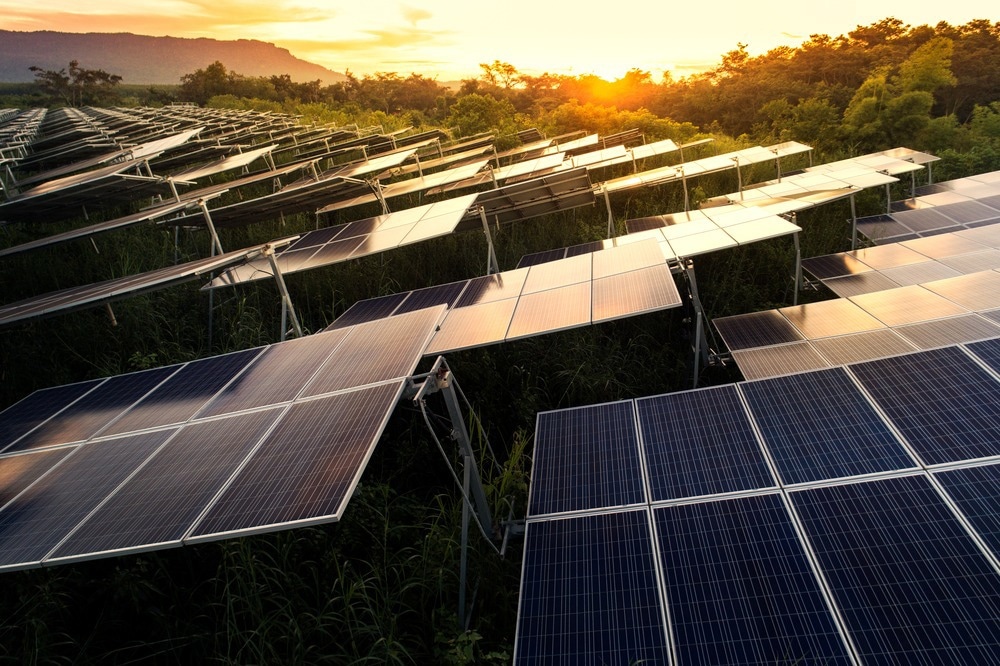 Image Credit: Thongsuk Atiwannakul/Shutterstock.com

What is Solar Energy?

Solar energy is the inexhaustible renewable energy obtained from electromagnetic radiation from the sun. It is used to generate sustainable electricity and heat without air pollution or greenhouse gases. The environmental impact lies in the potential loss of land or habitat if large-scale solar energy farms are used.
Solar energy is obtained using photovoltaic cells and solar thermal collectors.
Photovoltaic cells convert solar light into electricity using the photoelectric effect, whereby certain materials absorb photons and free electrons, generating an electrical current.
Solar thermal collectors use panels or mirrors, which concentrate the sun's heat, transfer it to a liquid, such as water, then conduct it through tubes to use in buildings, or sometimes for electricity production.
Solar thermal energy uses mirrors to concentrate the sun's rays into a receptor, reaching temperatures of up to 1000 ºC. The heat is used to warm up liquids which creates vapor to move a turbine and produce electricity.
Passive solar energy can also be obtained by using different architectural techniques which are designed to take advantage of sunlight.
Advantages of Solar Energy

The main advantages of using solar panels are listed below:
100% renewable inexhaustible energy from the sun
Reduces reliance on fossil fuels
Potential to help achieve carbon net-zero by 2050
Reduces dependency on the electricity grid and natural gas
Subsidies sometimes available for self-supply
Key measure for tackling climate change
Boosts renewable industry and creates local employment
Low pollution and improved air quality
Can be used to charge electric vehicles
Easy to install
Disadvantages of Solar Energy
Intermittent energy requires sunny weather
High initial investment, upfront costs
Fixed location and available land
Cannot be used at night, excess energy must be stored or lost
May compete with agricultural land or areas kept for conservation
Aesthetics may not be publicly acceptable, or may not be suitable for heritage buildings
Supply chain issues for components
Mining required for copper components
Transitioning to renewables means dependency on fossil fuels is reduced, helping to fight climate change, while still providing energy for homes and industries.
One drawback is that solar panels operate most efficiently during bright sunlight and do not operate when there is no sunlight, such as at night.
However, recent research demonstrated a thermoradiative cell that operates using infrared technology to help generate energy 24 hours a day.
Solar Energy Schemes
There are various government schemes in place, which means domestic suppliers of solar can sometimes sell the excess energy they generate back to the National Grid, providing additional income. Schemes vary from year to year, so householders are advised to check for National and local authority incentives. They can also speak with their energy supplier to find out what is available and to see if they qualify for any grants or funding.
The UK Government ended its Green Deal scheme, a loan to help low-income households tackle the high cost of solar panel initial investment. This was replaced with a Boiler Upgrade Scheme (BUS), providing up to £5,000 to install low-carbon heating technologies, such as air source heat pump or solar panels, through an MCS certified installer, who applies for the grant on the householder's behalf.
In the US, President Biden's Build Back Better initiative has extended the Solar Investment Tax Credit (ITC) for another ten years, which currently provides a 26 percent tax credit for solar photovoltaic installations.
Another benefit is that the renewable energy market creates local jobs through initial solar installation and then maintenance as and when it may be required thereafter.
Since 2019, China was the biggest manufacturer of solar panels, supplying around 80 percent of the world's demand. However, this market share has slowly reduced as other manufacturers from European countries such as Germany, the US, and elsewhere have stepped up their own production.
CNET discusses if investment in solar panels in 2022 is a good idea, revealing that, although the cost of solar panels has declined considerably in recent years, obtaining supply chain component parts is increasingly difficult.
Steel, semiconductor chips and copper are in short supply, which may impact future installations.
Mining creates pollution, which is needed for the metal components, such as copper, and degrades the environment through pollution.
Are Solar Energy Projects Worthwhile?
The advantages of installing solar energy still currently outweigh the disadvantages, and technology is improving solar efficiency all the time. Solar provides a way for homeowners and industry to feel they are doing their bit to tackle the climate emergency and taking environmental responsibility for their energy consumption.
It very much depends upon the individual circumstances as to whether solar or perhaps a different kind of renewable energy is more suitable.
In some situations, an air source, a ground or water source heat pump, wind turbines, or biomass boilers may be more suitable, depending on the intended purpose and situation. A combination of renewable energies may be necessary to provide optimum benefit.
For example, a ground source heat pump could provide heat for a home if land is available to install. The electricity needed to run the pump could be generated using solar photovoltaics, with perhaps enough left over to charge an electric car or sell back to the national electricity grid.
Rural areas may be adversely affected if power companies do not upgrade their infrastructures. Households everywhere may also be burdened with additional costs to run the three-phase electricity required for many renewable electricity installation systems.
Householders also need suitable roofs and good insulation for renewable energy to have maximum benefit. In many cases, installing good loft insulation or draught-proofing windows and doors may provide more benefit as a starting point than rushing to install solar panels.
Positioning of solar farms may not be appropriate if they damage wildlife habitats and ecosystems, or where trees are felled for installations. They may also harm food production by taking over space used for agriculture.
These examples can potentially defeat the main objective of combatting climate change and protecting biodiversity, to achieve carbon net-zero. A thought-out, precautionary approach with socio-ecological expert input may therefore be necessary before embarking on some solar projects.