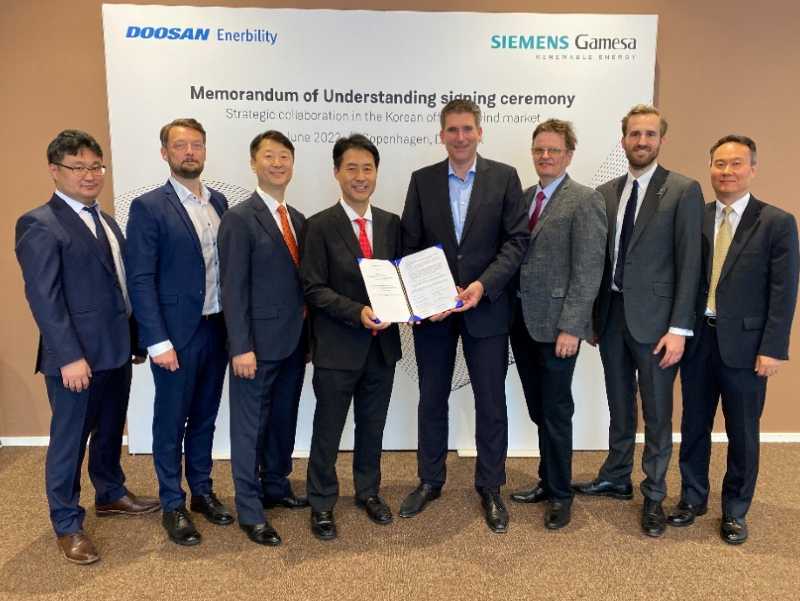 Image credit: Siemens Gamesa
Wind developer Siemens Gamesa and Doosan Group's Korean subsidiary Doosan Enerbility have signed a Memorandum of Understanding (MOU) to explore cooperation within offshore wind power activities.
The partners plan to share major services including the construction of new Korean turbine production facilities, the supply of wind turbine parts, offshore wind turbine installation, and turbine maintenance, among others.
"We are delighted to start to work with Doosan Enerbility in investigating a strategic cooperation in Korea. Leading the offshore revolution in the years to come requires strong partnerships, based on solid, mutual commitments. We envision an excellent alliance between our two companies, fostering the Korean offshore wind industry and contributing to its expansion," says Marc Becker, CEO of the Siemens Gamesa offshore business unit.
According to Siemens Gamesa, the MoU will investigate potential products and services optimised for the domestic Korean offshore wind market. It will also explore a Korean domestic supply chain and related industries. Furthermore, it will study potential job creation and industrialisation in the Korean offshore wind power market.
Seung-woo Sohn, executive vice president in charge of power service sales and marketing, Doosan Enerbility, said, "By combining SGRE's global business know-how with our own technological capabilities accumulated over the years, we will be able to improve more rapidly our competitiveness in the offshore wind power business. The cooperation between the two companies will also contribute to revitalizing the offshore wind power ecosystem in Korea."