First power is now flowing to the grid in the Canadian province of Nova Scotia from the country's first-ever in-stream tidal energy device.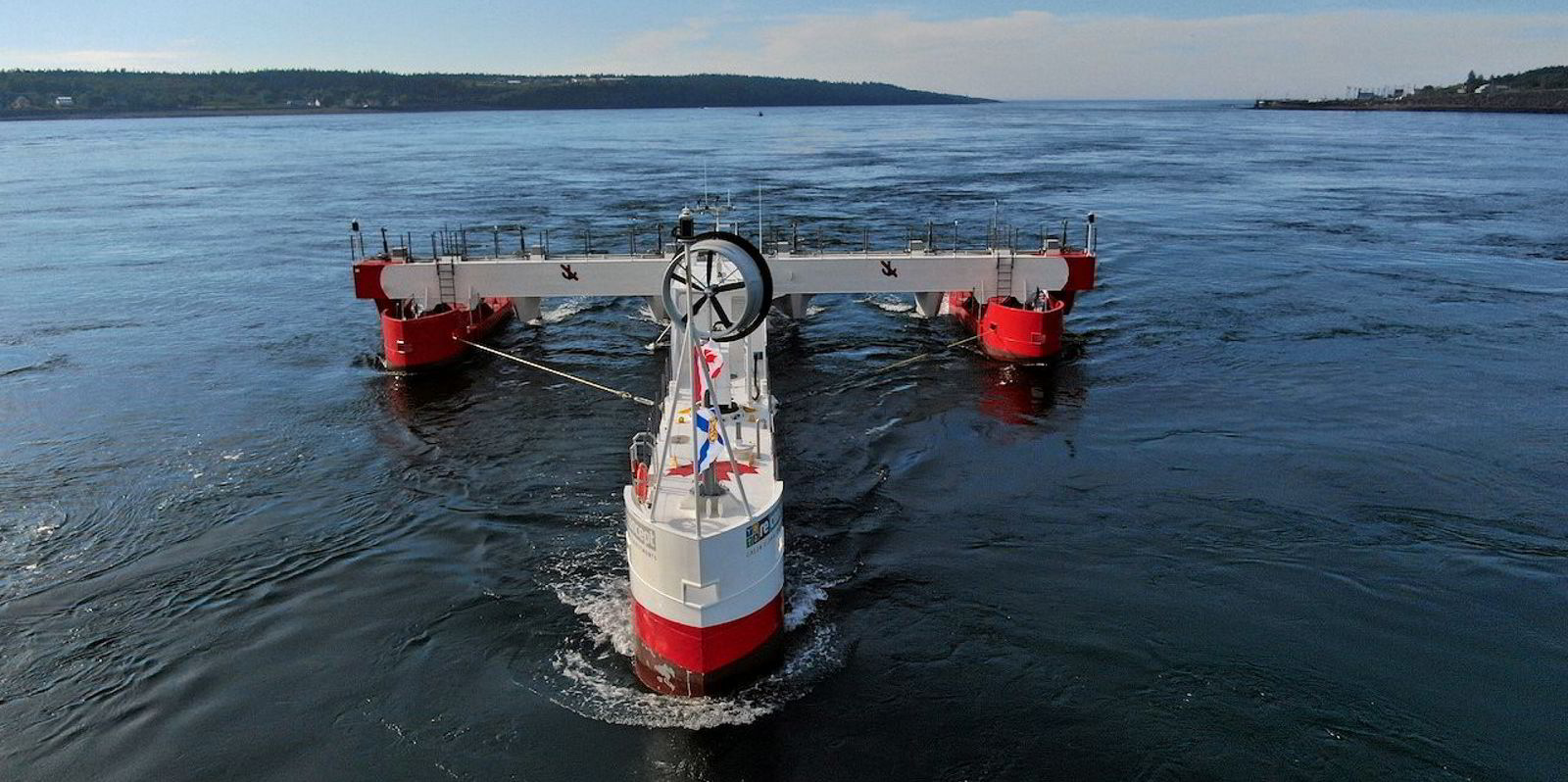 Installation of Scottish developer Sustainable Marine's innovative concept, a distinctive cross-shaped, multi-turbine design installed last year in the Grand Passage in the Bay of Fundy, is part of its longer-horizon 9MW Pempa'q project.
"This marks an incredible milestone in our journey to help communities achieve energy independence and fight climate change by harvesting clean energy from the waters around them," said Jason Hayman, CEO of Sustainable Marine.
"We have the potential to revolutionise the Atlantic power grid entirely by tapping into the resource available to us at the Bay of Fundy and we are committed to working collaboratively with our provincial and federal government partners to ensure alignment and remove barriers so we can accelerate the deployment of these technologies and help to transform the electricity system for [Canada's] maritime provinces and deliver the region's net-zero vision."
Backed by $28.5m in support from the Canadian government, the county's largest-ever investment in tidal energy – Pempa'q – the word used by the Mi'kmaq First Nation, the area's indigenous people, for 'rise of the tide' – would save 17,000 tonnes of CO2 emissions a year and power some 3,000 homes in the province.
Nova Scotia environment and climate change minister Timothy Halman said: "Clean, renewable energy is our future, and our tides are a key resource as we transition to a net-zero future.
"Through this project, [Sustainable Marine is] helping to lead Nova Scotia forward to a sustainable and prosperous future that will benefit all Nova Scotians and help the health of our environment and our planet."
Sustainable Marine will deliver the project in phases at the Force (Fundy Ocean Research Centre for Energy), at its demonstration site in the Minas Passage, known as the 'Everest of tidal energy'.
Sustainable Marine, which launched its innovative floating design in 2011 as a technology-agnostic 'platform' that could be towed to site outfitted with horizontal-axis turbines and hook-up to a pre-installed mooring system, has put the technology through its paces via earlier testing programmes off Scotland and Canada.
The Bay of Fundy's tidal range lays claim to being the most extreme in the world, with 115 billion tonnes of water surging in and an out of the bay twice a day creating a resource from which the province has calculated up to 7GW of power could be extracted.