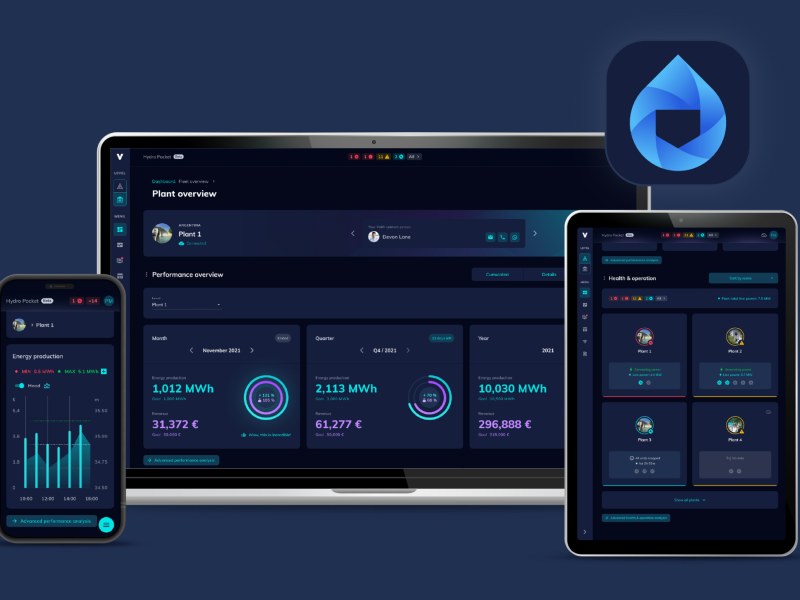 HydroPocket Dashboards. Credit: Voith

Technology company Voith, together with digital specialist Ray Sono, has developed a solution to manage hydropower assets from a smartphone.
Hydro Pocket is a solution designed to support the operation of small or medium-sized hydropower stations.
It's a smart, cloud-based system that uses real-time data and intelligent analysis to heighten monitoring, analysis and management of the system.
This, according to Voith, allows for faster decision making based on a transparent view of assets, optimising maintenance and repair planning and reducing unplanned downtime.
"The application can be intuitively operated via a clearly configured dashboard and can map individual power units, complete stations or even entire fleets. These can be displayed on a computer, smartphone or tablet," explains Dr. Tobias Keitel, COO at Voith Hydro.
The system can be adapted to individual needs and user requirements, therefore overcoming the limitations around hardware suitability, a need for customisation, and a lack of expertise behind some retrofit solutions.
"With Hydro Pocket, all of these aspects were taken into account during the development stage. While Voith has around 150 years of experience in hydropower, we at Ray Sono were able to contribute our expertise in the design and implementation of digital applications," explains Sebastian Krüger, executive board member of Ray Sono.
The user receives a starter kit and attaches the hardware contained in the kit to the power plant. System configuration is performed by Voith, a process that takes less than a month to complete.
According to Krüger, the system was tested in a pilot project called Sion, based in Indonesia. The findings from the pilot were used to further develop the system and make it market ready.
"In addition to the 12MW system at Sion, in Indonesia, which has been using Hydro Pocket since March 2022, there are also six other systems in Europe and Southeast Asia, which are already putting Hydro Pocket to the test," Keitel adds.