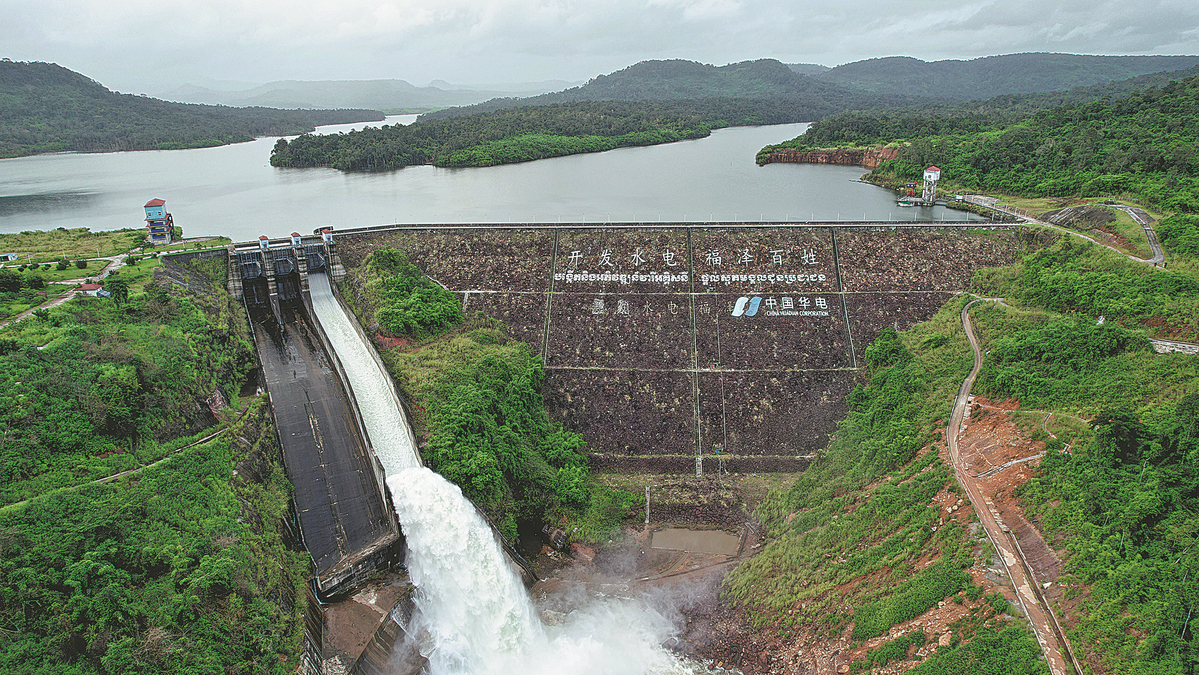 The 338-megawatt lower Stung Russei Chrum hydropower station located on the Stung Russei Chrum River in Koh Kong province, Cambodia, helps promote local low-carbon development and green energy transition. [Photo/China Daily]
SOE produced more than 8.4 billion kilowatt-hours of clean power since launch of first unit in 2013
The 338-megawatt lower Stung Russei Chrum hydropower station located on the Stung Russei Chrum River in Koh Kong province, Cambodia, has been playing a key role in promoting local low carbon development and green energy transition.
The project, operated and constructed by China Huadian Corp, one of the country's major State-owned power companies, has produced more than 8.4 billion kilowatt-hours of clean power since its first unit was put into operation in September 2013. The power generated accounts for more than 30 percent of the total annual power generation in Cambodia, and has helped the Southeast Asian nation secure power supply alongside steady operation of local grid networks.
With a hydropower reservoir capacity of over 401 million cubic meters, the project construction commenced in 2010 before entering into commercial operation in 2014. Power generated from the project is sold to Electricite Du Cambodge under a power purchase agreement, it said.
According to Luo Jianhua, deputy head of production and technology department of China Huadian Lower Stung Russei Chrum Hydro-Electric Project (Cambodia) Co Ltd-the Cambodian subsidiary of Huadian-hydropower, as a universally recognized clean energy resource, has a significant role to play in improving local environmental conditions while reducing greenhouse gas emissions in Cambodia.
Analysts said China's increase in renewable energy capacity at home has provided domestic energy players with valuable experience in developing projects abroad, while its cost-competitiveness along the renewable energy supply chain further boosts their presence overseas.
Investing and operating wind and solar assets in mature markets can bring valuable power market experience and know-how as China's power market is set to further liberalize in the future, said Wang Ziyue, an analyst at research firm BloombergNEF.
Due to the huge amount of construction and operational experience accumulated over the past few years, China's energy producers can grab a larger share of the global clean energy market, said Joseph Jacobelli, an energy analyst and managing partner of Asia Clean Tech Energy Investments.
"The massive amount of solar and wind capacity China commissioned in the past few years has given the nation's leading developers an unparalleled level of expertise," Jacobelli said.
Vasim Sorya, Cambodia's undersecretary of state and spokesman for the Ministry of Public Works and Transport, said these projects have provided and will continue to provide many tangible benefits for the economy and the people of Cambodia, and Belt and Road Initiative projects aim to help boost local socioeconomic development and improve people's livelihoods with no strings attached.
All BRI projects have been built in an environmentally friendly manner, he said.
The company has also been attaching significance to protecting local environments during the process of hydropower facility construction. After the power station was put into operation, it has stepped up tree planting and ecological restoration in surrounding areas to ensure the operation of the dam does not affect the local environment.
It has invested more than 1.7 million yuan ($255,304) since 2019 in restoring hillsides, which has effectively prevented potential natural disasters like mudslides.
China's policy banks have been stepping up support for overseas green energy projects in recent years.
During development and construction of the Cambodian hydroelectric project, the Export-Import Bank of China provided an exclusive loan for 70 percent of total investment of the project, while China Export & Credit Insurance Corp, commonly known as Sinosure, provided political risk insurance, said Fang Zheng, chairman of Huadian Overseas Investment Co Ltd.
"The financial agencies carried out comprehensive investment risk analysis and professional assessment, which has supported Huadian to develop clean and renewable hydroelectric resources in countries and regions participating in the Belt and Road Initiative," Fang said.
"State-owned policy banks and Sinosure remain committed to the vision of open, green and clean cooperation in implementing the BRI. They have built a complete environmental and social impact evaluation system and set up professional risk control processes, highlighting the advantages of abundant capital and strength."
Financial institutions have played an important role in helping the development of local green projects and made tangible contributions to the promotion of global environmental governance, he added.
The Cambodian subsidiary was successfully registered as a United Nations Clean Development Mechanism (CDM) project in 2012 and acquired the international trading qualification of Certified Emission Reductions (CERs) of greenhouse gases, which was the first overseas CDM project developed and registered independently by China Huadian.
The power station completed its first greenhouse gas emissions reduction transaction in 2019 and has obtained 827,000 metric tons of CERs in 2020.
All the CERs signed by the project before 2020 have been sold so far, and the cumulative volume of carbon emissions trading has been 4.33 million tons. While bringing green incremental benefits to the project, it will also help Cambodia reduce greenhouse gas emissions and promote ecological conservation to jointly ensure blue skies and clean water, said the company.