The first RITM-200 reactor for the serial new-generation Yakutia icebreaker has been manufactured and prepared for shipment at the production site of JSC ZiO-Podolsk (a unit of Atomenergomash, ROSATOM's mechanical engineering division).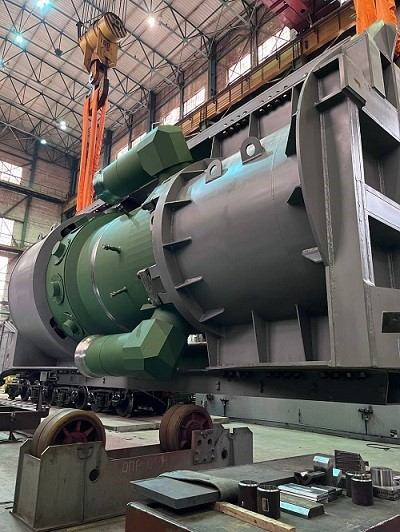 The reactor weighs 147.5 tons, its height is 7.3 meters, diameter is 3.3 meters. The out-of-gauge cargo will be delivered on a special 240-ton capacity railway transporter. The reactor will be transported by rail to the station of Novy Port, St. Petersburg, where it will be transferred to a special barge and delivered by water to the Baltic Shipyard.
Atomenergomash has already supplied the main equipment of the RITM-200 ship reactor plant for the latest Russian universal nuclear-powered head icebreaker LK-60Ya of the Project 22220 Arktika, as well as the Sibir and the Ural serial icebreakers for the country's nuclear merchant fleet. The division enterprises also manufacture vessel equipment, such as hydroaccumulators, water storage tanks, hydroaccumulator tanks, pressurizers.
Factfile:
RITM-200 is the latest reactor plant for the icebreaker fleet, developed at Atomenergomash, ROSATOM's Mechanical Engineering Division. It makes part of the icebreaker's main power plant and includes two reactors with a thermal capacity of 175 MW each. The main advantages of the power plant are small size and cost efficiency. It has a unique energy efficient integrated layout, which allows the arrangement of the main equipment within the housing of the steam generating unit. This makes the reactor unit twice as light, half as compact and 25 MW more powerful than the KLT reactor units currently used for the icebreaker fleet. This, among other things, made it possible for the icebreakers to have a dual-draft design and improved technical characteristics in terms of speed, ice-breaking capability, etc. The reactors are designed to operate reliably with the vessel's having a roll of ±45º and a pitch of ±15º with a prolonged list of up to 30º. The service life of the reactors is 40 years.
Enterprises of Atomenergomash JSC provide the entire chain of production of the RITM-200 nuclear engine – from design and production of workpieces to manufacturing and installation of equipment. OKBM Afrikantov JSC acts as a designer and single-source manufacturer.