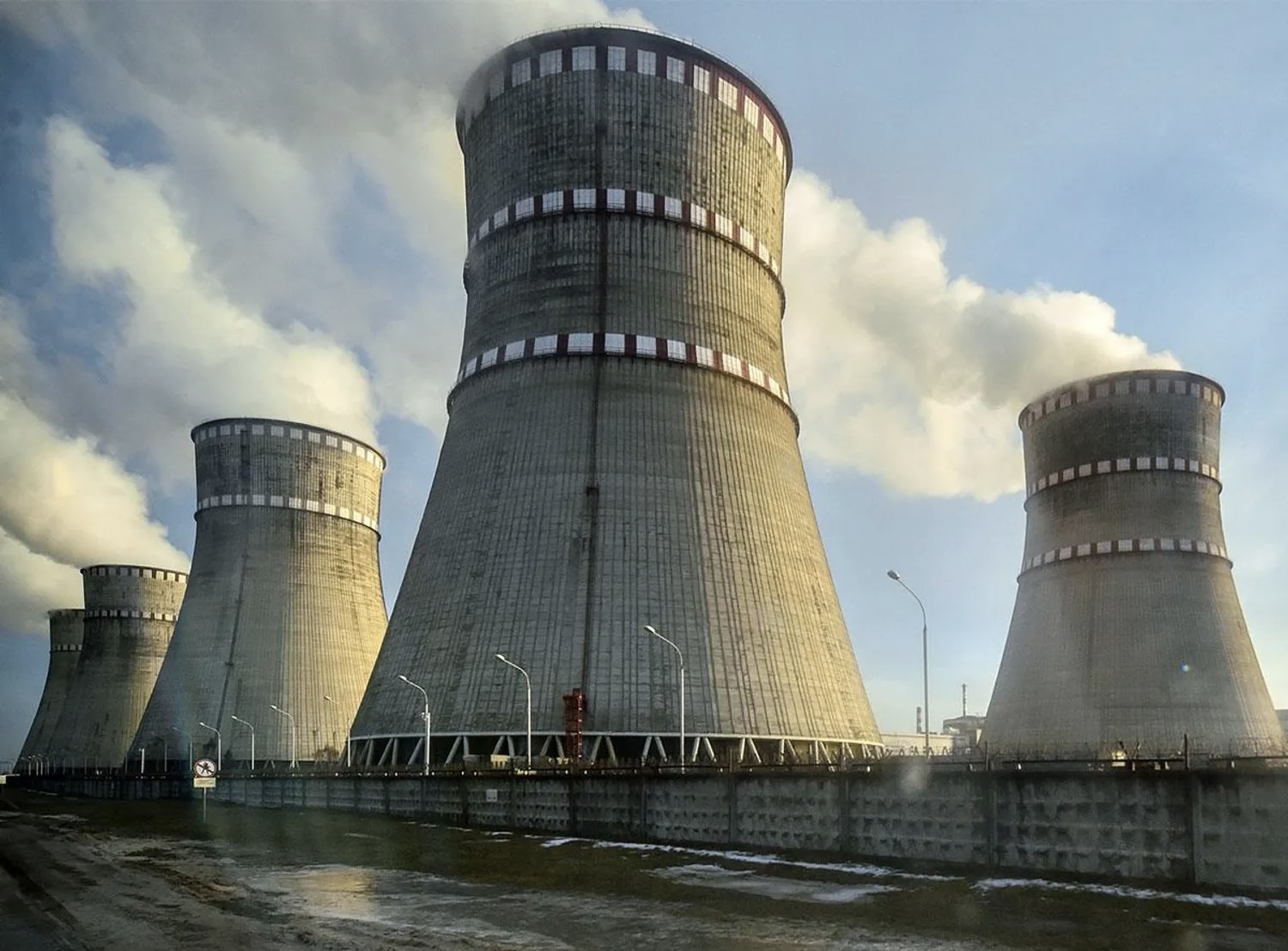 The Rivne nuclear power plant in Varash, Ukraine—the largest under Ukraine's control—sits just 60 kilometers from the Belarus border. NIKOLAY LAZARENKO/AP

Ukraine's nuclear sector is taking steps to remove Russian influence from its operations. The immediate cause appears to be concern about possible sabotage of nuclear power plants and fuel-handling operations from within—either to cause a nuclear incident or to pave the way for Russian forces to seize or retain control of key installations. Also of short-term concern is that Ukraine still relies heavily on Russian suppliers of nuclear fuel, waste handling, and parts.

Uneasiness about the possible enemy within surfaced last week when Ukrainian state broadcaster SUSPLINE reported that an official with the state nuclear power company had been detained. That was followed by Ukrainian news reports making allegations that two other utility officials had gone missing early—and that one had been "suspended" by the National Nuclear Energy Generating Company of Ukraine, or Energoatom.

Moves to root out Russian threats within Ukraine are, however, sowing confusion as experts and officials point fingers at suspected collaborators and, in the process, at each other. Last week Energoatom hit back at one expert critic, accusing her of collusion with "the occupier."

Ukrainian officials and nuclear experts are also criticizing Russian involvement at nuclear energy organizations that have significant Russian membership and staff, including the International Atomic Energy Agency (IAEA). They say international organizations have been unwilling to condemn Russia, and thus are unable to play a role in keeping Russian aggression from unleashing a nuclear catastrophe that could spread radiation across Europe.

As Grigoriy Plachkov, former director of Ukraine's nuclear regulatory agency, the SNRIU, put it in a Facebook post two days ago: "The silence and inaction of the international nuclear community paves the way to World War III, to a global nuclear disaster, and the collapse of energy systems. After all, our industry can become both a victim and a weapon of this war!"

Earlier this month the Russian army shocked the world by using artillery and infantry to seize Ukraine's Zaporizhzhya nuclear power plant—Europe's largest—and also made a failed attempt to reach the South Ukraine nuclear plant north of Odessa. They could still attack the Rivne nuclear plant, the largest under Ukraine's control, which is just 60 kilometers from the Belarus border.

The director general of the Rivne plant, Pavlo Pavlyshyn, provided insight into fears of "internal" attacks during a recently posted interview with an American journalist. Russian design amplifies the threat, said Pavlyshyn: "They have all the blueprints and technical specs as well as personnel with intimate knowledge of our operational procedures."

Pavlyshin continued that Energoatom was prepared for anything: "We constantly work to eliminate any potential internal threats…. We are considering all our options to minimize the risk of a nuclear disaster and prevent a possible terrorist attack on our side."

According to the SUSPLINE report, the Energoatom director of personnel, Oleg Boyarintsev, was detained along the border between Lviv and Rivne on suspicion of "collaborating with the Russian occupiers." The report cites statements by the SBU, Ukraine's state security service.

Before joining Energoatom in 2020, Boyarintsev had served as a longtime aide to Andriy Derkach, a former Energoatom president, Ukrainian parliamentarian, and alleged Russian agent who fed dirt on President Joe Biden's family to former President Trump's lawyer Rudy Giuliani. Derkach was sanctioned by the U.S. Treasury Department in 2020 and in 2021 by Ukraine.

In a Facebook post last week Olga Kosharna, an expert on energy security who until January served on the board of the SNRIU, alleged that officials installed by Boyarintsev at the Zaporizhzhya plant welcomed its Russian attackers with the words: "I congratulate you." Kosharna's 23 March post has been restricted or deleted, but portions are reprinted in the SUSPLINE article and in this Ukrainian news report.

Three days later, however, Energoatom posted a picture of a smiling Boyarintsev. According to the firm he was busy organizing humanitarian assistance to residents of Energodar, the Russian-occupied satellite city near Zaporizhzhia. On Boyarintsev's Facebook page, a commenter added: "Glad to see you in good health at the workplace!"

Energoatom, meanwhile, attacked Kosharna's assertions as "fake news" in a 24 March Facebook post comparing her to the FSB, Russia's state security service. "She is clearly following the FSB techniques, generating fakes and misinformation," wrote Energoatom.

The company also sought to raise suspicion by noting that Kosharna was born in Russia and trained there—something true for many of Ukraine's nuclear experts.

IEEE Spectrum has not been able to reach Kosharna or Boyarintsev. Energoatom has not responded to our requests for comment.

What is clear is that Russia's full-scale invasion of Ukraine, now in its second month, has heightened concerns over Ukraine's dependence on Russian nuclear firms such as the state-owned nuclear reactor design, construction, and fuels giant Rosatom.

Ukraine worked with U.S.-based Westinghouse for two decades to develop and certify enriched-uranium fuel assemblies for its Russian reactors. But in recent years it has continued to order Russian fuel assemblies. In fact, Rosatom delivered a fuel shipment the day before Russian forces surged into Ukraine last month.

"The Russians undercut Western suppliers," explained Shaun Burnie, a Scotland-based senior nuclear specialist for Greenpeace International, in an interview yesterday.

Ukraine's Minister of Energy German Galushchenko insisted yesterday in an interview with Kyiv-based newspaper Economic Pravda that Ukraine will quickly eliminate all such reliance on Russia. He said Energoatom has already notified Rosatom that it will terminate fuel purchases, and he vowed to move quickly to build a much-needed repository for spent nuclear fuel.

The "Zaporizhzhia plant has its own fuel storage, and Ukraine completed a storage site at the defunct Chernobyl power plant last year to take fuel bundles from its remaining nuclear plants. However, both are now controlled by the Russians. It's an issue that "needs to be solved fast," according to Pavlyshyn, the Rivne nuclear plant official.

Parts are also a concern, according to Pavlyshyn, who said the best hope was to source them from other European operators of Russian-designed reactors.

That's something that one could imagine international nuclear industry organizations such as the IAEA and the World Association of Nuclear Operators helping with. But, to date, they've been of little use according to Ukrainian nuclear experts.

Plachkov, the former Ukrainian nuclear regulator, wrote recently that those international organizations "have a strong enough voice to force the world to impose specific nuclear sanctions on a country whose troops have seized foreign nuclear facilities." Instead, he wrote, they, "have done nothing for Ukraine's nuclear energy, and therefore for the world."

The IAEA has held talks with Ukraine and Russia on a possible mission to secure or protect Ukrainian nuclear sites, but the Vienna-based organization may need to change tack to make that possible. In an official statement issued on Sunday, Ukrainian Ministry of Energy advisor Olena Zerkal said Ukraine is working with "partners" to either expel Russia from the IAEA or to at least remove Russian nationals from key positions in the organization.

The most problematic IAEA official, according to Burnie at Greenpeace, is Mikhail Chudakov, who was deputy director at Rosatom before becoming IAEA's deputy director for nuclear energy seven years ago. "What is the confidentiality of very sensitive discussions the Ukrainians are having with IAEA when Rosatom is de facto the Russian government?" asked Burnie.

In fact, since 11 March, Rosatom experts have been on site at the captured Zaporizhzhia plant. Energoatom claims that upon arrival they announced the site was now a Rosatom facility.

Greenpeace International sent a letter to IAEA's director general two weeks ago calling for Chudakov's removal. It also demanded clarification on Chudakov's role in IAEA's response to the nuclear crisis in Ukraine and full disclosure of communications between him and ROSATOM officials since Russia's invasion last month.

Burnie says the IAEA should also rethink its recently updated guidance on nuclear-safety assessments. The agency deemed military attacks highly unlikely, and thus instructed regulators in member states to exclude them from the list of external incidents such as floods and earthquakes that reactors should be able to manage safely. Alas, as the Chernobyl and Fukushima meltdowns and now the Ukraine crisis show, what experts presume to be unlikely or even impossible can happen.

Burnie says that safeguarding against the kind of artillery fire that hit Zaporizhzhia would expose the inherent danger of nuclear power. "Projectiles generally travel at more than Mach 1 and there is no defense from those. You can't build those into the design. If you did, you couldn't operate commercial nuclear power plants," he said.