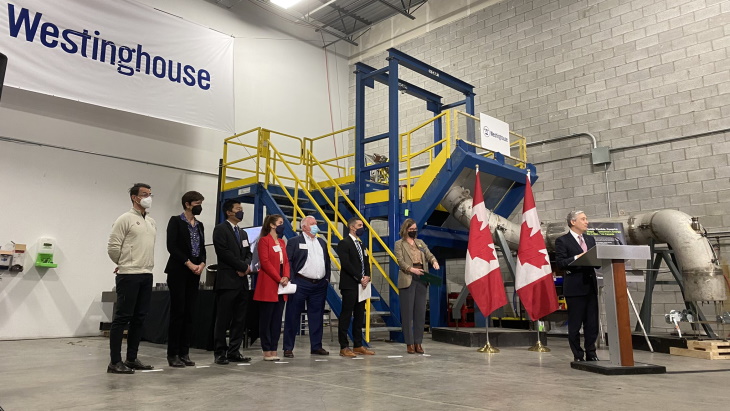 The funding was announced during a visit by Champagne to Westinghouse Canada (Image: @FP_Champagne)
According to ISED, the eVinci project supports the government's Innovation and Skills Plan by helping build a highly skilled workforce and advancing research in new foundational technology, and also supports Canada's SMR Action Plan, which outlines a long-term vision for the development and deployment of this technology in Canada and worldwide. The government is supporting the CAD57 million eVinci project so the reactor can be successfully licensed in Canada, it said.

"As our government moves swiftly with our green economic recovery, we are laying the foundation for a better and more prosperous climate-oriented future. Westinghouse's innovative technology will help deliver cleaner energy sources across Canada, especially in remote communities. This investment will play a critical role in fighting climate change, building on Canada's global leadership in SMRs and securing jobs in Ontario's energy sector," Minister of Innovation, Science and Industry François-Philippe Champagne said.

The eVinci microreactor is a heatpipe reactor able to deliver combined heat and power (5 MWe and up to 13MWt). Fully factory built, fuelled and assembled, Westinghouse says the transportable reactor can bring clean energy to off-grid sites, remote communities and islands, decentralized generation, industrial sites, mining operations, data centres, universities, marine propulsion, hydrogen generation, and water purification. It can be used as a primary energy source, or in tandem with other sources such as renewables.

"The eVinci micro-reactor technology enables many applications which will benefit Canadian industries and communities, especially those in need of carbon-free heat and power," said David Durham, president of Westinghouse Energy Systems.

A feasibility study prepared by Westinghouse and Bruce Power last year found that the eVinci reactor would be a "feasible alternative" to diesel generation at mines and in remote communities, with its reduced cost electricity and heating providing opportunities for economic growth.

The government contribution to eVinci is being made through the Strategic Innovation Fund's Net Zero Accelerator initiative, which specifically supports Canada's net-zero goals of transforming the economy for clean and long-term growth and achieving a net-zero economy by 2050.

The fund has previously made grants to two SMR projects: a CAD20 million investment in Terrestrial Energy to accelerate development of its Integral Molten Salt Reactor, announced in October 2020; and an award to Moltex Energy Ltd of CAD47.5 million to help develop its 300 MW Stable Salt Reactor-Wasteburner (SSR-W) technology, announced in March 2021.