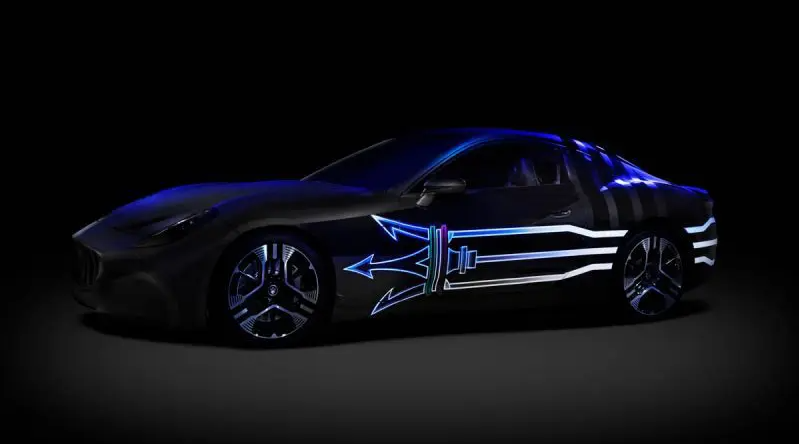 FOLGORE GRAN TURISMO. SOURCE: MASERATI
Maserati has announced it is ready to unveil its Folgore Gran Turismo, the first car in the Italian luxury car brand's history to be powered entirely by battery.
Set for a 2023 debut, the Folgore GT – an all-electric version of the MC20 – is the first step in Maserati's plan to become a 100% electric brand in Europe.
By 2025, Maserati says all its luxury vehicles, including the MC20 super sports car, the new Quattroporte sport sedan and the Levante SUV will feature electric-only drivetrains.
It is the new Grecale SUV that is next on the hit list for Maserati's electrification team, however: this will be launched in coming days, Maserati says.
Images of the upcoming Folgore Gran Turismo show a two-door coupe with a dynamic stance and lowered front end. Maserati is not giving any details away for now, only to say that it "will offer cutting-edge technical solutions derived from Formula E, superb performance, comfort and elegance, all typical of the Trident."
Hesitant to subject Maserati fans to the horror of a silent ride, the Folgore GT will also have a digital sound it has described in past releases as a "unique, distinctive growl."
It's not the first time the Folgore has been seen: earlier in March the new GranTurismo Folgore was photographed in the Scandinavian region of Europe, carrying out all-important winter tests.
Caught in camouflage, these images reveal room for four passengers in a 2+2 layout. The new generation of the GranTurismo is, according to Spanish new site Motor.es, based on Alfa Romeo's Giorgio platform and adapted to an electric drivetrain.
There are quite a few unknowns about the configuration of the electric powertrain. Maserati's Folgore technology is said to deliver an approximate 400kW maximum power, and it is thought its lithium-ion battery will have a capacity of 100 kWh. The electrical architecture is expected to be 800 volts, guaranteeing low recharge sessions.
Exactly how and when the full details, pricing and specifications of the Folgore Gran Turismo will be revealed is as yet unknown – stay tuned.