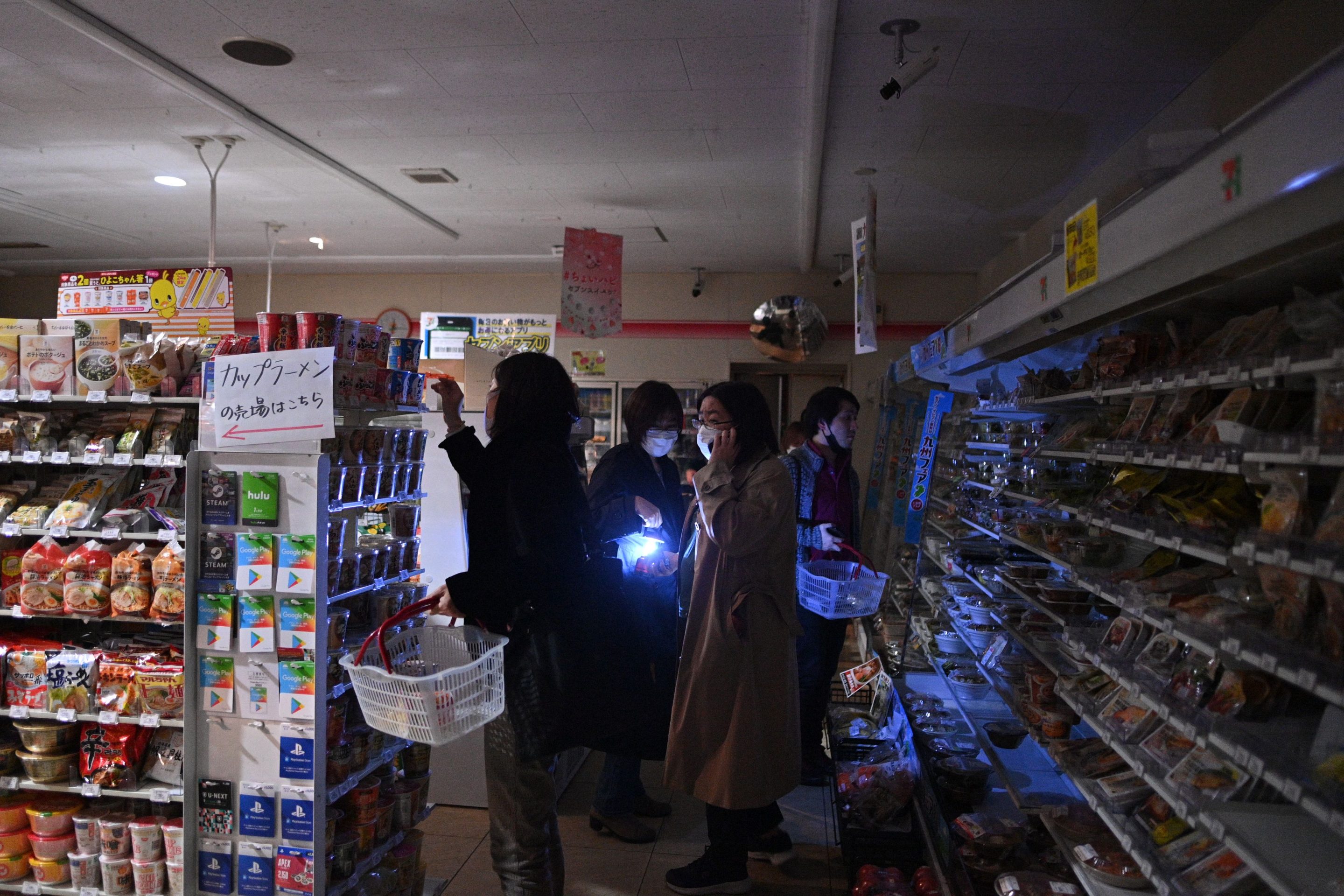 People shop in a store during a power outage in Koto district in Tokyo on March 16, 2022, after a powerful 7.3-magnitude quake jolted east Japan. PHILIP FONG—AFP/GETTY IMAGES

A magnitude-7.3 earthquake struck northern Japan near Fukushima prefecture late on Wednesday, causing injuries, derailing a bullet train and disrupting power.
The quake, which also shook buildings in parts of Tokyo, struck around 11:36 pm local time, the Japan Meteorological Agency said. Kyodo News said "many" were injured in Fukushima, citing the local fire department, although the full scale of damages and injuries was still unclear.
The affected area was devastated by an earthquake and tsunami in 2011 that killed over 16,000 and triggered a nuclear crisis in Fukushima. The disaster led to the shutdown of all of Japan's nuclear plants, forcing the country to rely on other sources of energy such as coal and natural gas. The latest quake appeared to be less powerful according to magnitude readings.
Tokyo Electric Power Co. said around 2 million buildings in its service area lost electricity, although power was restored to most a few hours later. Around 9,300 buildings, including more about 1,100 in Tokyo, remained without power as of 2:30 a.m. local time, it said.

A policeman stands along a street direct traffic during a power outage in Tokyo early on March 17, 2022, after a powerful 7.3-magnitude quake jolted east Japan.Philip Fong—AFP/Getty Images
Nuclear regulators said a fire alarm went off at Fukushima's Dai-ichi nuclear plant, and that water pumps used to cool spent fuel pool at the Dai-ni plant were halted, although there was no imminent danger.
A Tohoku bullet train has derailed on a stretch of track linking Fukushima and Miyagi prefectures, East Japan Railway Co. said, although there were no reported injuries.
The intensity of the shaking was estimated at an upper 6 on Japan's shindo scale of 7 in parts of Miyagi prefecture, public broadcaster NHK said. A tsunami of 20 centimeters was recorded in the prefecture. Residents in some towns in Miyagi prefecture were told to evacuate, the broadcaster earlier reported.
Refinery company Eneos Holdings Inc. said operations at its oil-fired Negishi plant were halted.